Last fall (2021) the undercarriage project of my 1966 Cadillac Coupe deVille started. The car is in fantastic condition. The factory or dealer applied rubberised undercoating was still on the car, but on some areas it was dry and brittle. In areas where it was not applied there was some slight surface rust which I also completely removed.
VIDEO RECAP
I did not plan to do a video about the restoration, but here is a short collage of some footage I had: (on youtube you can watch it in 4k HDR
This is a short video showing what was done

BEFORE
Some "BEFORE" pictures showing how the car looked before I started working on it.


AFTER
This is how it looks now - after all the work I did. Click to see the full report.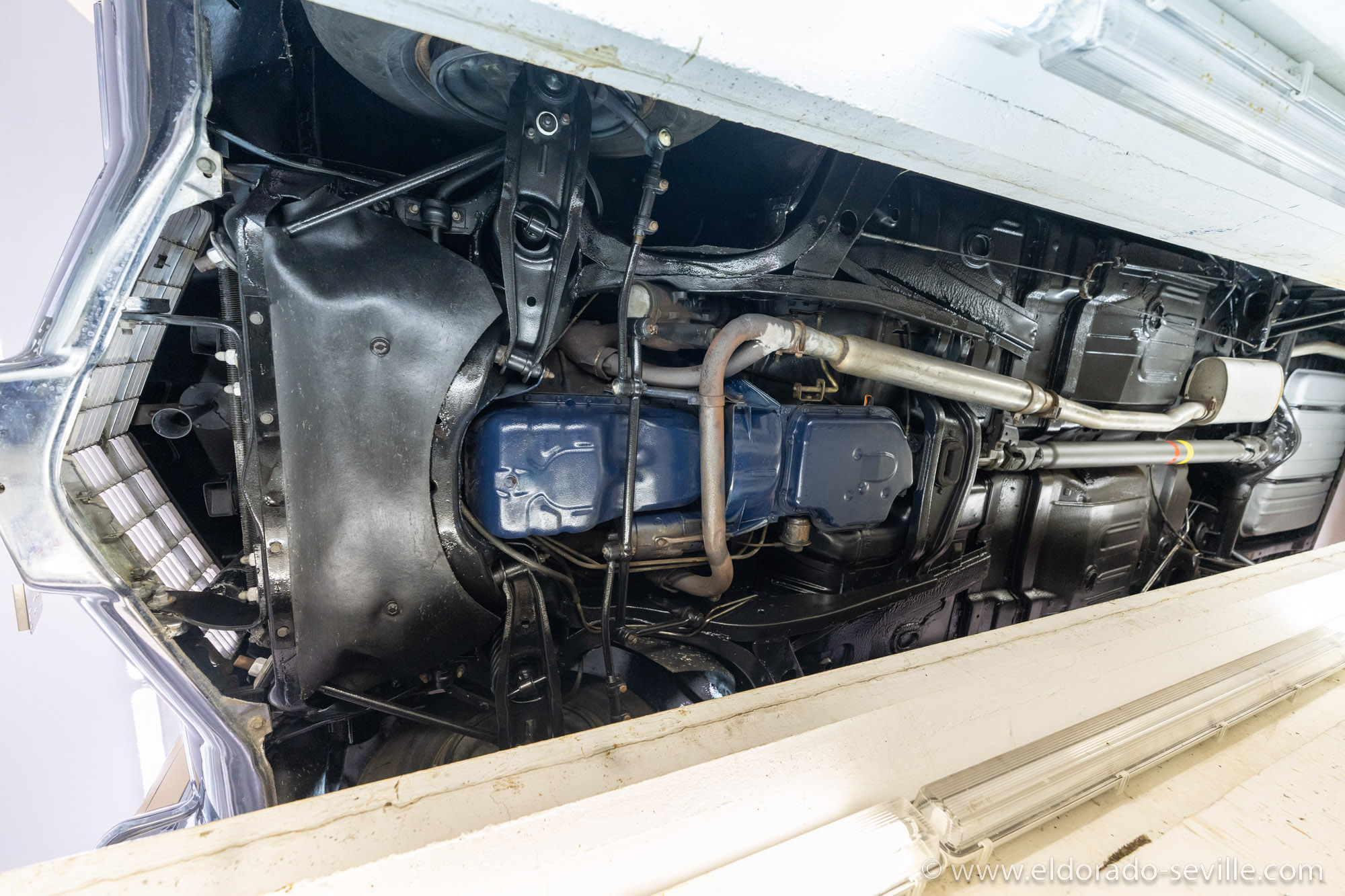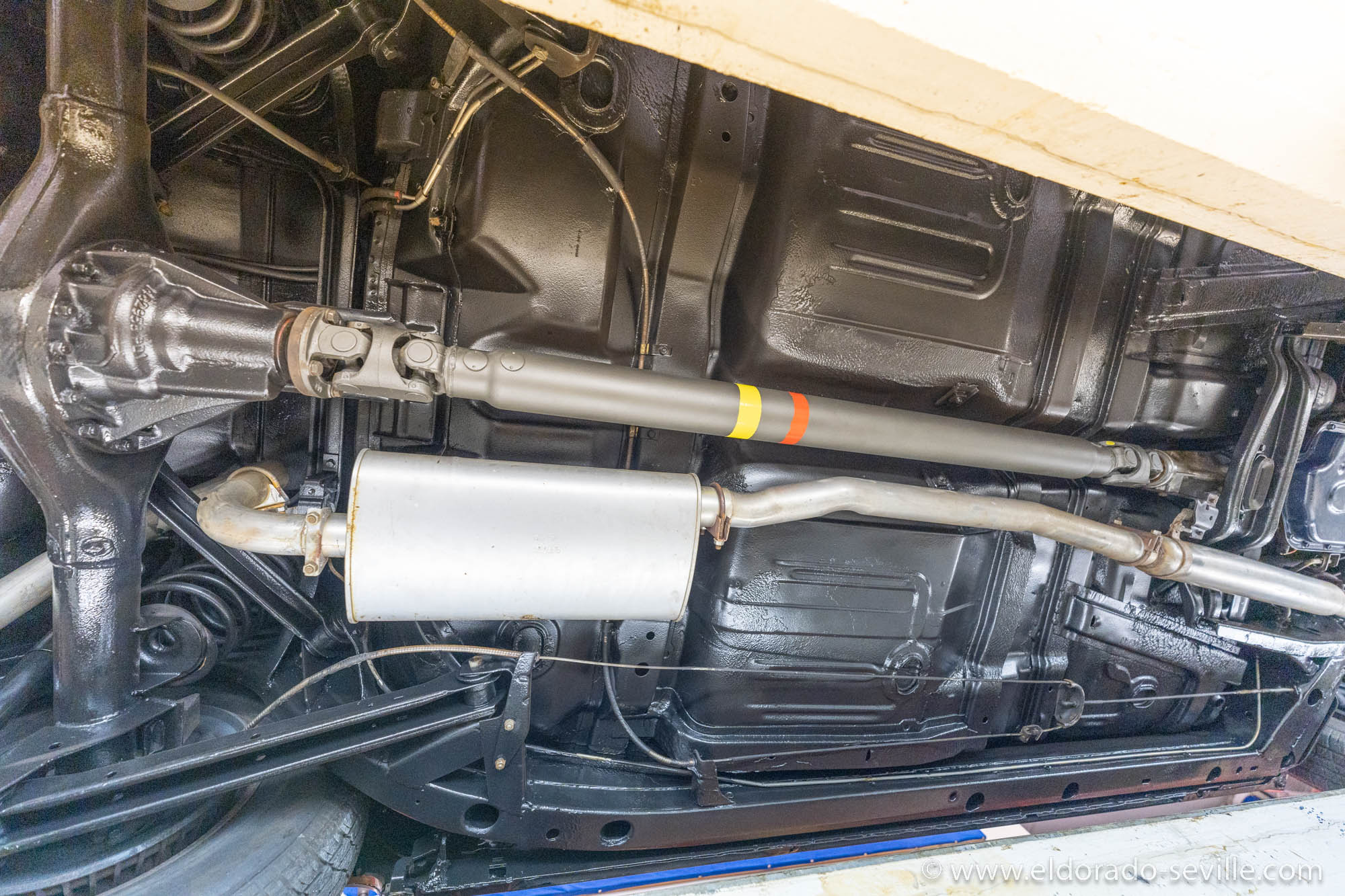 READ MORE...
I am planning to clean up the undercarriage of my 66 Coupe deVille during the long winter months. The car is in fantastic condition. There is still the original undercoating on the car. In areas where it was not applied there is some slight surface rust which I would like to remove and conserve everything.
To make the car perfect again I will also
dry ice blast the undercarriage
and totally clean it up like I did on my
74
and the
Roadmaster
to preserve it as good as possible.
Today I started to brush some of the surface rust away. After that I will apply some rust remover.
I took some "before" pictures and a video.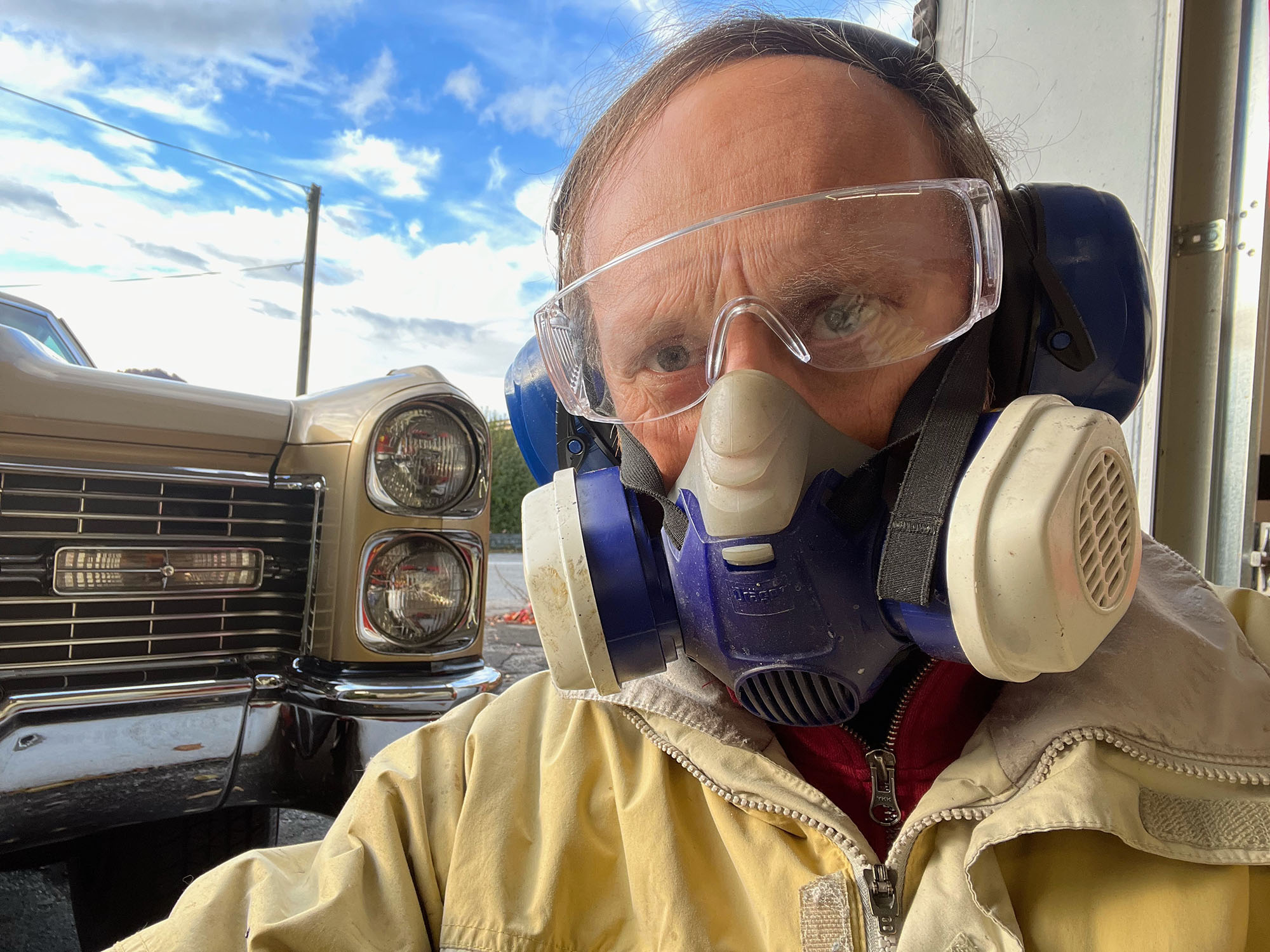 It will be a long and dirty job…
READ MORE...
A few years ago
I sold my awesome, low mileage, all original 1966 to a friend.
I always regretted that I sold it, but I did not have any other option back then.
Through a couple of car trades within my Cadillac friend community, the car became available again, and my dear friend Georg helped me to get it back.
I can't thank Georg enough - without him I would have never gotten the car back!
Today was the day to pick it up at my Georgs garage and drive it home, although I do not really have enough garage space anymore…
READ MORE!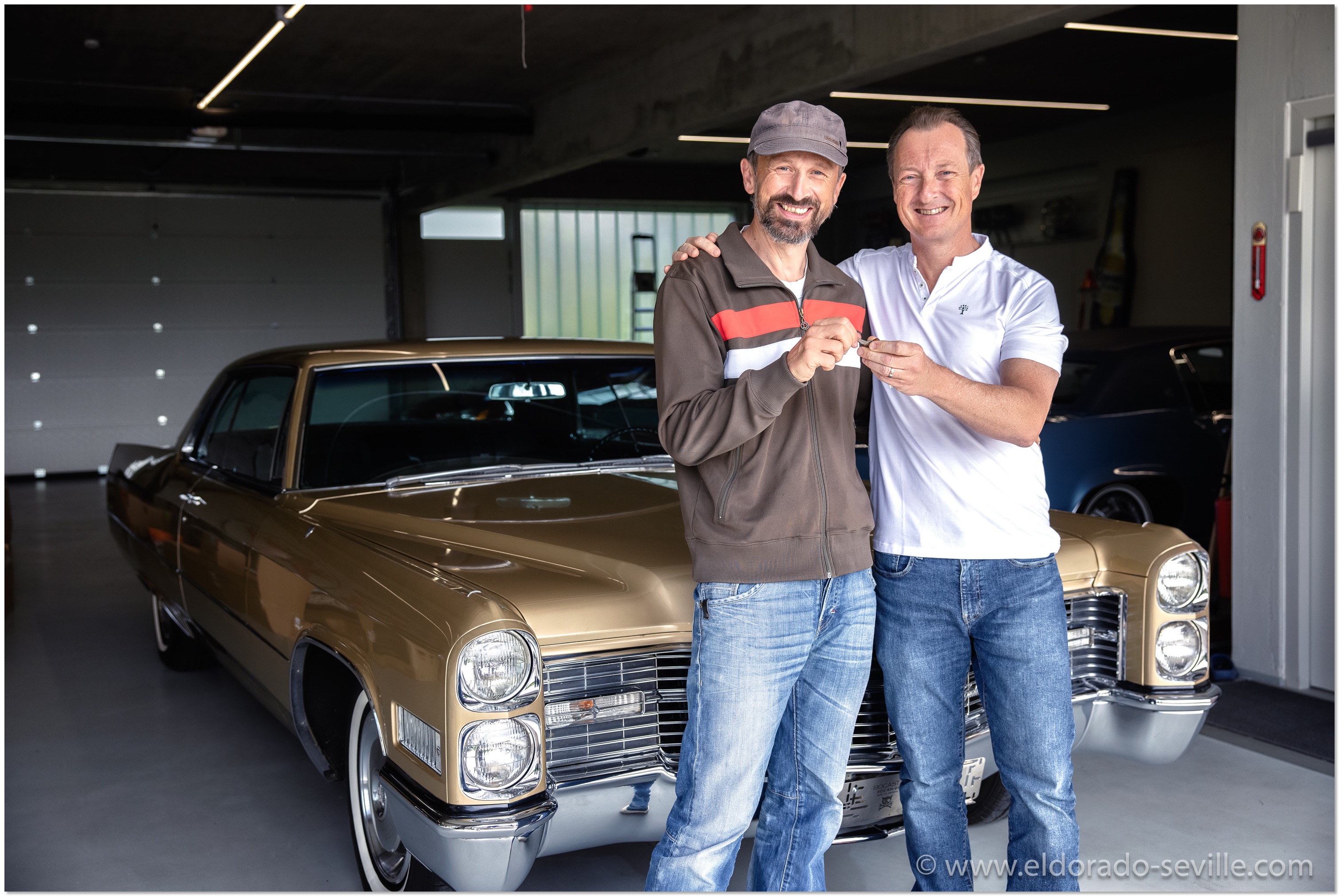 Taking over the keys - THANKS MY FRIEND!!!!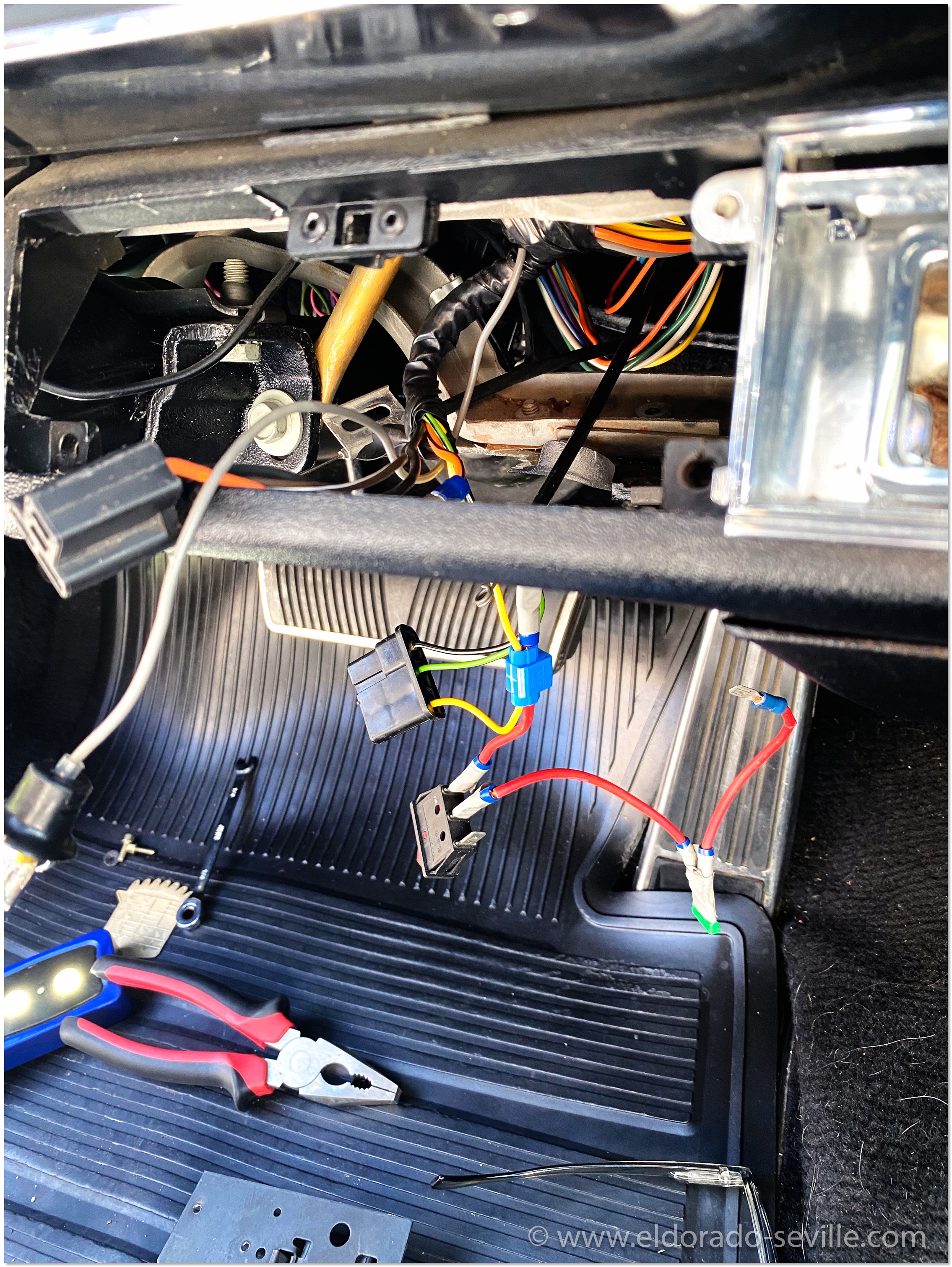 This is how the shop messed up the ATC system of the car… I reversed everything back to original!
READ MORE...
A couple of years ago
I unfortunately had to sell
my low mileage all original, highly optioned, bucket seat
1966 Cadillac Coupe de Ville.
The car went to a good home to Berlin to a friend of mine. A few car trades later and through a great great friend of mine the car somehow found its way back to me! I sold it when it had 22.500 miles on the clock and a few days ago on my birthday I got the Bill of Sale for it. I will pick it up soon and bring it back to its old/new home! You can
see the details of my car here.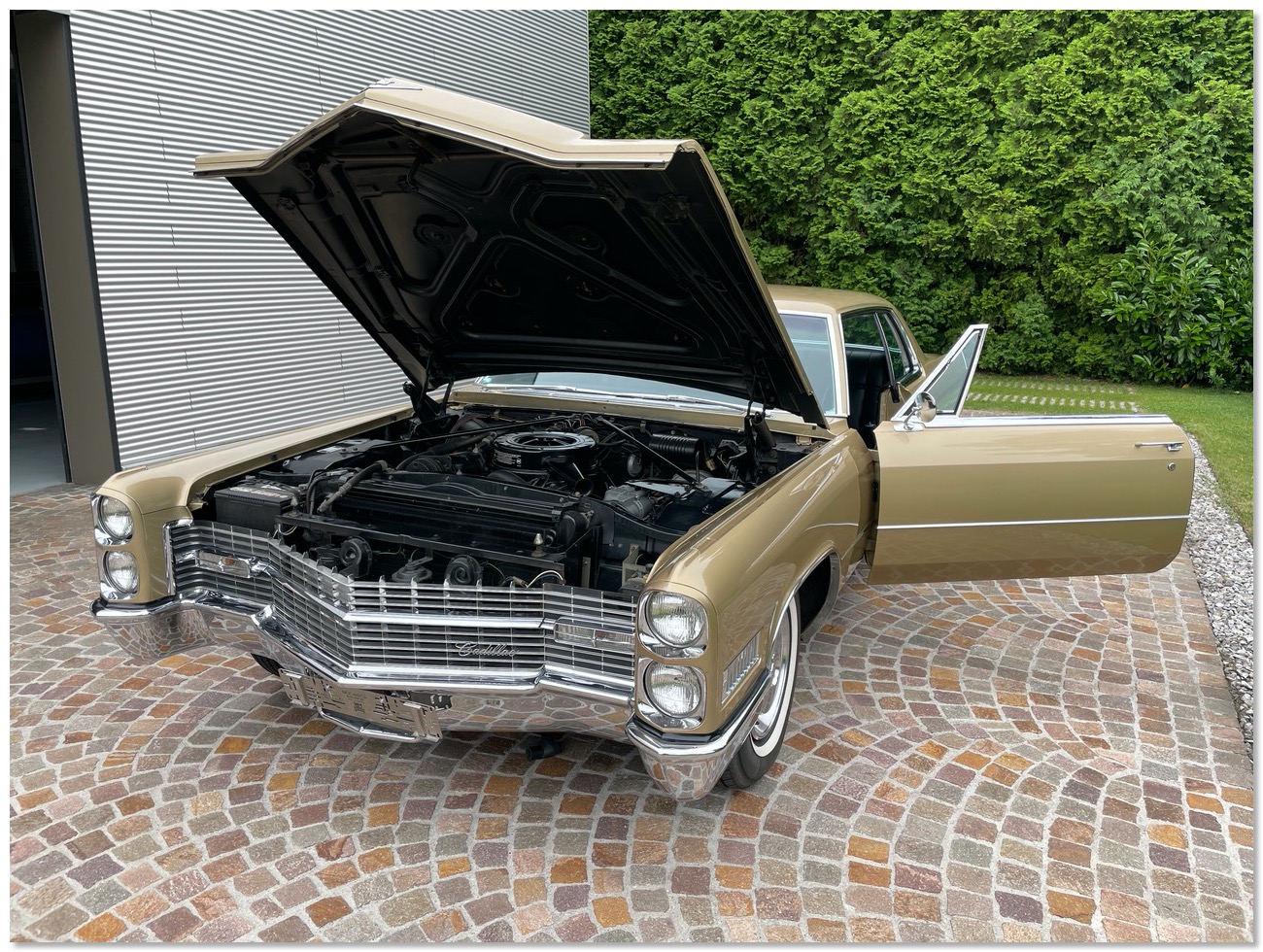 The 1966 is a fantastic car - but as most low mileage cars, it sometimes needs some work to fix some minor problems which were caused by not using the car for a longer period of time.
One of the few problems this cars had were some weird issues with the turn signal lights.
I´m a perfectionist and everything has to work on the Cadillacs that are in my garage ;-) - thats one of my rules ;-)
Strange things happened on the right rear and front turn signal lights when the headlights were on or off...
This light switch is made of "unobtainium", so I was pretty scared that it could be broken.
The switch is located underneath the dash and is screwed onto the steering column and is controlled and actuated by a steel cable that is coming from the turn signal lever.
On this car the cable was out of alignment and did not engage the switch correctly on the right side position and this intermediate position of the switch caused the various problems.
It took me quite a while to get the adjustment of the cable right again, as you carefully have to shorten or lengthen it with a nose-plier to get the right length.
I also adjusted the spring you can see on the picture below. This makes the switch more snappy. It now works perfectly and the lever moves much nicer!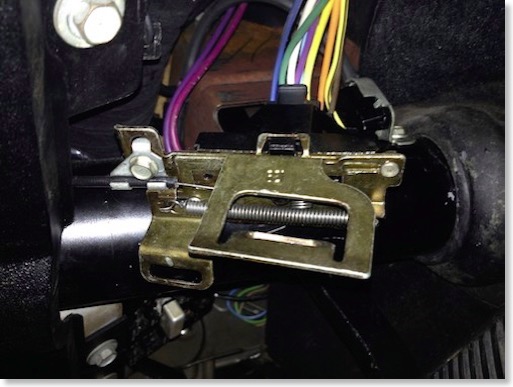 the 1966 Cadillac turn signal switch as seen from underneath the dash - already removed from the steering column.
Today was the day the 1966 Cadillac Coupe deVille finally arrived! It's a completely original super low mileage car in pristine condition. With only 22k miles on the clock and all the mechanical parts in exceptionally good condition, the car absolutely drives like a new car.
Wow - talk about a time-capsule! You will very rarely see a car from the 60s in such original low mileage condition.
It normally takes me a couple of weeks to clean and detail a car to my standards - but this car was taken care of so well - that I´ll be able to clean this handsome car within 2 days...
What makes this car so special is of course its originality and awesome condition with the low mileage,
but it also is a v
ery loaded car with most of the options
that were available back in 1966. One of the coolest option are the power - bucket seats in full black leather with center console.
Also AC, Twilight Sentinel, Automatic dimming, AM-FM radio, Cruise Control, Tilt and Telescope steering - everything is there!
What also makes this car so rare is that it is a slick top
- most Coupes were ordered with vinyl tops in 1966. In my personal opinion it looks so much better and more elegant without the vinyl roof!
There is very little patina on the whole cars and one can hardly believe that this car is 48 years old...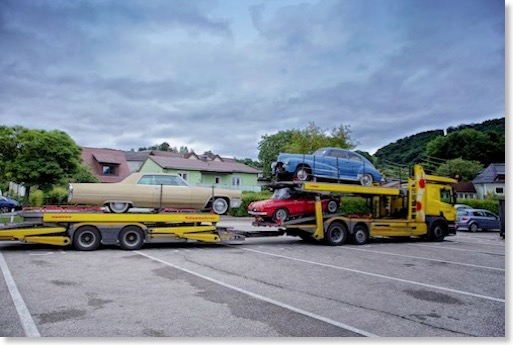 The 66 on the trailer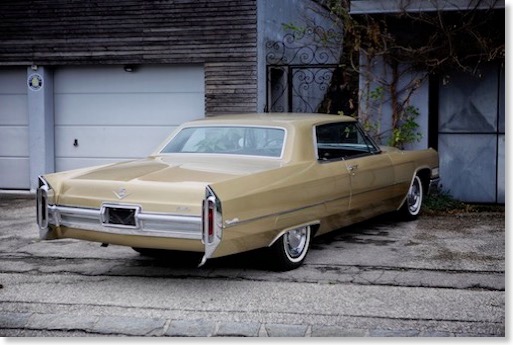 At home in front of the garage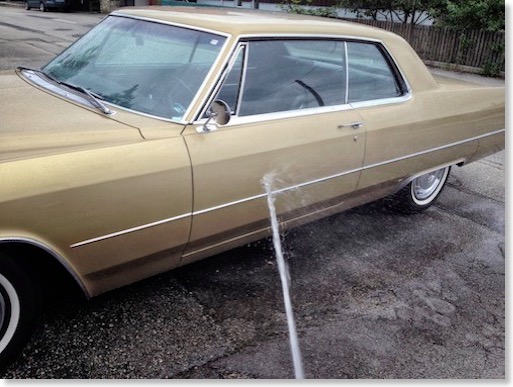 It needed a good shower first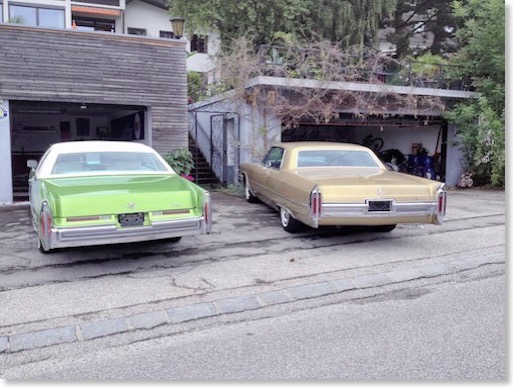 the 74 and the 66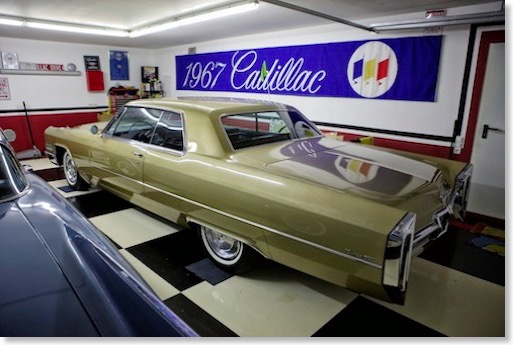 Inside the garage - where it will be brought to my standards now


the 66 and the 58 Eldorado

I found a fantastic, low mileage all original 1966 Cadillac Coupe deVille in Los Angeles through Facebook. This 21k miles, very well optioned car will be on its way to Austria hopefully very soon.
The car is all original - including original paint and is in very good mechanical condition as well. It has most of the available options that were offered in 1966.
Its very rare to find a Coupe deVille without a vinyl top. It also has the ultra rare and very expensive bucket leather seats with center console. The car comes from a Cadillac Collector and was pampered its entire life. The mileage is fully documented and accurate. I´m a big fan of the "Antique gold metallic" paint and the black leather interior is absolutely stunning.
Can´t wait to see the car in real life in about 10 - 12 weeks after it has crossed the Atlantic.
More details and pictures will follow once the car is in my garage.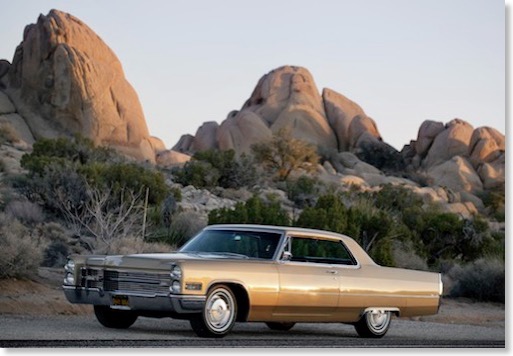 This picture was taken in Joshua Tree National Park by the previous owner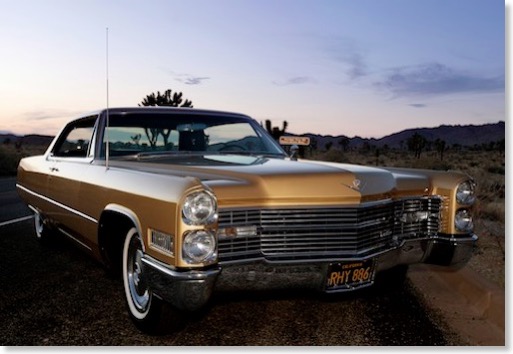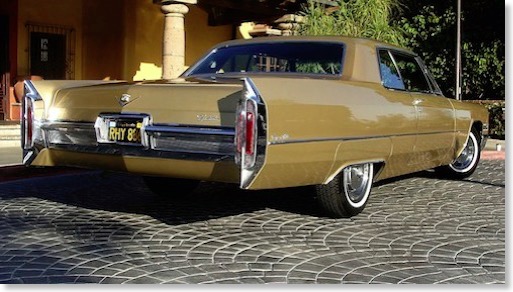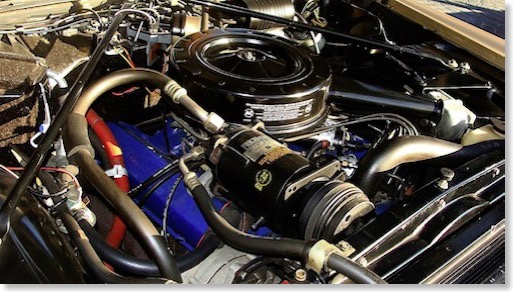 Very nice and clean engine bay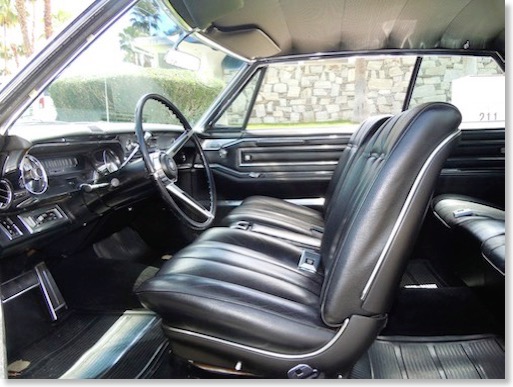 Ultra rare leather bucket seats with center console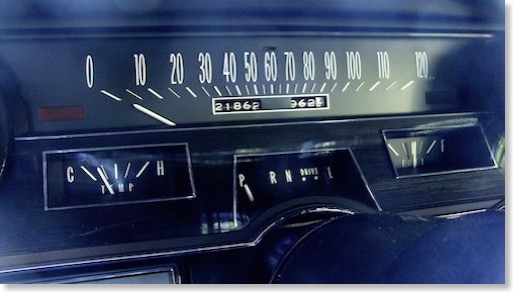 very low mileage