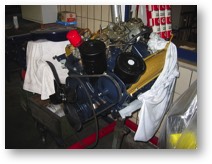 THE RESTORATION OF MY 1958 CADILLAC ELDORADO SEVILLE
Please scroll down for the restoration pictures!
My car is still in its original condition with original paint. Some work already was done and some more will be necessary in the future.
I´m planing to do some more, although the car drives and handles like a dream. It has no rust and even the Vicodec top is in perfect condition. The car runs beautifully, but I´m a perfectionist and everything has to be as good as possible.
I did a big part of the restoration myself - like removing all the old paint in the engine bay, disassembling everything, repainting most of the parts and some other stuff. A shop here in Austria allowed me to do all this work myself in the shop under their professional supervision.
After I cleaned everything the professionals took over to rebuild the engine and transmission, and to put everything back together. They also did all the painting in the engine bay and the engine itself. They also made sure that everything works again and took care of everything that had to be repaired. The only thing we outsourced was the rebuild of the windshield wiper and washer unit which was sent to the USA for a rebuild.
From 2010 on I did all the work on this car by myself without professional help.
The things I had and will have to fix included the following:

| | |
| --- | --- |
| - Put in new exhaust system, because the previous owner installed a wrong one from an Opel (!) | DONE |
| - Rebuild engine and transmission due to enormous loss of oil | DONE |
| - Repair electric trunk pull down mechanism | DONE |
| - Some front suspension parts need attention | DONE |
| - New battery needed | DONE |
| - A set of new 2 1/4" custom made radial wide whitewall tires from Diamond Back | DONE |
| - Do some cosmetical touch-ups of the original paint and chrome | PLANNED |
| - Install new carpet - could not find a perfect replacement yet | PLANNED |
| - Convert lighting system back to original condition | DONE |
| - New paintjob ? Not sure about this - maybe I´ll leave it alone | PLANNED |
| - Repair windshield wipers and washer - works perfect now thanks to www.wiperman.com | DONE |
| - Rebuild all three dual carburetors | DONE |