A 1967 Eldorado with sunroof?
A while ago I was contacted by fellow 67 Eldorado owner Mark Bristol. He owns a
very rare 1967 Eldorado with a sunroof
done by
ASC (American Sunroof Company).
He asked me if I knew anything about it.
I had never heard anything about a sunroof in a 1967 Eldorado unfortunately, and so I could not help him out with any kind of information.
So
Mark Bristol
did a lot of great investigation work and found out the following:
" I have found quite a bit out from my research. I spoke with Christian Prechter, President owner of ASC West on the phone. He was brought over from Germany when he was 19 in 1966 to help his brother Heinz Prechter do installs at the ASC West location and stayed there doing custom installs when ASC opened the Southgate Factory in Michigan. He told me that he did over 50 1967 Eldorados that year for various Stars and VIPS. He recalled doing mine for William Morris and even told me what color it was without me volunteering it to him. He said it was the only Marina Blue one he did! I quizzed him several times in a cross examination method to make sure he was not just telling me what he thought I wanted to hear. He said he is 100% certain he did it personally as he was actually doing the installs himself back then. The conversation went like this: "Hi I am Mark Bristol from Tomball, TX sorry to bother you at your home residence. I have a 1967 Eldorado with a sunroof.Did you ever install any sunroofs in 1967 in Eldorados?". Prechter, " I installed over 50 for people like Sinatra, Dean Martin, Sammy Davis Jr. and William Morris." "Wow that many?" Prechter "Yes it was very popular that year." "The car I have was William Morris' car do you recall doing it?"Prechter, "I sure do it was the only Blue one I did that year" "So you did a Marina Blue one for William Morris. That was a long time ago and you remember specifically doing this car, that is incredible are you sure?" Prechter "I am 100% certain I did it" "So your division didn't get sold off to Inalfa." Prechter "Yes, I kept the custom install portion ASC West as it is the most profitable segment.""How involved are you with the actual operation of the company?" Prechter "ASC West is still doing custom installs daily and I personally over see the operation." "Christian, Thank you for your time, you have been very helpful in understanding how these sunroof Eldorados came to be." It was a fairly short conversation I'd say 3-5 minutes with a very revealing content. I intend to mail him a packet with a photograph of "Elle" to autograph and several pictures to review and a certificate of authenticity for him to sign. Hopefully he will take the few minutes it will take and return it to me in the mail. A former President of the Cadillac Lasalle Club lives here in Tomball. He was president from 2004-2008. He stated he has seen 2 sunroof cars in person mine would make number 3. So they are floating around out there somewhere 50+ of them. My rule of thumb is 10% left in any condition after 40 years. That would mean there are 2 more out there some where!!!" Mark Bristol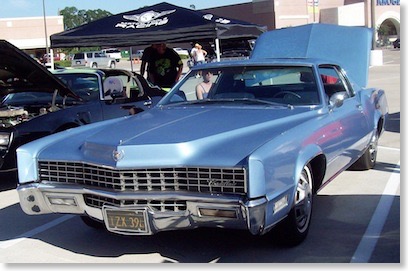 Mark Bristols - Ultra rare 67 Eldorado with sunroof.


Thank you Mark for providing all this information! Mark allowed me to post his info here, to help other 67 Eldorado fans with what he found out. Some more pics of his car can be found here: