Holiday greetings to all the visitors of my website!
This year the 1971 Lincoln Mark III is featured on our traditional seasons greetings card together with my beautiful wife Afra and my son Elliot.
I also made
a short behind the scenes film
which you can see below.
This years picture was put together from 12 different photographs of the car, as we did not have a studio and only two flash lights. We had to shoot it in front of my garage just before all the cars went into storage for winter.
We have been doing these cards for quite a few years now-. You can see some
previous cards here
.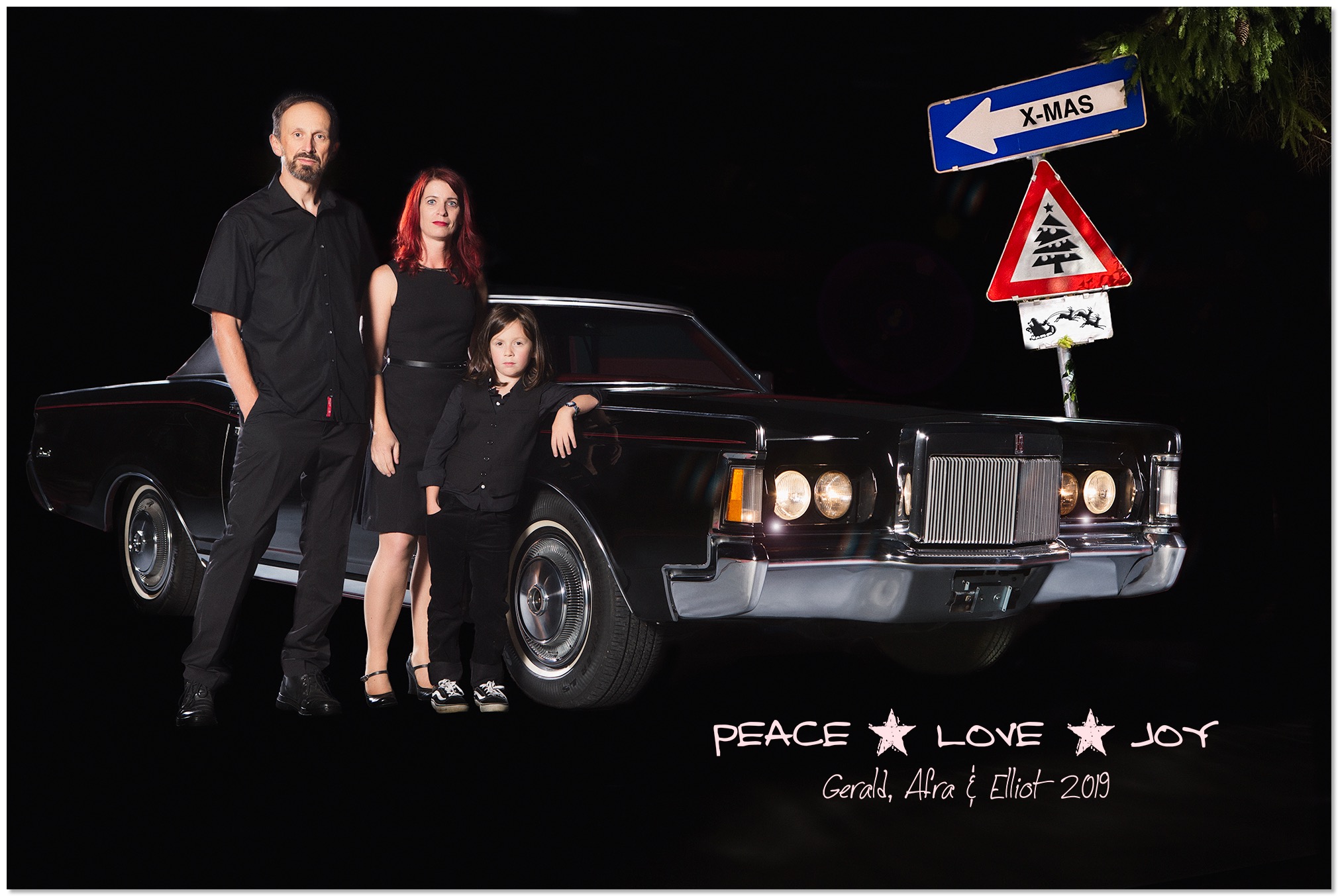 Our 2019 card


Click on the video to watch it.
In September I put my cars into winter hibernation and the projects for this winter will be:
1978 Cadillac Eldorado Biarritz:
Rebuild the Quadrajet carburetor as the car has some hesitation when accelerating from standstill. Probably the acceleration pump has a problem.
Check EGR valve.
The water pump is slightly squeaking (maybe I will have to replace it)
The AC controller under dash is sometimes making a ticking noise. Looks like a bad contact somewhere causing the setting motor to rattle.
AIR pump is making a light noise - a well known problem with these old pumps.
1967 Cadillac Eldorado:
Rebuild AC compressor as it blew its main front gasket a while ago.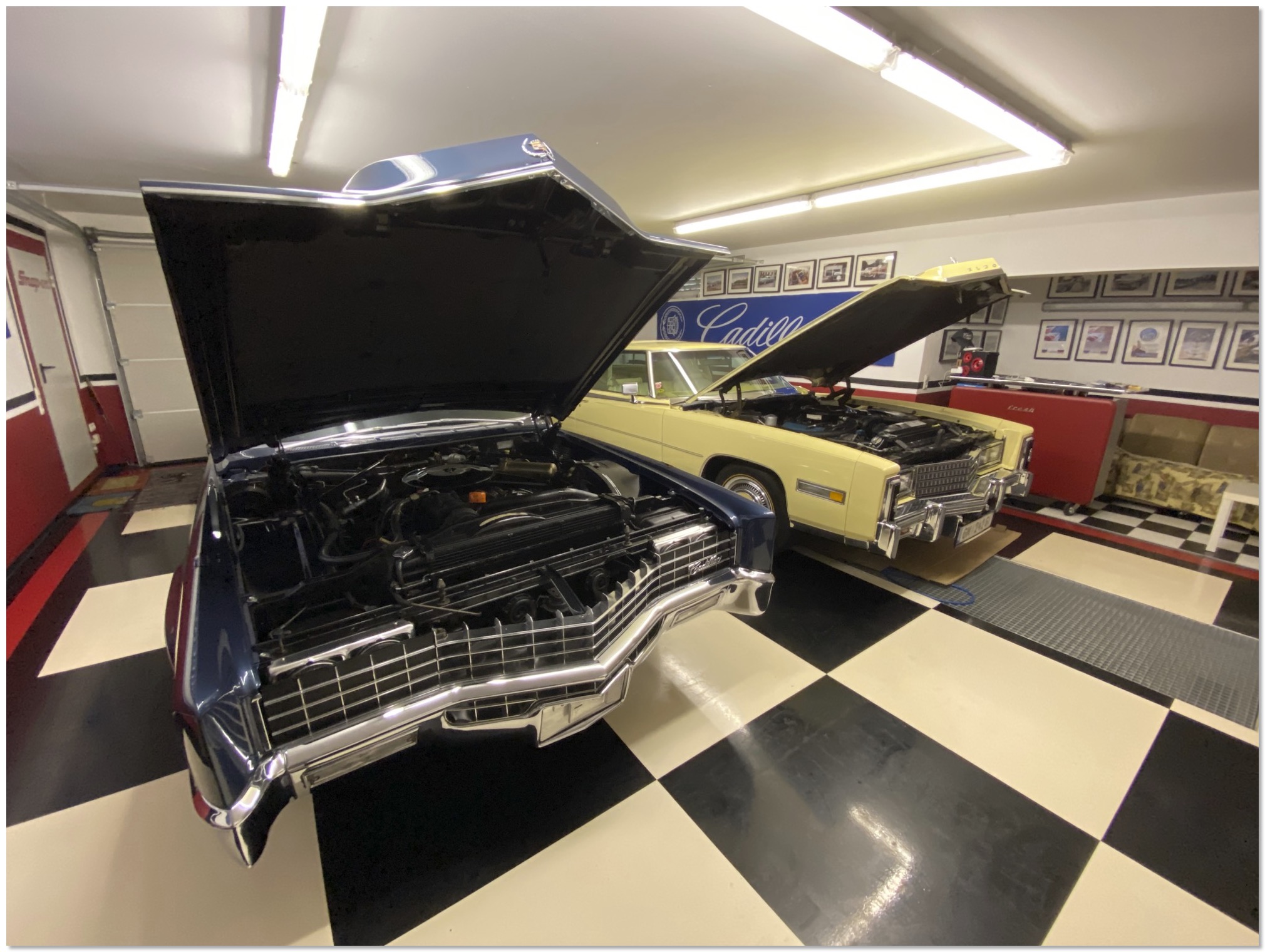 The cars waiting inside the garage for spring to come…


Inside my home garage where I do all the work. First project will be to re-organize my garage and tools.
I built my home garage back in 2005. and since this time
I did not even have a work bench nor sufficient storage for my tools
. All I had was a small mobile tool cart which could no longer store all the tools I collected over the years. Repairing parts on the floor became very uncomfortable as well and I started dreaming of a real workbench and some garage cabinets to get my garage more organised again. After years of saving enough money,
I finally ordered a nice workbench and cabinetry
.
READ MORE!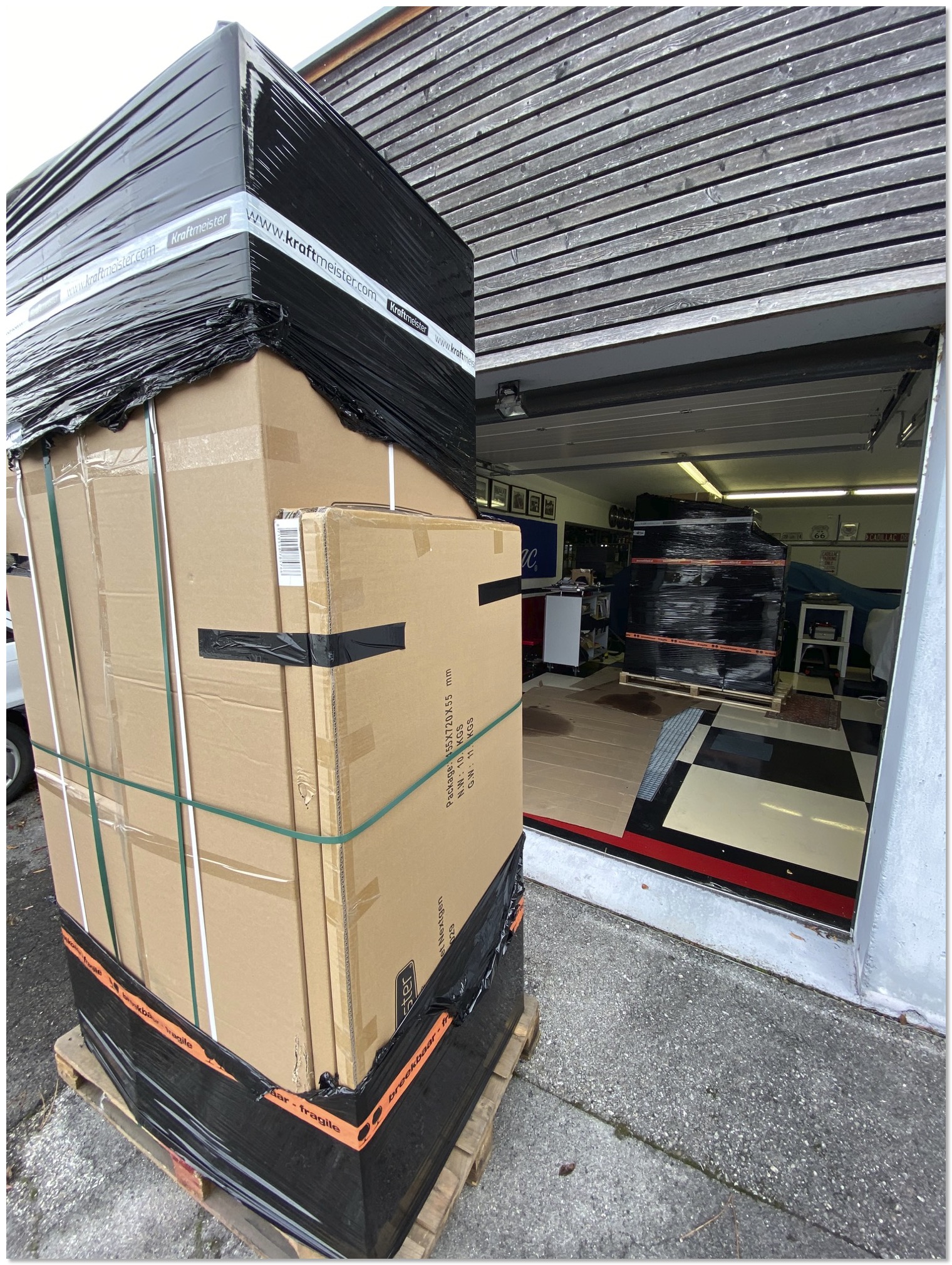 This is what the truck delivered . I first had to assemble everything. Click to see the assembled cabinetry!
READ MORE...
Just before I put my car into winter hibernation, I wanted to shoot a short film of my 1978 Eldorado Biarritz. My wife and I took the Eldorado for a last spin for this season, and I filmed some nice footage of my car.
You can see the finished film below.
During the shooting the odometer rolled over to 12.000 miles, but the car still looks, feels and smells like a new car.
You can watch the video in 4k UHD resolution on youtube directly if you get an error message (video not available) below.

This is a nice video of my 78 Biarritz. Make sure to watch in HD or 4k!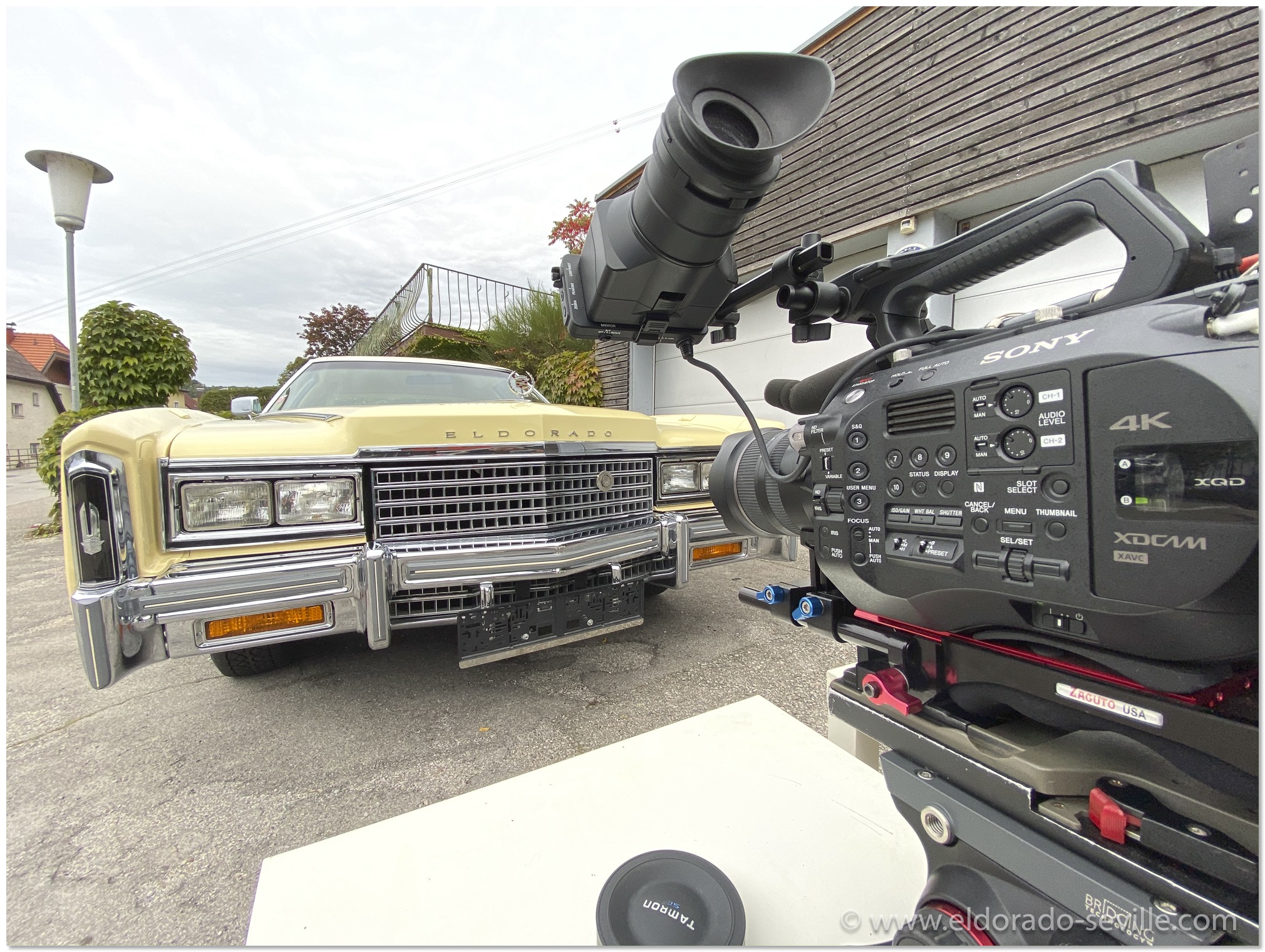 Behind the scenes.
READ MORE...
22 | 09 | 19 | 20:59 | Filed in:
Various
What
I enjoy most in the old car hobby is meeting other aficionados from all over the world.
This time Joe came all the way from Texas for a short visit to my garage and my cars. We only knew each other from the Internet and Facebook and finally had a chance to meet in real life.
I took him and his traveling partner for a spin in my 67 Eldorado and my 67 Deville.
Joe was so kind to personally deliver some brake parts I needed
which he got from
Honest John´s Cadillac Corner
.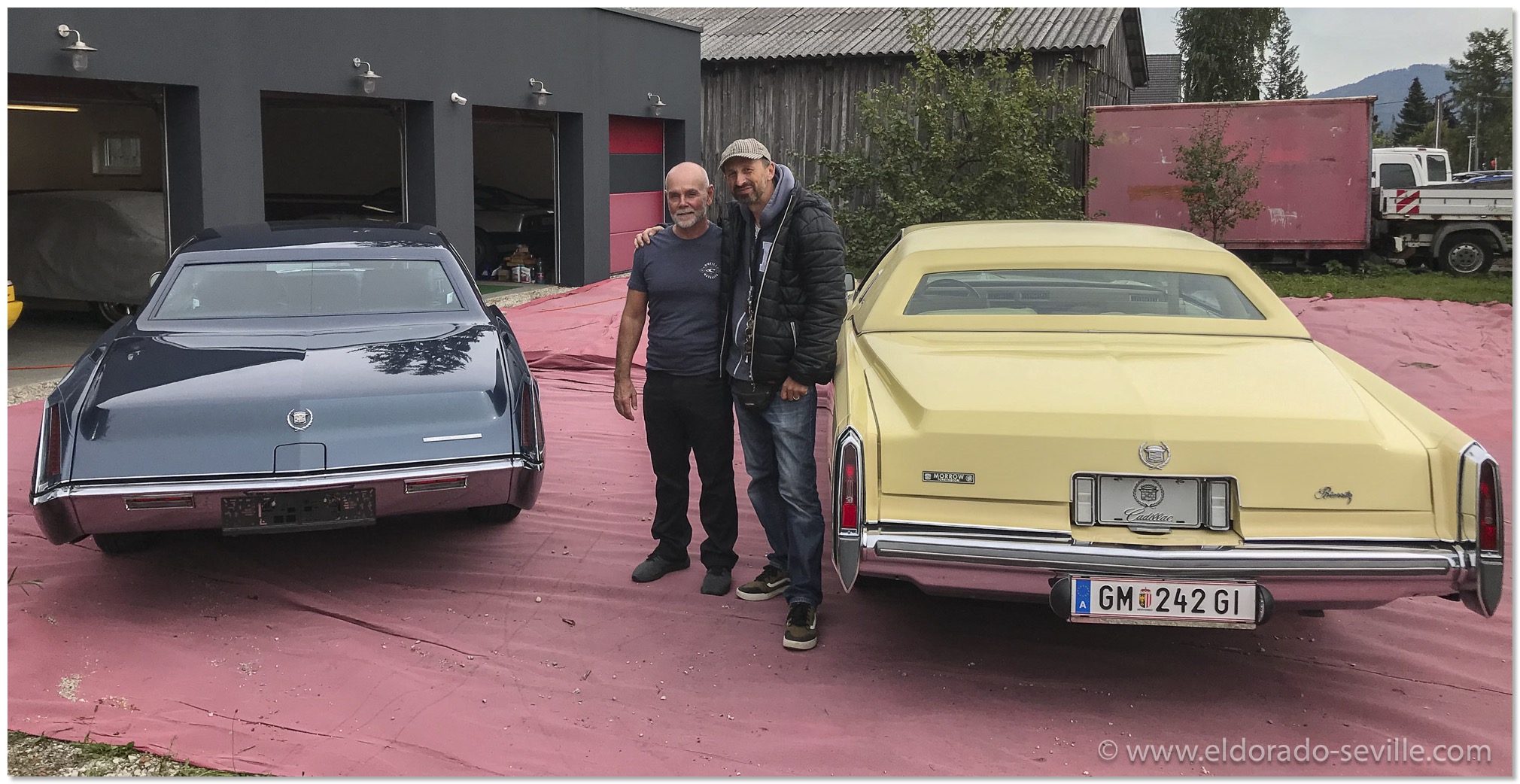 Joe and I in front of my big Garage

The Austrian classic car magazine
"Austro Classic"
i
s planning a story about Cadillacs
in one of their future issues and asked me if it would be possible to photograph some of my cars. Wolfgang Buchta and his wife came over for a visit and they took a lot of pictures of my
67 Eldorado
and my
78 Eldorado.
I'm looking forward to their story.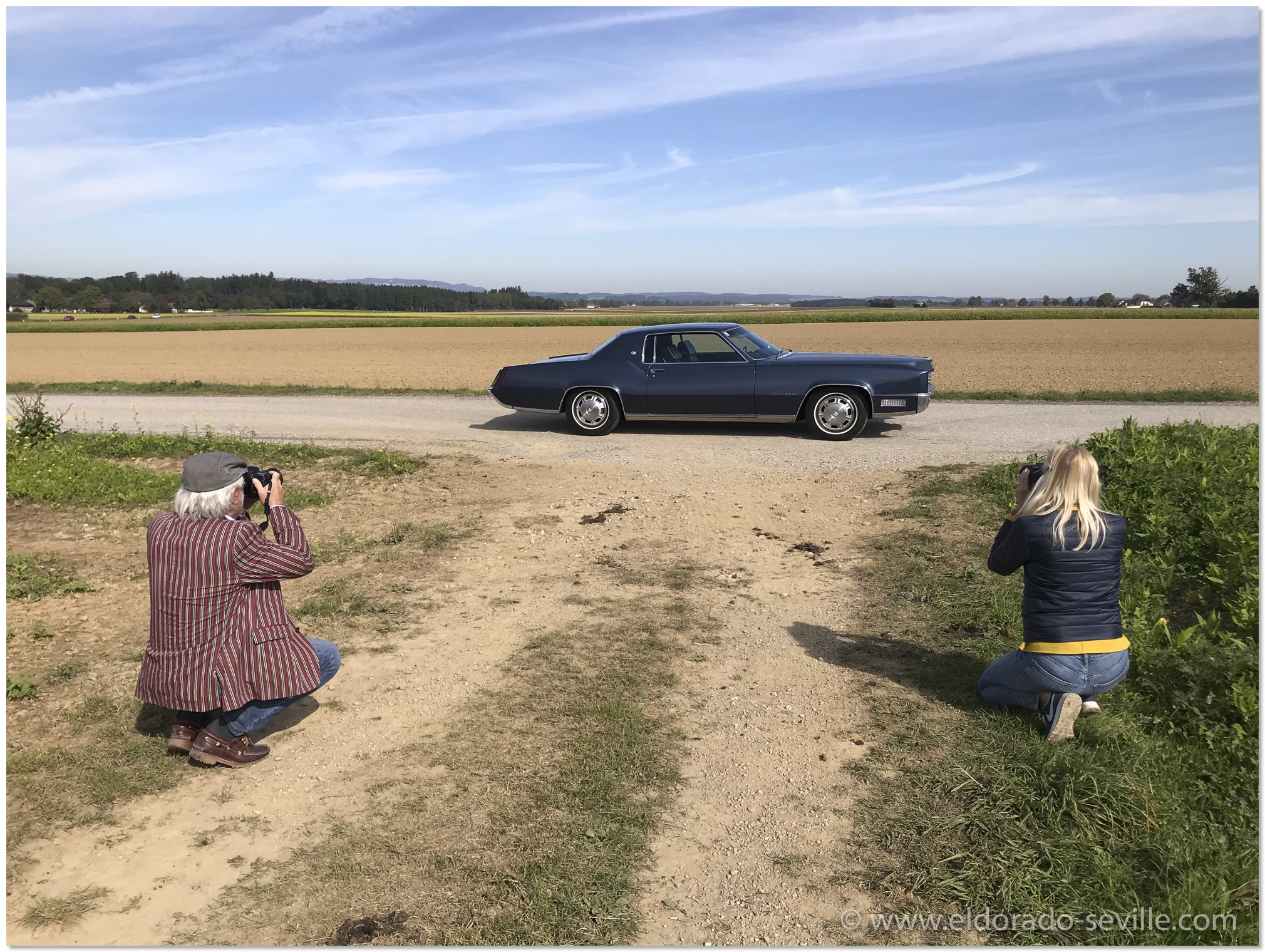 The two photographers and editors at work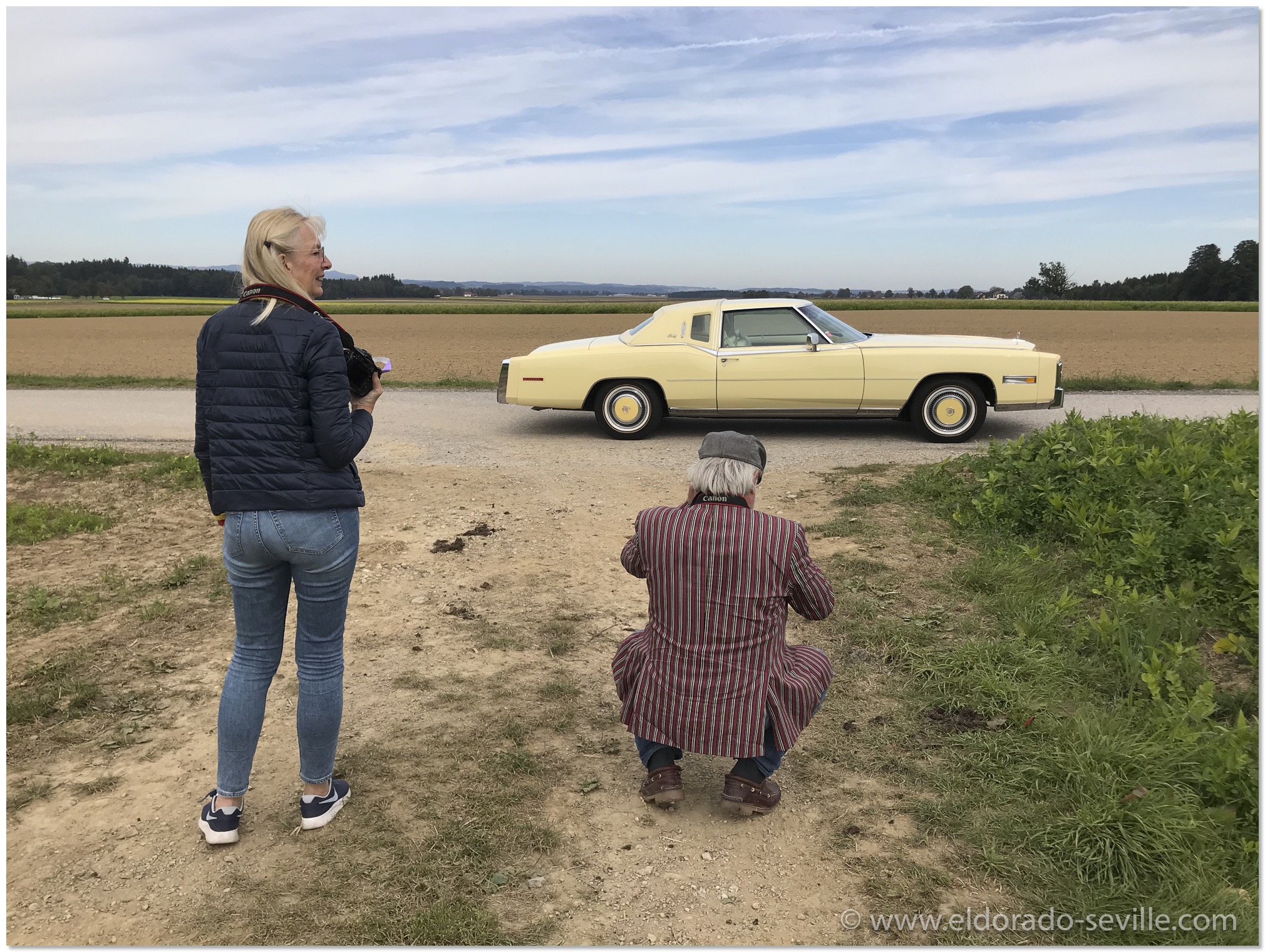 While I am a purist when it comes to my personal cars, I also like Hotrods and Custom Cars very much.
One of the coolest gatherings of these cars is the Beach Race of Caorle / Italy, which I visited with my family this year again. With our GoPro camera and our Drone
we shot a nice home video of this weekend
. Initially we do not plan to film anything at all, thats why we left our "real" cameras at home…
There are also some Cadillacs in this vide
o - one of the cars even had a Cadillac V12 engine!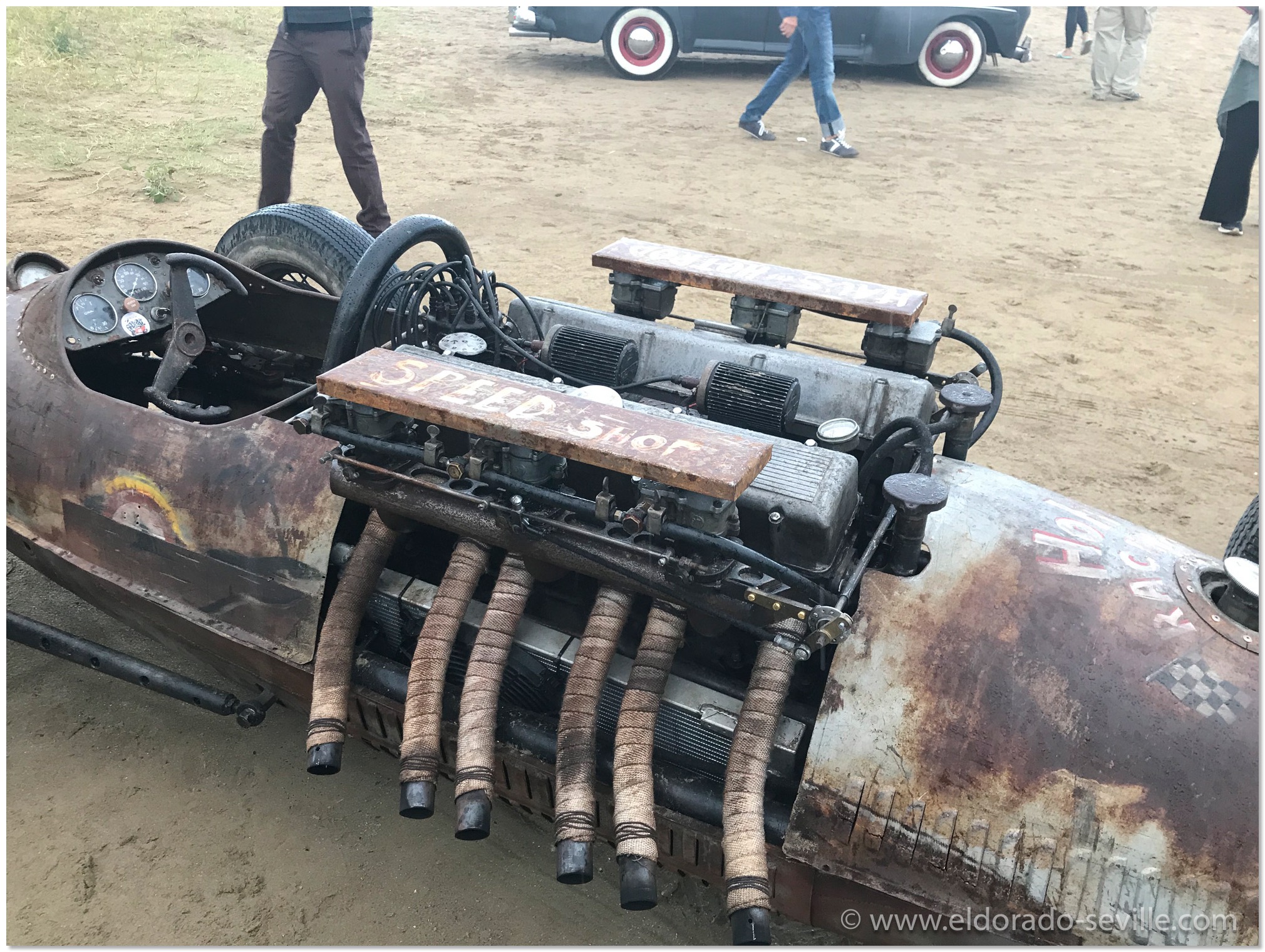 Yes this is a Cadillac V12 engine in Sepp Weinzettl´s HotRod Racer.
After a drive with my 67 DeVille I noticed that
one of the front wheels was warmer than the other side
. I lifted the car up and manually spun the front wheels.
On the warmer side there was a slight brake drag while on the other side the wheel spun completely freely.
I did not notice any problem while braking and had the impression that the brakes worked evenly as the car did not pull in any direction.
When I now opened up the brakes…
READ MORE!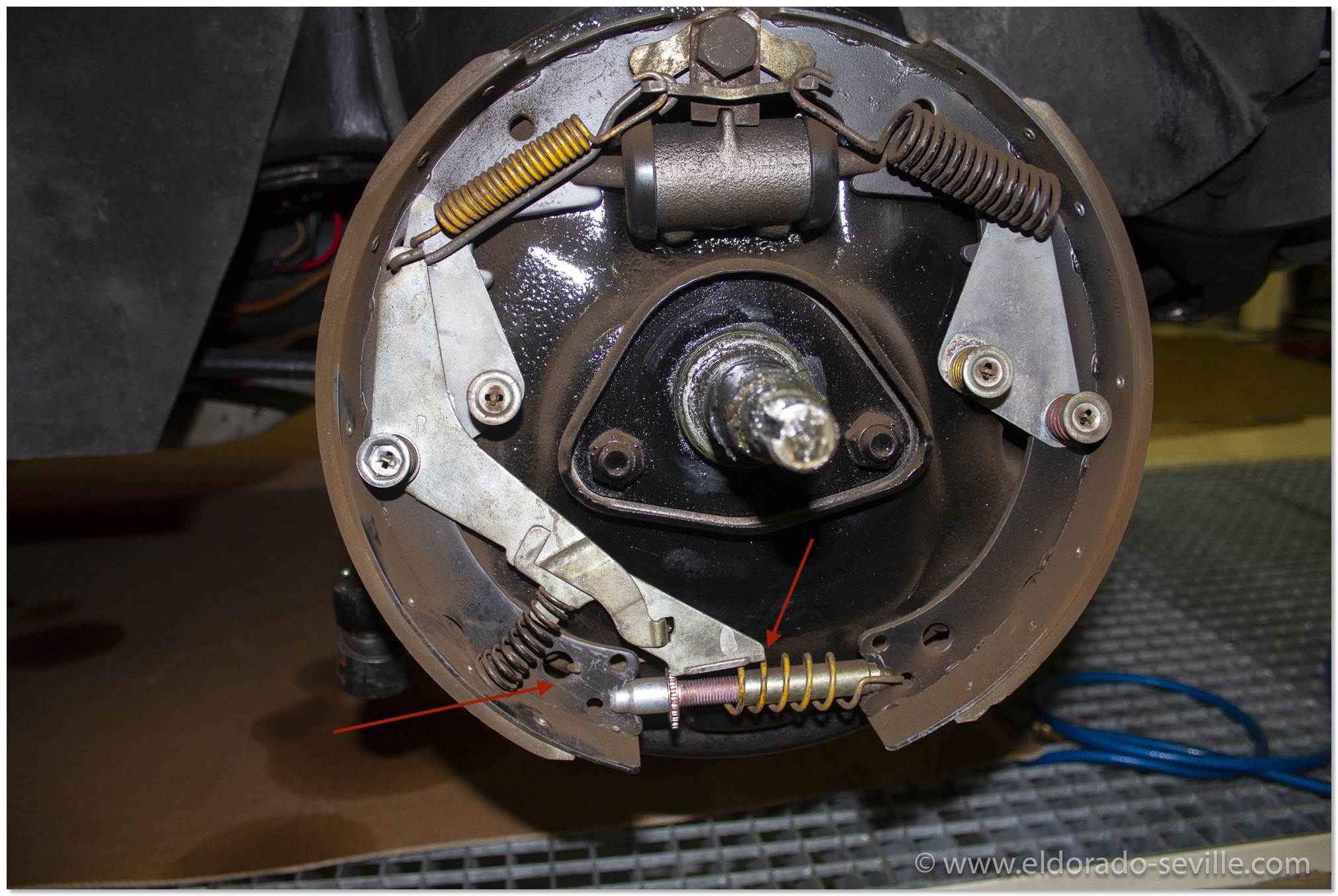 This is how the last shop which worked on my brakes assembled my right front brake… I will never let a "professional" touch my car again… They used the wrong spring and non fitting front adjusters. To make things worse they attached the wrong spring to the wrong holes in the brake shoes which stretched the spring and made it unusable.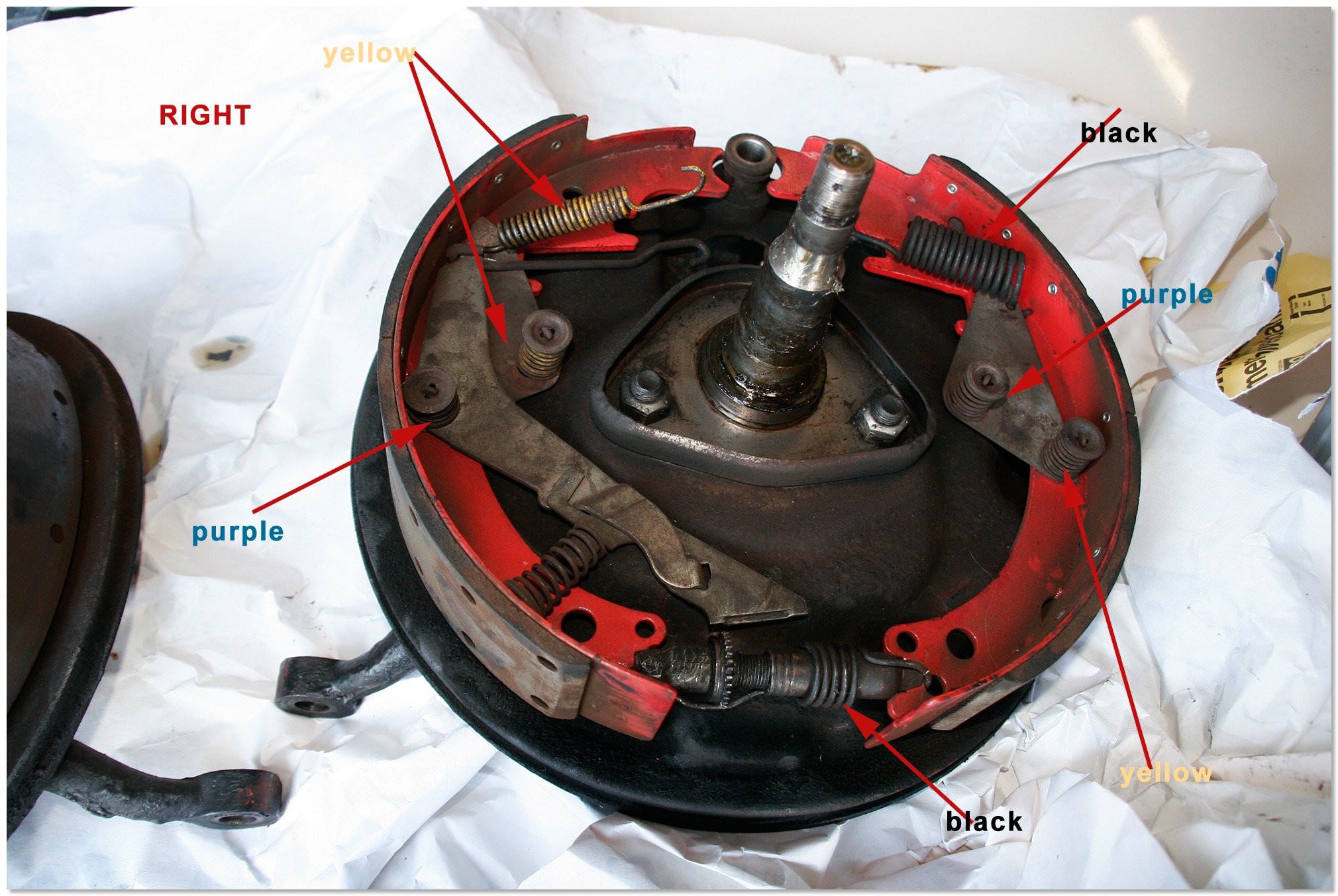 This is one of the many detailed pictures I provided to the shop to make sure they would reassemble the brakes correctly… They failed miserably!

READ MORE...
Back in 2011 I had my carburetor rebuilt by a shop, which I used by the time, and before I did all the work by myself.
When I got the car back from the shop, I suddenly heard a ticking noise, which came from the side of the carburetor and the car idled terribly.
As I soon found out,
the shop had the gasket and the metallic spacer installed in the wrong order
and because of this, the gasket burned through, which caused a massive leak at the carburetor.
A new gasket was installed in the correct order the
n, and the car ran really good until recently, when the car suddenly had the exact same symptoms again…
I ordered new gaskets again and removed the carburetor from the car.
Click to READ MORE!
Make sure to install the gasket and the metal shim in the correct order!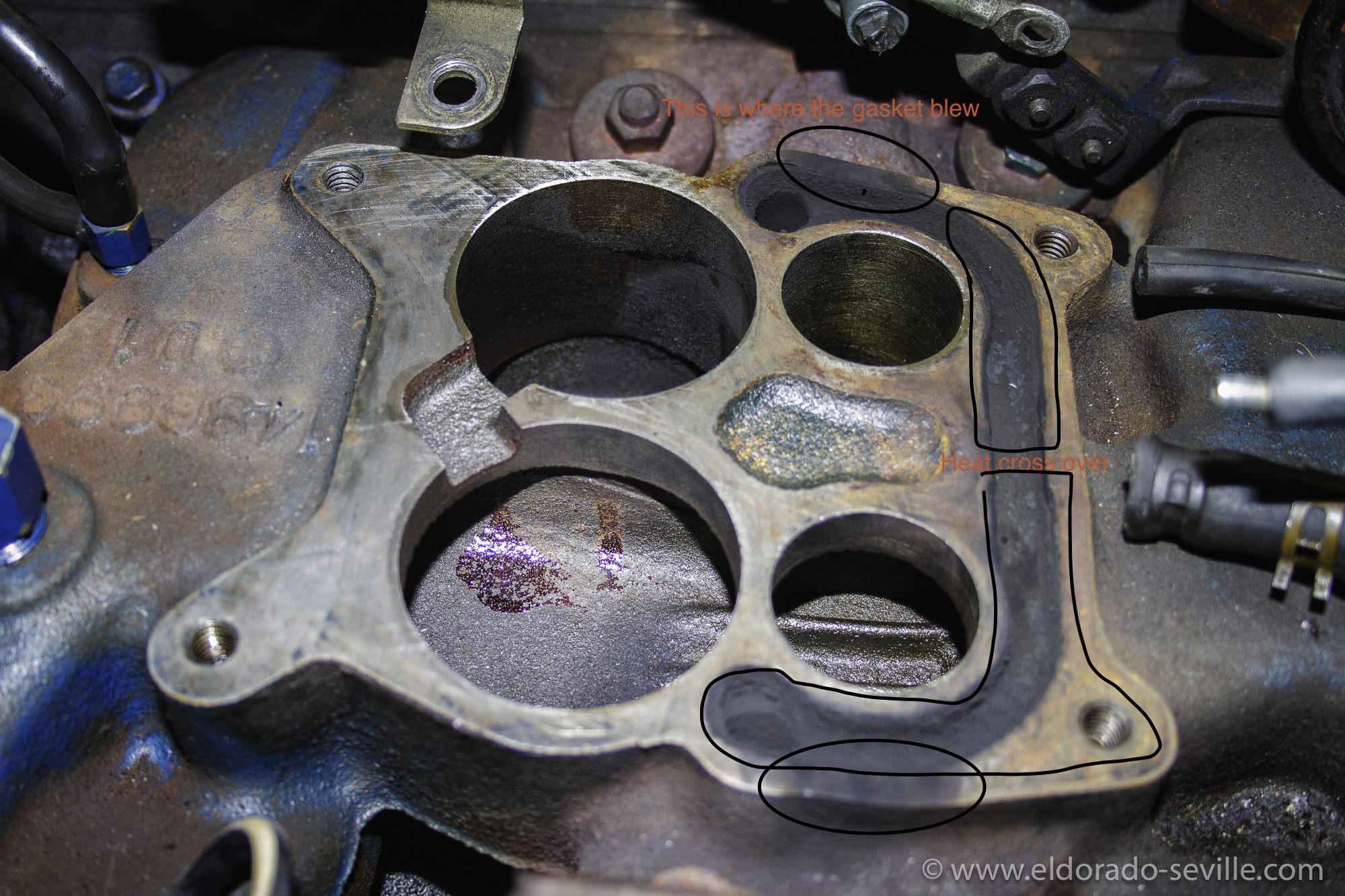 READ MORE...
The organization team of the
Cadillac BIG Meet
came together to shoot some video footage for a small documentary film I am planning to promote the 2020 edition of the next meeting.
We are a group of Cadillac enthusiasts and friends and all of my friends brought one of their many Cadillacs to the first day of the filming.
We then had dinner together and another highlight was a tour of a friends new garage where we had a great evening.
The 1976 Eldorado in the picture is for sale by the way! It has only 1.000 miles on the clock and is in PERFECT condition.
Check out the preview video and some pictures!
Some scenes from the upcoming short film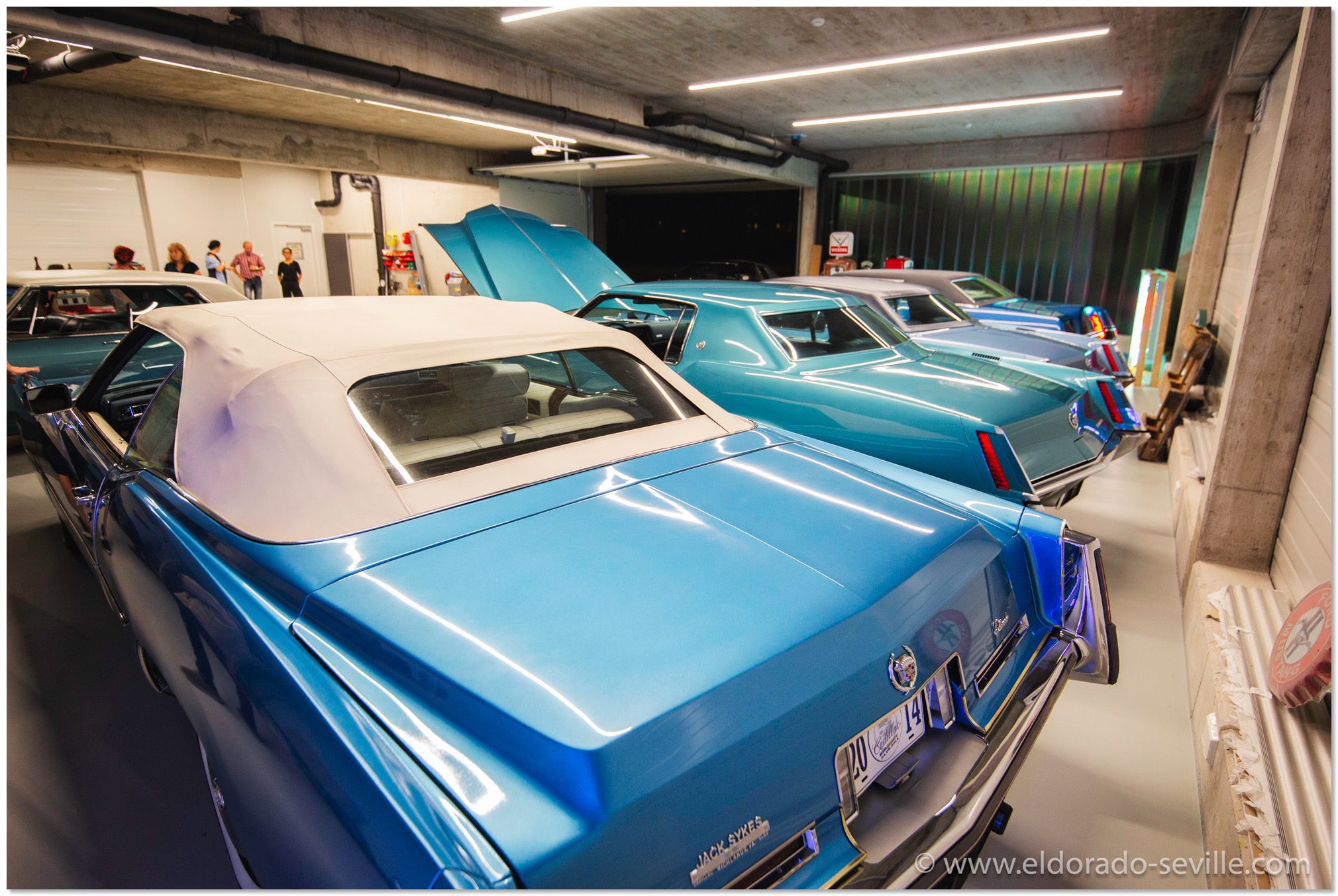 In my friends new garage.
READ MORE...
The Classic Cadillac Club of Germany held its annual meeting in Wiesbaden this year and we were very lucky that we could go there.
Days before the meeting I hurt my back badly in an accident at work and it looked like if I could not participate. I had a lot of pain whenever I moved and could basically do nothing but sitting still. I could not even hold a camera and getting in and out of my car literally took minutes.
Luckily the seats in the car are even more comfortable than my sofa at home. So I packed a lot of pain killers into my luggage and….
CLICK BELOW TO READ MORE AND TO SEE THE IMAGE GALLERY

The video my wife shot at this meeting with our Gopro camera and our drone. Make sure to watch in HD or 4k

The official video of the German Cadillac Club - Check it out!
READ MORE...
I just recently
replaced the fuel pump
on my Mark III. I thought that would have solved my problems for a while. When I started the car a couple of days later it did not idle as smooth as before though. I checked everything and when I touched one of the ignition wires I got an electrical shock. So I knew that I would have to replace the ignition wires and ordered some new ones with spark plugs. When I entered the garage the next day there were some fuel fumes in the air which one could smell pretty clearly. The new fuel pump was dry and after a while of searching I saw that the carburetor was leaking fuel out of the accelerator pump gasket…
CLICK BELOW TO READ MORE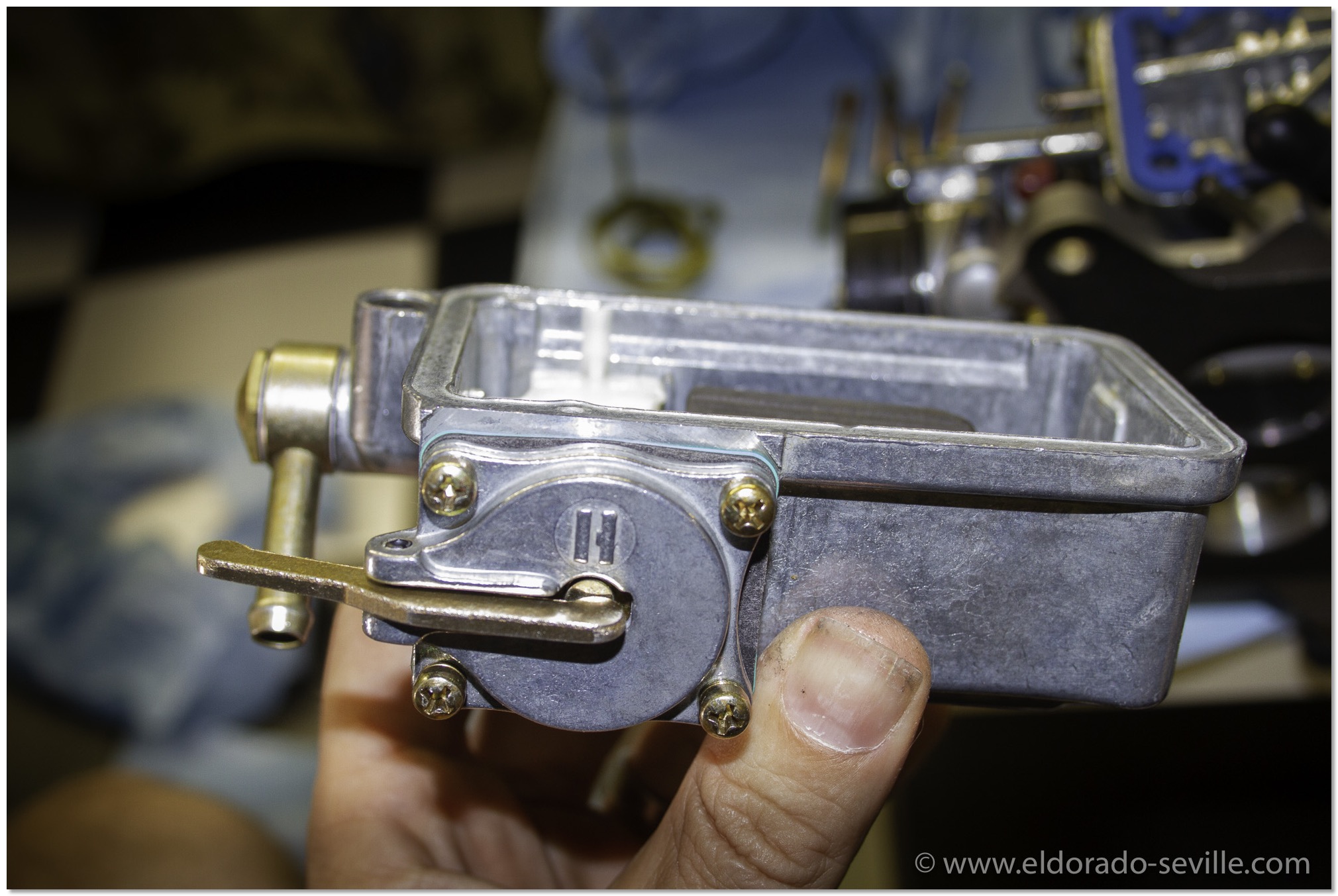 New diaphragm in place
READ MORE...
A couple of years ago, right after I got my 1978 Cadillac Eldorado Biarritz,
I had to rebuild both rear brakes, as the emergency brake did not work at al
l - a very common problem on these cars btw. After the rebuild everything worked fine, but eventually
I noticed a clunk whenever I drove the car over a road bump or railroad track
. If I just lightly tapped the brakes, it would not make any noise at all. So I was sure that the noise came from the brakes, and that the new brake pads would be the reason for the problem somehow. Finally today it was time to fix the problem…
Rebuild kits do come without anti rattle clips for some reason
. When I took the brakes apart today, I found out that the inner and outer pads had some radial play and I think this caused the rattle.
Click below to read more!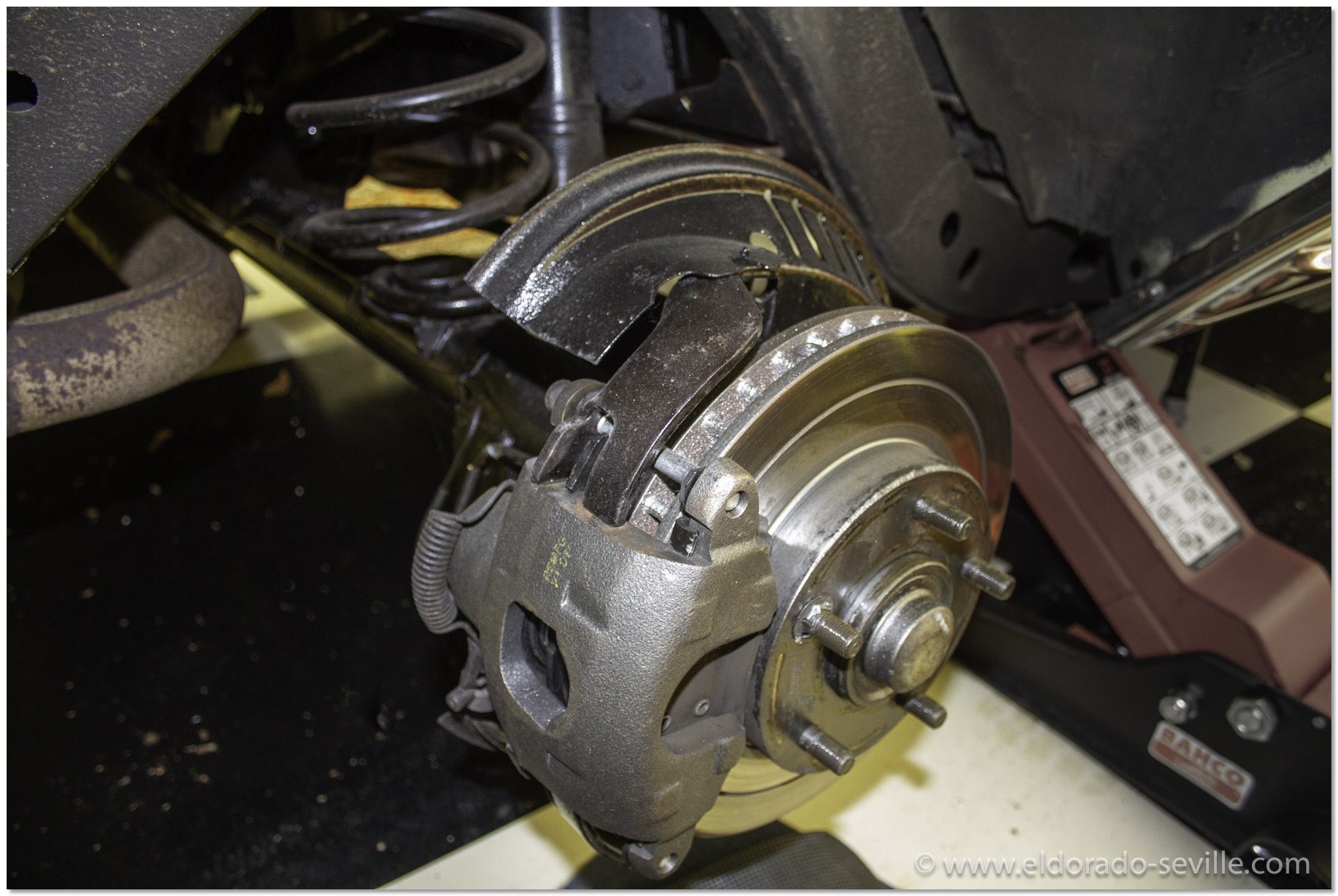 The right rear brake of my 1978 Biarritz before I took it apart.
READ MORE...
Today I finally found the time to
replace the leaking fuel pump
of my 1971 Lincoln Continental Mark III. It probably leaked because I did not drive the car for a longer period of time last year. It seems that there is a gasket inside which leaked when the car was parked for a few days. After a few minutes it would stop leaking, but of course this had to be fixed.

The fuel pump is not exactly easy to replace because of its location and very limited accessibility to the two mounting screws
.
I had to remove the oil filter and also loosened the power steering pump....
CLICK BELOW TO READ MORE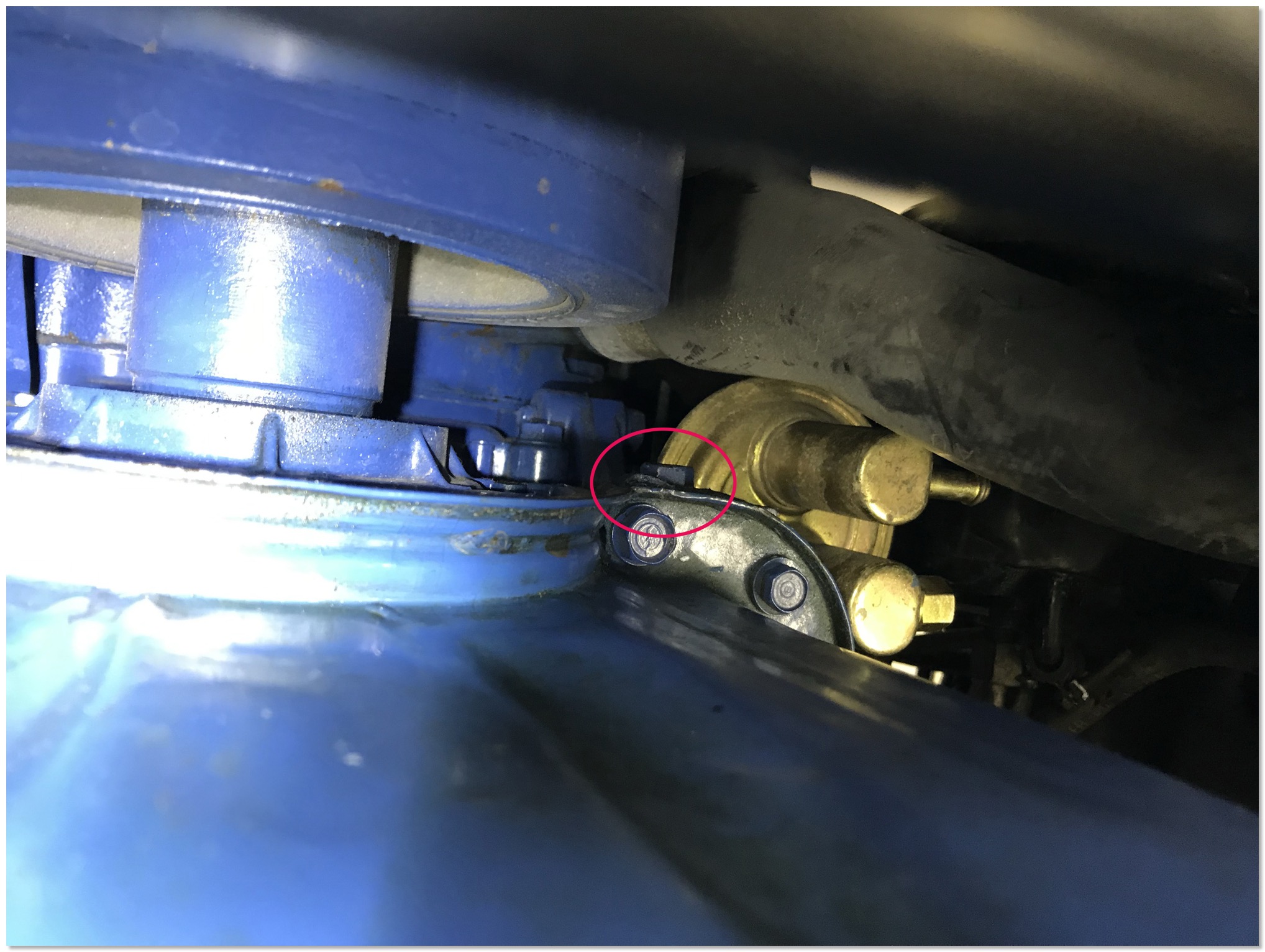 Changing fuel pumps normally is an easy repair - but getting the two mounting bolts out on the 460 engine takes a lot of patience.
READ MORE...
My 1978 Cadillac Eldorado Biarritz had some problems with both of its CV boots which splattered grease all over the front of the car. The still 100% original rubber boots were not torn, but decided to slip from the outer end and released some of the grease. I could not find a way to re-fasten them properly and the rubber also felt pretty hard after 41 years on the car.
CLICK "READ MORE" underneath the picture to read the entire article.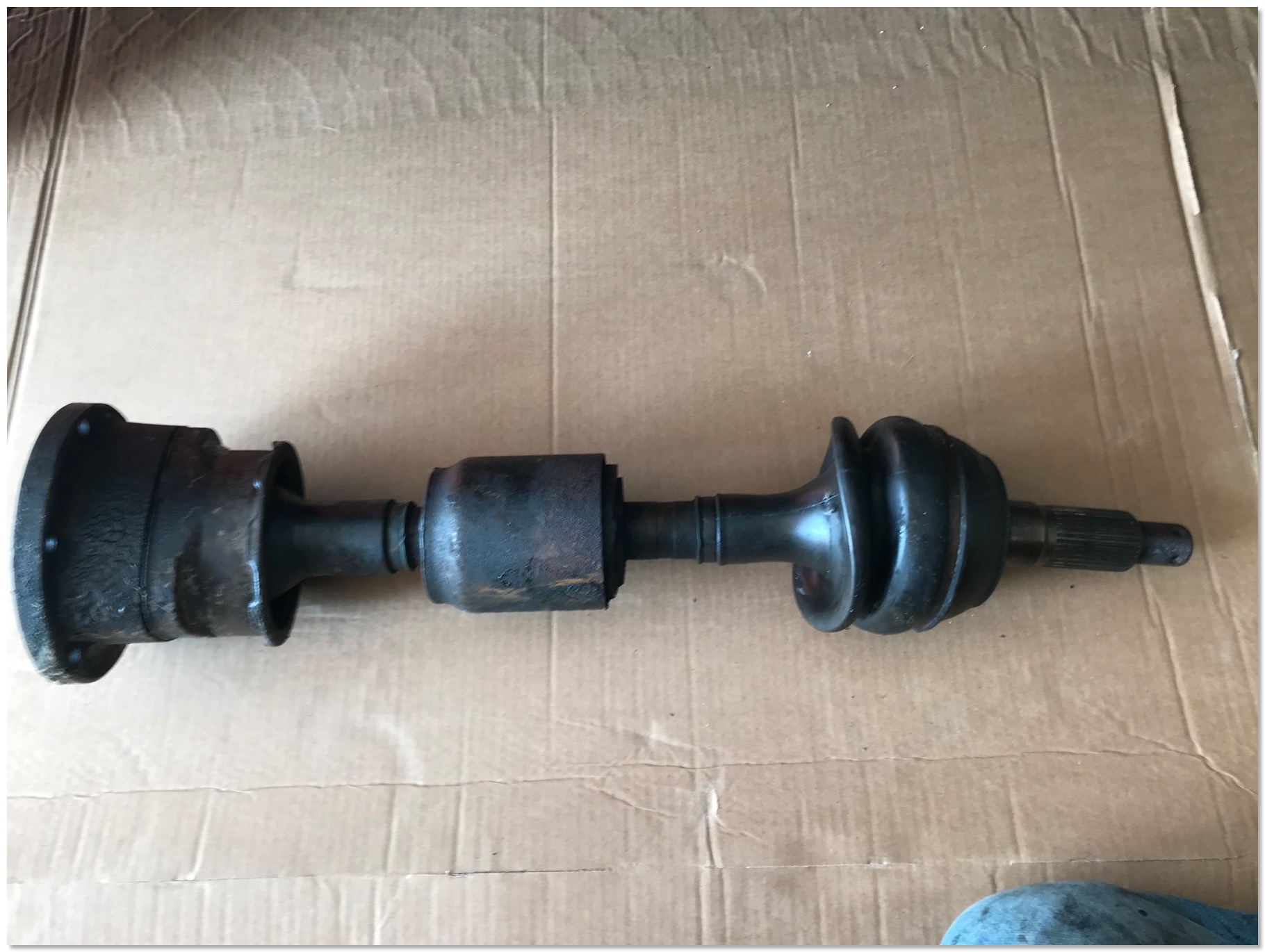 The removed original right front axle including the rubber dampener. I will some time restore it and install new rubber boots and put it back into the car instead of the replacement axles I installed now, just to make it 100% original again.
READ MORE...