As we had a nice sunny, dry winter day today I decided to re-arrange the cars in my garage so that I can start doing some work on them during the remaining cold winter nights.
The
following work
is planed for the next few months before the cars will be put back on the road in May 2012.
1971 Mark III1967 DeVille
needs new front wheel bearings (I already have the spare parts)
will try to find a rebuilt OEM Bendix master cylinder and vacuum booster. These are very difficult to find. Everybody seems to offer Delco Moraine parts only. I have replaced my original booster and master cylinder 2 years ago and I´m not quite happy with the power assist of the new units. It seems that the after market master cylinders from Delco have a smaller bore diameter and therefore you will have to depress the pedal with more force. There is a discussion going on on the topic of finding the correct booster and master cylinder in the CLC forum - check it out for more detail! If you know where I could find a correct Bendix booster and master cylinder or where I could get my original core rebuilt, please let me know!! The parts number for the Bendix Master Cylinder is #1489981 and for the Bendix booster it is: #1489071
re-adjust the gear indicator as it's slightly out of line.
1967 Eldorado
I will remove the starter motor and have it rebuilt - it sometimes is acting up
1958 Eldorado
It needs some new front wheel bearings as well. I already bought the parts.
I will of course post the repair progress here on my website
A new garage?
The biggest planned project for 2012 will be to find a solution for my storage problem. I hope to be able to build another garage or to rent one. I will have to find a solution until the spring of 2012. I´m dreaming of building a building which can hold 8 Cadillacs, but I do not know yet if I will be able to afford it...
Car Shows
I hope to attend and visit the
"Klassikwelt Bodensee"
from May 17th to 20th and of course the best meeting in Europe -
the Cadillac BIG Meet August
25th to 26th. I will also hopefully make it to some local shows here in Austria.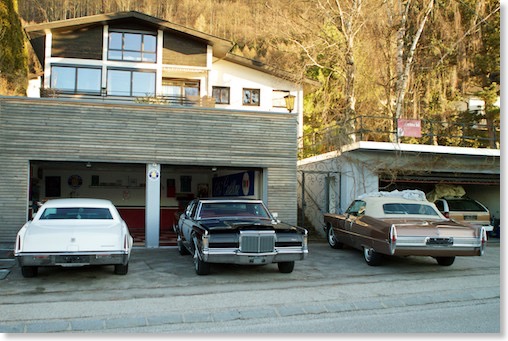 As we had a dry winter day I took the cars out of the garage - they fired right up after some months of sleeping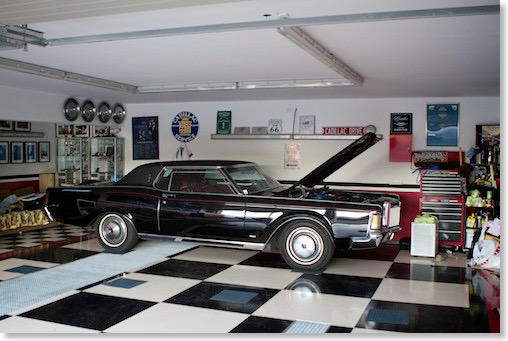 The Mark III was moved to the back of the garage, so that I can start working on the other cars first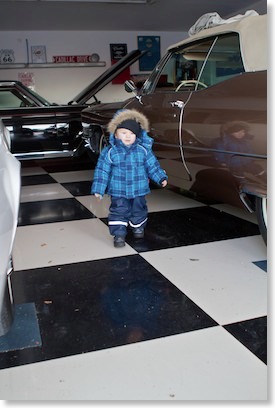 Little Elliot loves Daddy´s cars as well ;-)