This year in 2023 the
Cadillac BIG Meet in Kremsmünster
will take place once again on August 19th - 20th. My friends and I are organising this event since 2004 and it is THE Cadillac Meeting in Europe.
My wife and I shot a short promotional video with some team members to highlight the program for this years event:
The Cadillac BIG Meet is Europes biggest Cadillac Meeting. Since the beginning in 2004 I am part of the organisation team along with my Cadillac friends. The meeting is held every second year in Kremsmünster at the Kremsegg Castle in Austria. Here is the flyer for the upcoming meeting in August, this year my 67 Eldorado made it on the cover!
You can find all the information about the meeting on the brand new website.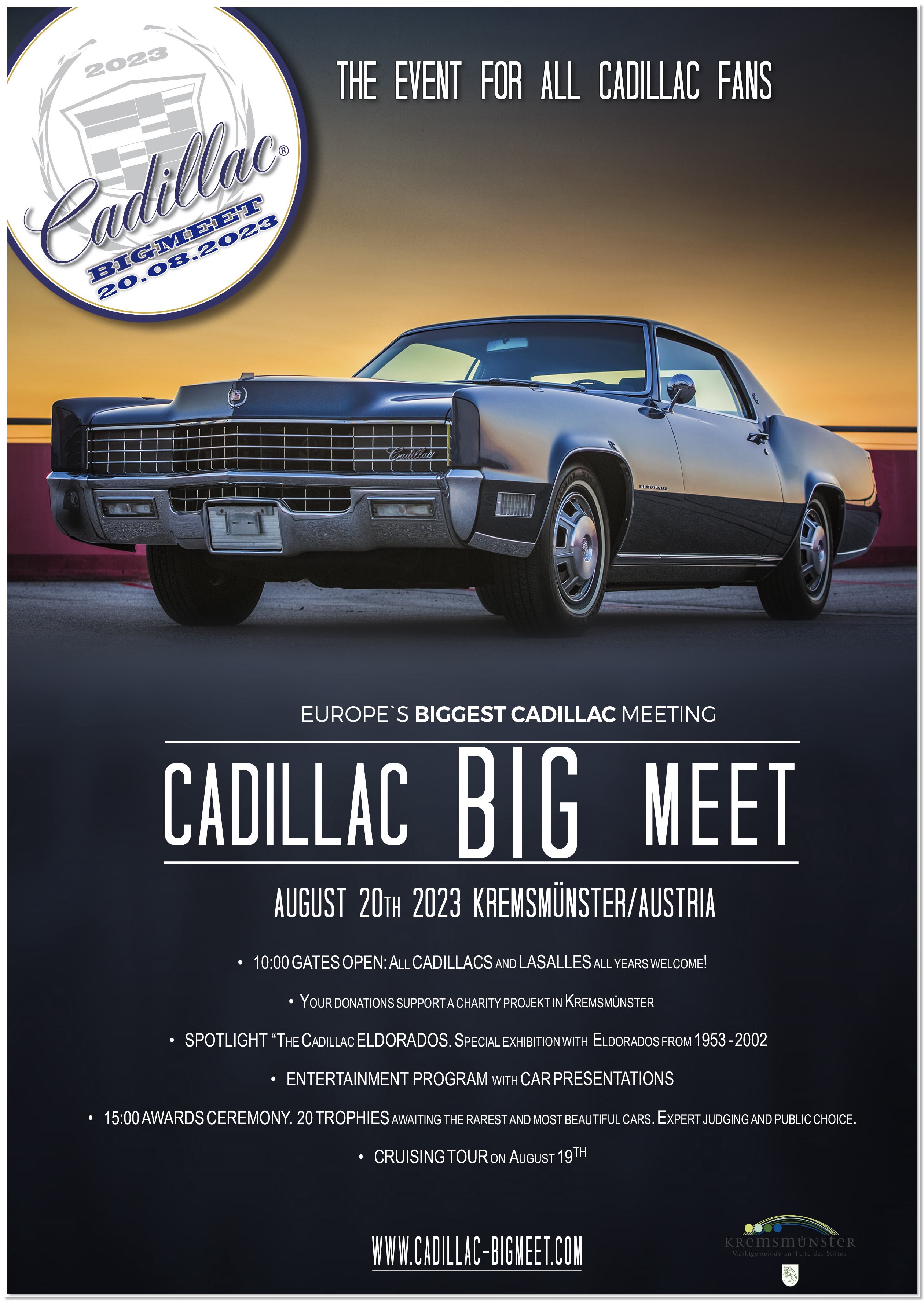 The Classic Cadillac Club of Germany held its annual meeting in Wiesbaden this year and we were very lucky that we could go there.
Days before the meeting I hurt my back badly in an accident at work and it looked like if I could not participate. I had a lot of pain whenever I moved and could basically do nothing but sitting still. I could not even hold a camera and getting in and out of my car literally took minutes.
Luckily the seats in the car are even more comfortable than my sofa at home. So I packed a lot of pain killers into my luggage and….
CLICK BELOW TO READ MORE AND TO SEE THE IMAGE GALLERY

The video my wife shot at this meeting with our Gopro camera and our drone. Make sure to watch in HD or 4k

The official video of the German Cadillac Club - Check it out!
READ MORE...
The German Cadillac Club (
CCCD = Classic Cadillac Club Deutschland
) held its annual Club Meeting in Bavaria / Germany at the "Starnberger See" in 2017. It was a perfectly organized meeting with about 60 cars of all ages attending. As I am no member of any club, I was allowed to participate as a guest with my
1974 Coupe deVille which performed perfectly
. I joined my Cadillac friends from Austria in a convoy to Germany, and we had great fun there. Two driving tours were held on Friday and Saturday through the scenic landscape of Bavaria. Thanks to Christian Doerk for organizing this fantastic event! The whole trip was 503 miles for me, which I enjoyed thoroughly.
You can find
all the pictures of this event in my gallery here
or by clicking on one of the images below.