1966 Cadillac Turn Signal Switch repair
The 1966 is a fantastic car - but as most low mileage cars, it sometimes needs some work to fix some minor problems which were caused by not using the car for a longer period of time.
One of the few problems this cars had were some weird issues with the turn signal lights.
I´m a perfectionist and everything has to work on the Cadillacs that are in my garage ;-) - thats one of my rules ;-)
Strange things happened on the right rear and front turn signal lights when the headlights were on or off...
This light switch is made of "unobtainium", so I was pretty scared that it could be broken.
The switch is located underneath the dash and is screwed onto the steering column and is controlled and actuated by a steel cable that is coming from the turn signal lever.
On this car the cable was out of alignment and did not engage the switch correctly on the right side position and this intermediate position of the switch caused the various problems.
It took me quite a while to get the adjustment of the cable right again, as you carefully have to shorten or lengthen it with a nose-plier to get the right length.
I also adjusted the spring you can see on the picture below. This makes the switch more snappy. It now works perfectly and the lever moves much nicer!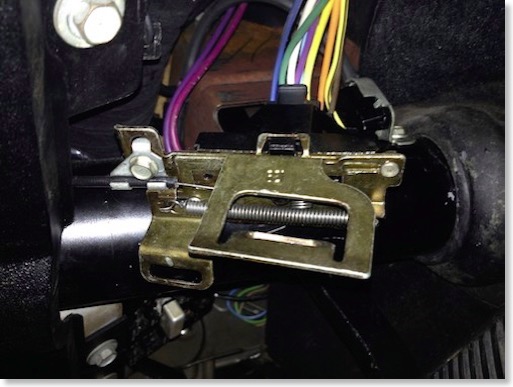 the 1966 Cadillac turn signal switch as seen from underneath the dash - already removed from the steering column.