Today I picked up my 1967 Cadillac DeVille from the shop where all my repairs and restoration work is done when I can´t do them for myself.
The car got a complete new front suspension including all bushings, ball joints and paint. Some of the old bushings already fell apart. As everything was apart we also did the complete front brakes.
Also the radiator was fixed and the car got a new ignition lock which I removed from a 67 limousine at a junkyard in California last year. Also the turn signal switch was finally fixed after it broke 3 years ago...
The car is in spectacular condition, now and with the new suspension it drives like a brand new car - I could not have imagined that the difference would be that big.

Below you can see a picture of the rebuilt front suspension. Its still a little dirty as I had to drive the car home through rain - it will be cleaned soon though.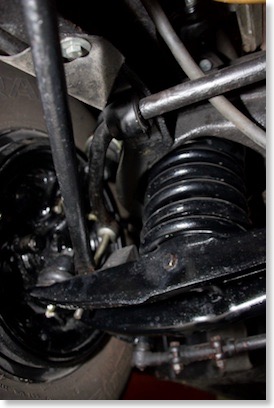 Today I disassembled the rest of the front suspension and cleaned all the parts before they will be sandblasted. Tomorrow I will finish them and give them to my buddy Richard for sandblasting.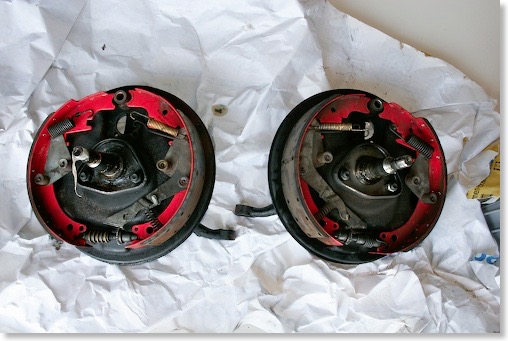 The brakes before I disassembled them - I hope I can clean the small metal parts with an ultrasonic cleaner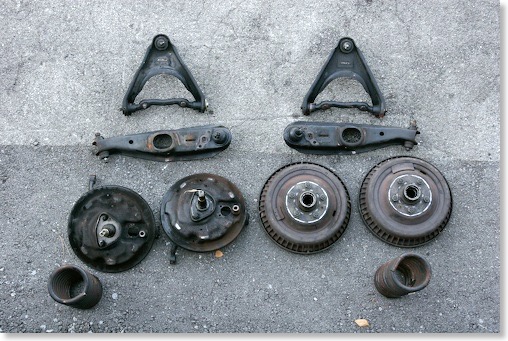 All these parts will be sandblasted and painted afterwards
Today I visited the restoration shop with the 58 for the obligatory annual technical inspection. Of course it passed with flying colors without a problem.
Later I also dropped off the 67 there as some smaller things have to be repaired as I do not have the necessary tools nor skills to do them myself.
The front-suspension needs a rebuild and I do not have the presses to push some of the bushings in and out.
The switch for the directional switch in the steering column has to be replaced
Need a new ignition lock
The transmission has some leaks I could not find
The guys from who helped me with the restoration of my cars will take over.
In a couple of weeks I should have the car back. It will go directly into winter storage then. Today also was the last day to drive the 58. I will return the plates over winter.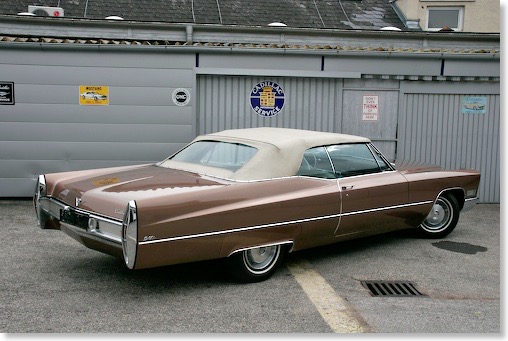 The 67 at American Special Parts