For a few years now it's a tradition to shoot a card with one of my cars for the annual season´s greetings. This year my 1967 Cadillac Eldorado made it on our card.
All the best to the visitors of my website!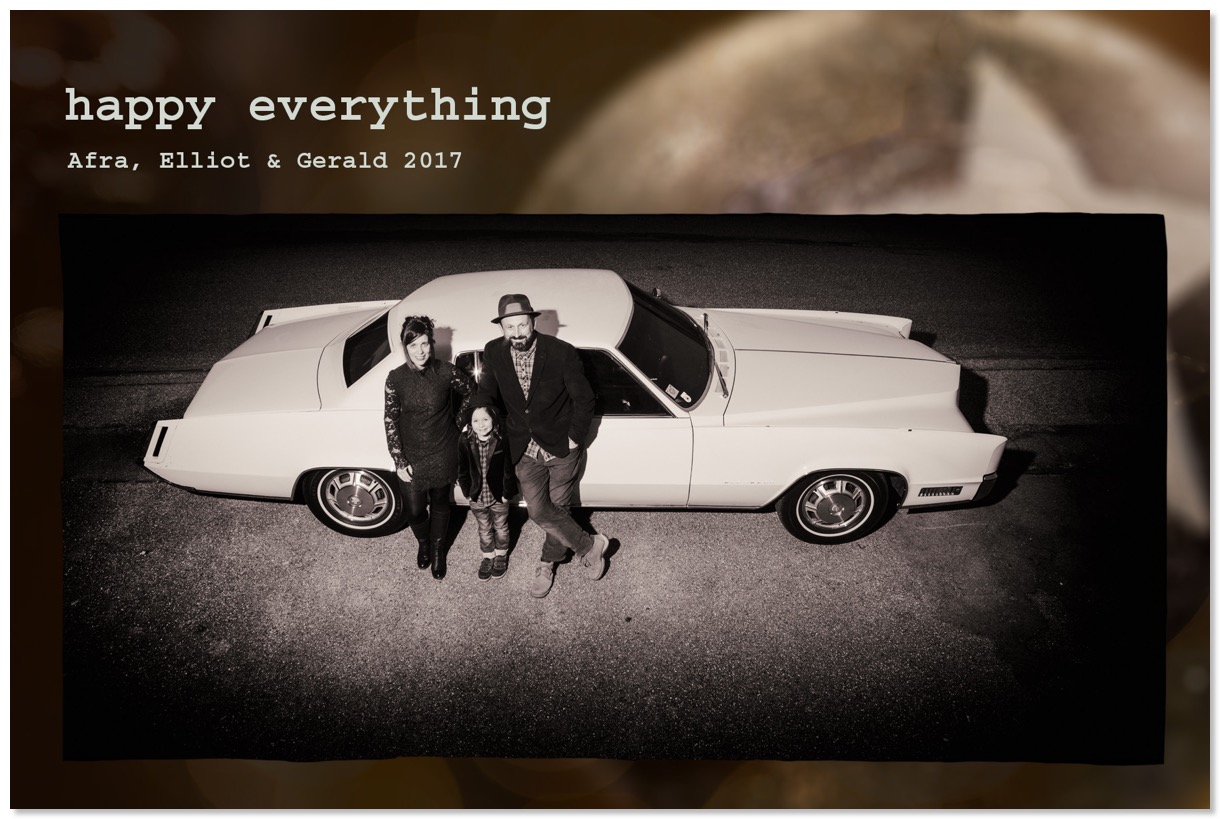 My lovely little family.

Almost exactly on this day 10 years ago my wife and I bought our first 1996 Buick Roadmaster Estate Wagon. We really love these cars dearly and we think that they are some of the best cars ever produced from a practical point.
In August 2017 our Roadmaster was due for its annual technical inspection and unfortunately it did not pass… It needed brake work and there was some corrosion in the rear wheel wells. To make things even more fun it also decided to develop a leak in the heater core…
So we decided that we wanted to restore our beloved car this winter to get it back onto the road for next summer.
The other plan we had in mind was to find a really good one in the USA and import it to Austria. As we soon found out there are some extremely high taxes involved doing this.
A $ 5000,- car in the USA would cost at least $ 15.000,- until its on the road in Austria, and it is very complicated to have it registered… While we were looking, we also could not find any other Roadmaster for sale in Europe, as they are very rare over here and were never sold in Europe when new.
So we were ready for the restoration and I ordered all the necessary parts.
Shortly after everything arrived, we found an ad for a Roadmaster for sale here in Austria.
I immediately called and got in contact with the owner.
The car has only has 23k miles and was collector owned from day one. The first owner bought the car and never drove it during the 9 years he owned it, and he stored it in his climate controlled garage. In 2005 a new owner bought it and only drove it in summer on dry days and maintained it carefully. It also was always garaged.
Thats why the car is still in fantastic condition and looks and drives like a new car. It has zero rust and the woodgrain is in perfect condition. It's a "Limited" version with all available options ordered for it except the CD radio. Everything works as it should. It is in beautiful "Adriatic Blue Metallic"
After a couple of weeks of negotiating we bought the car almost on the same day in December as we bought our first 1996 Roadmaster 10 years ago. Coincidence has it that we also found this one in the same district in Vienna (Austria) as the last one. I know of 5 Roadmaster Wagons in existence in Austria - so they are pretty rare here.
The previous owner had a very "special" taste, and he glued a couple of decals, emblems and other things onto the exterior and interior of the Roadmaster which I could not live with, as they were absolutely not my style.
With the help of a heat gun and some WD 40, I luckily could remove everything without leaving a trace. I just warmed the decals and emblems with a heat gun on the lowest setting and applied some WD 40 and it came right off. The remaining residue could also be removed with the help of a paper towel and WD40.
Works great!
Our new car will now get a full detail and I will change all fluids and it will then be ready for the road next spring. I also plan to install white wall tires instead of the blackwalls it came with. They are a "must have" for the Roadmaster IMHO.
Our old Roadmaster will be for sale, I will fix it up during the next few winter months and it will be available around May 2018…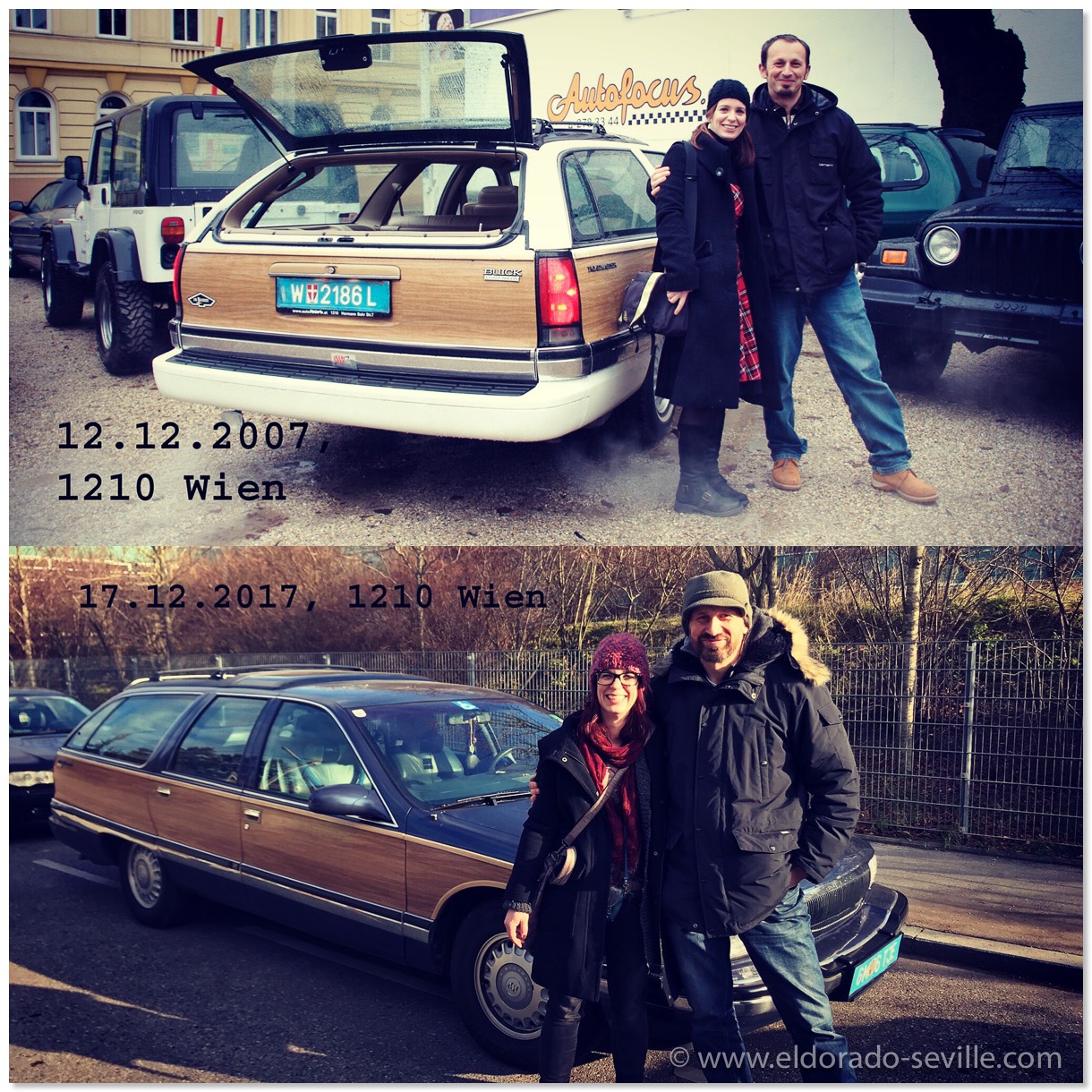 10 years ago and now.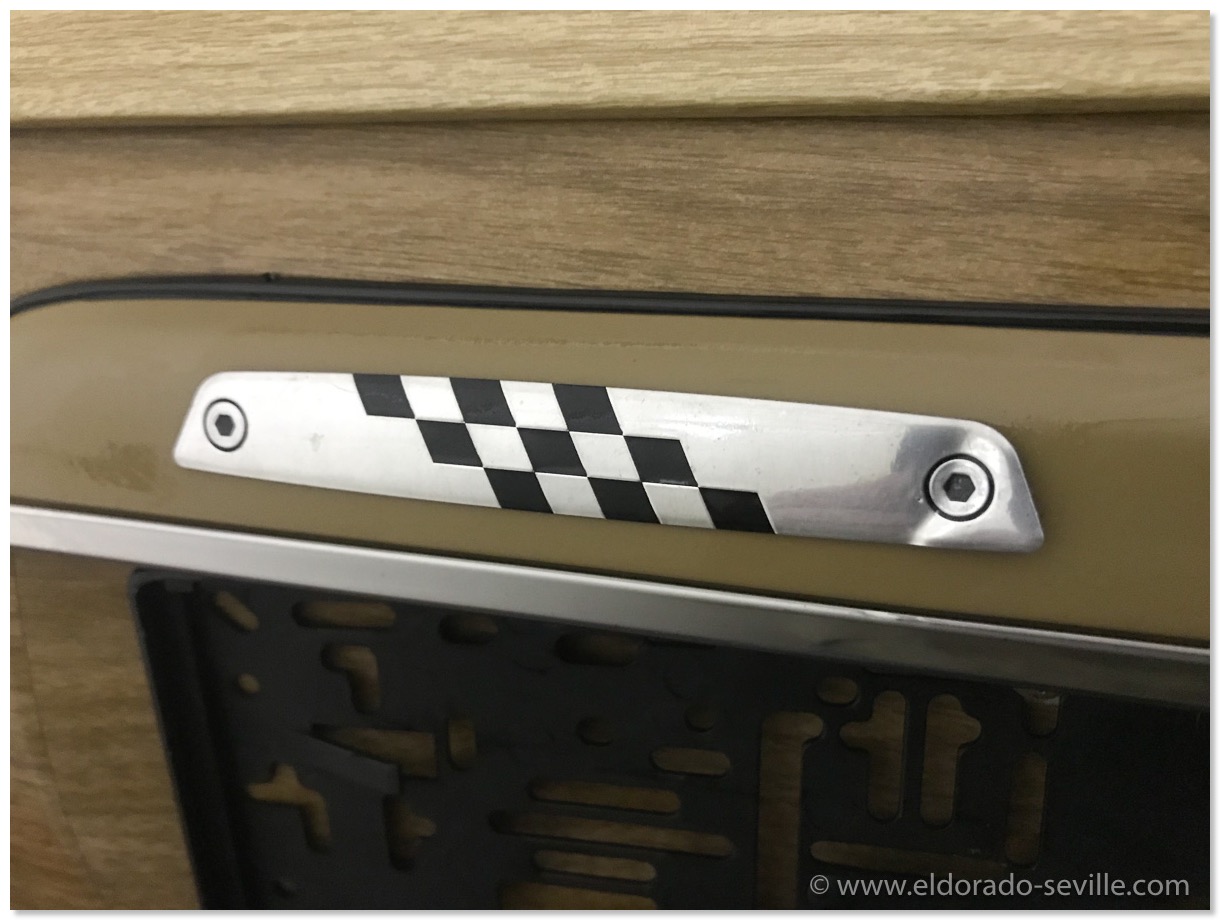 Strange items were glued onto the car…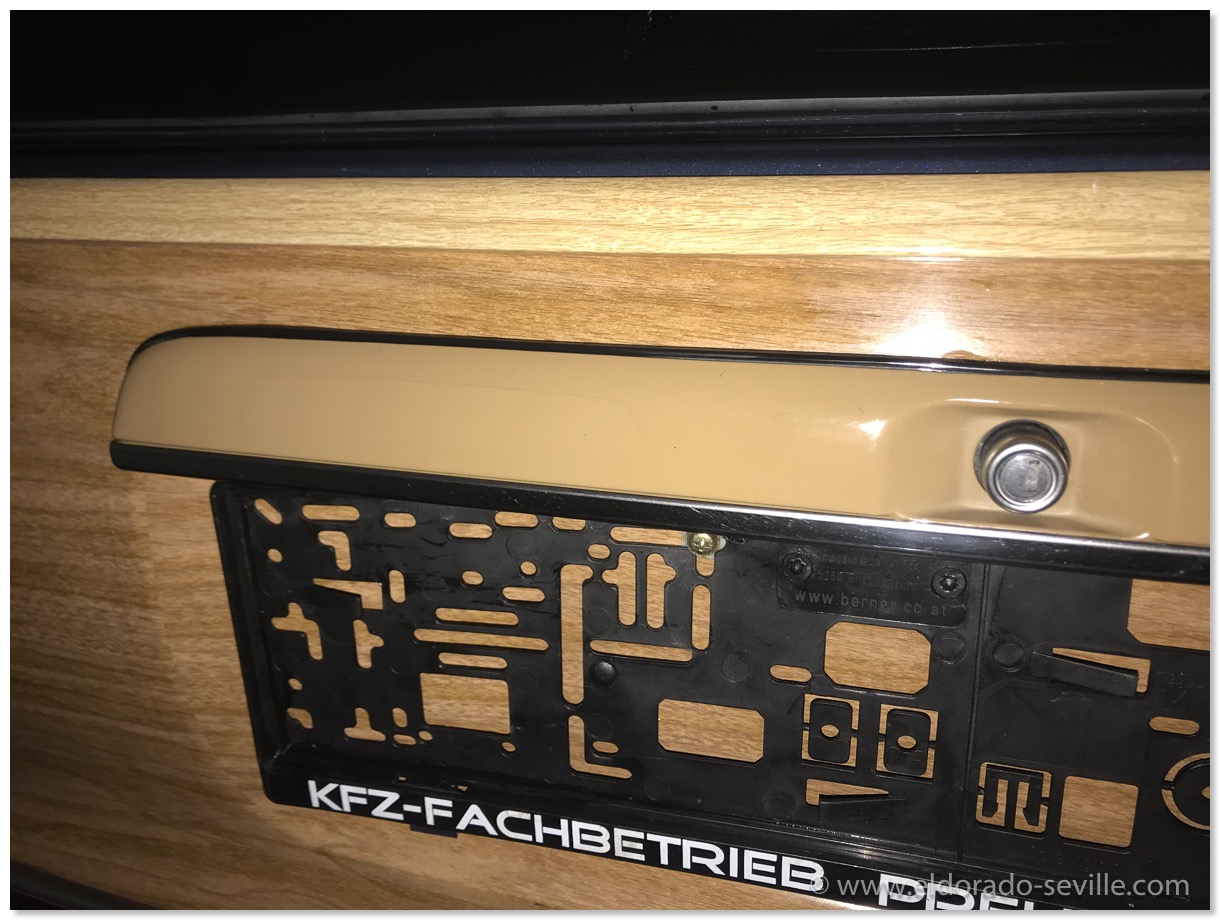 … but everything came off easily.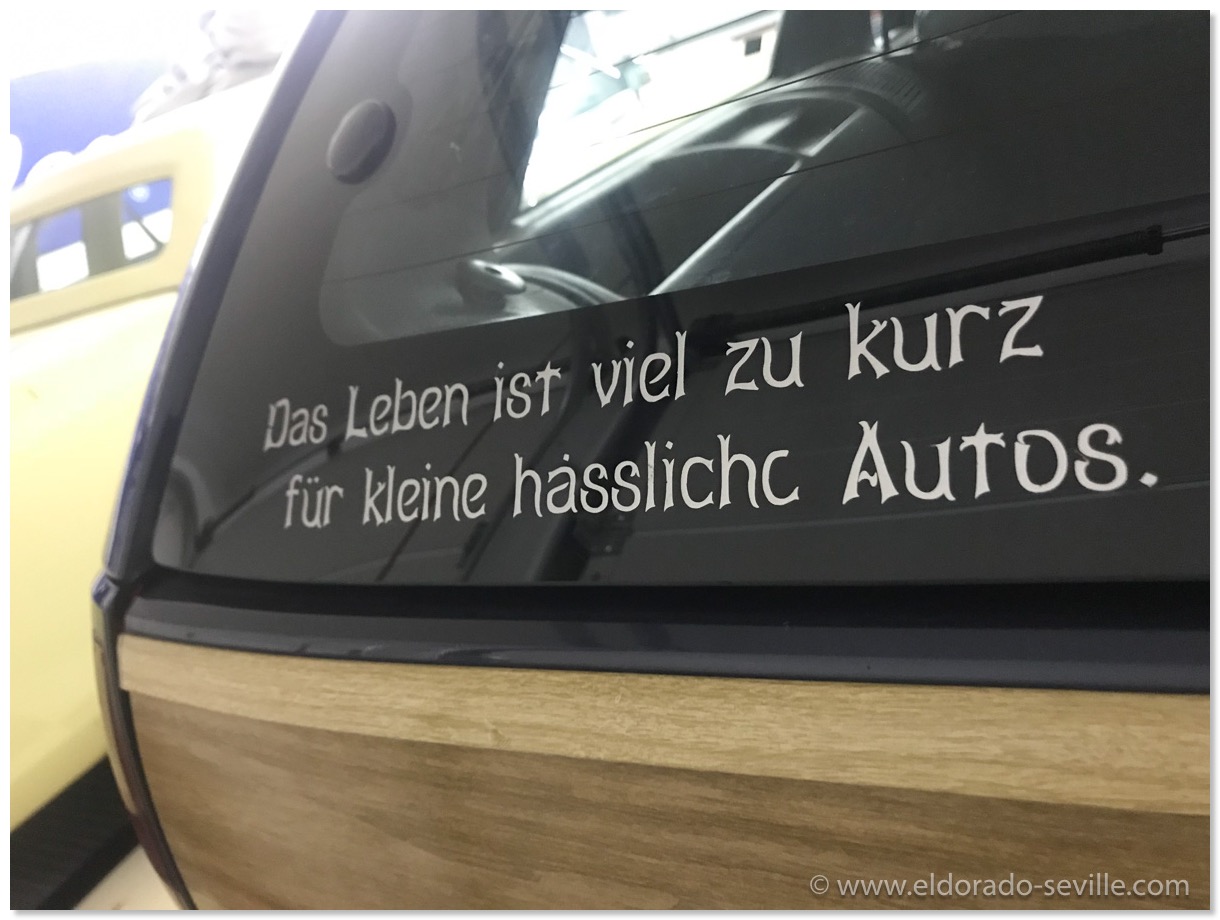 While I can agree with what is written here: "Life is too short for small ugly cars" I wanted to remove the decal…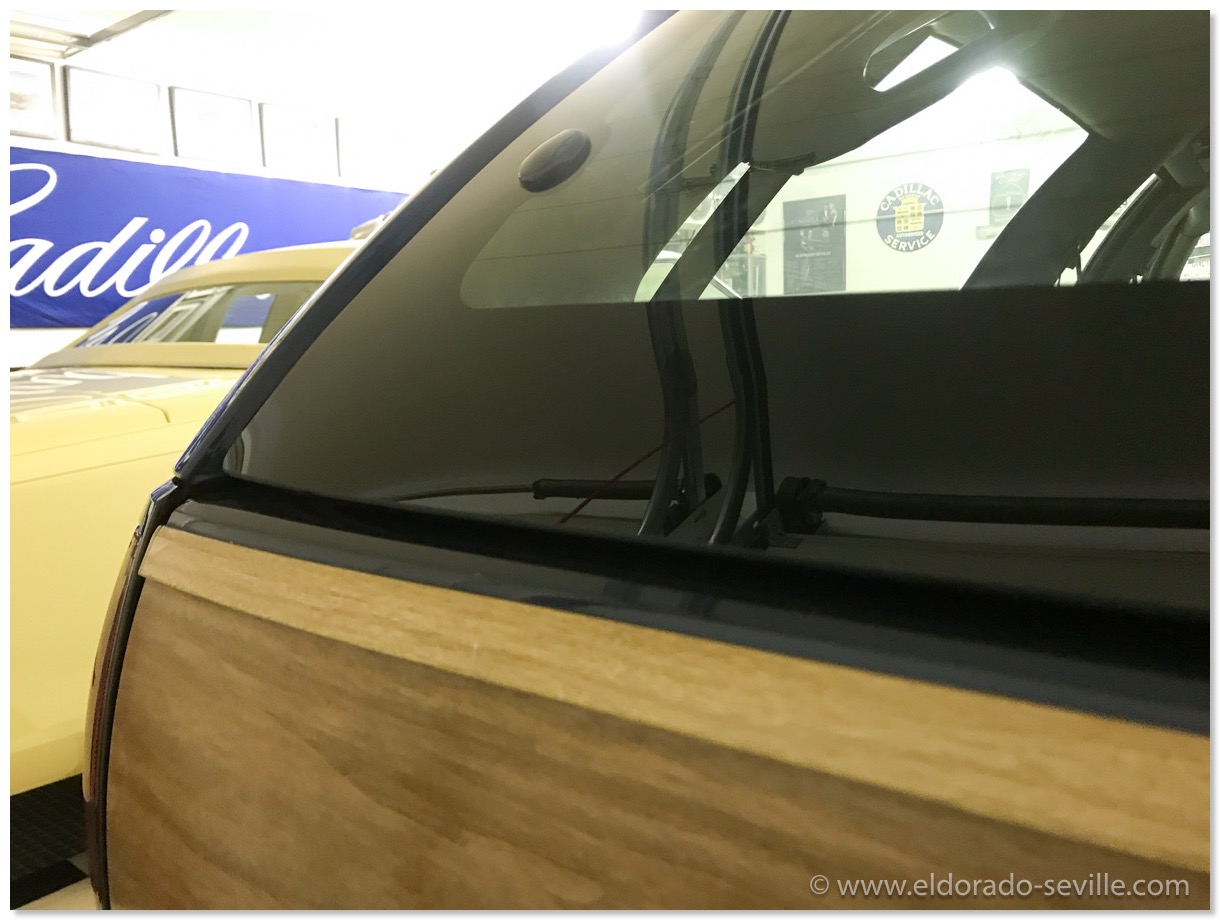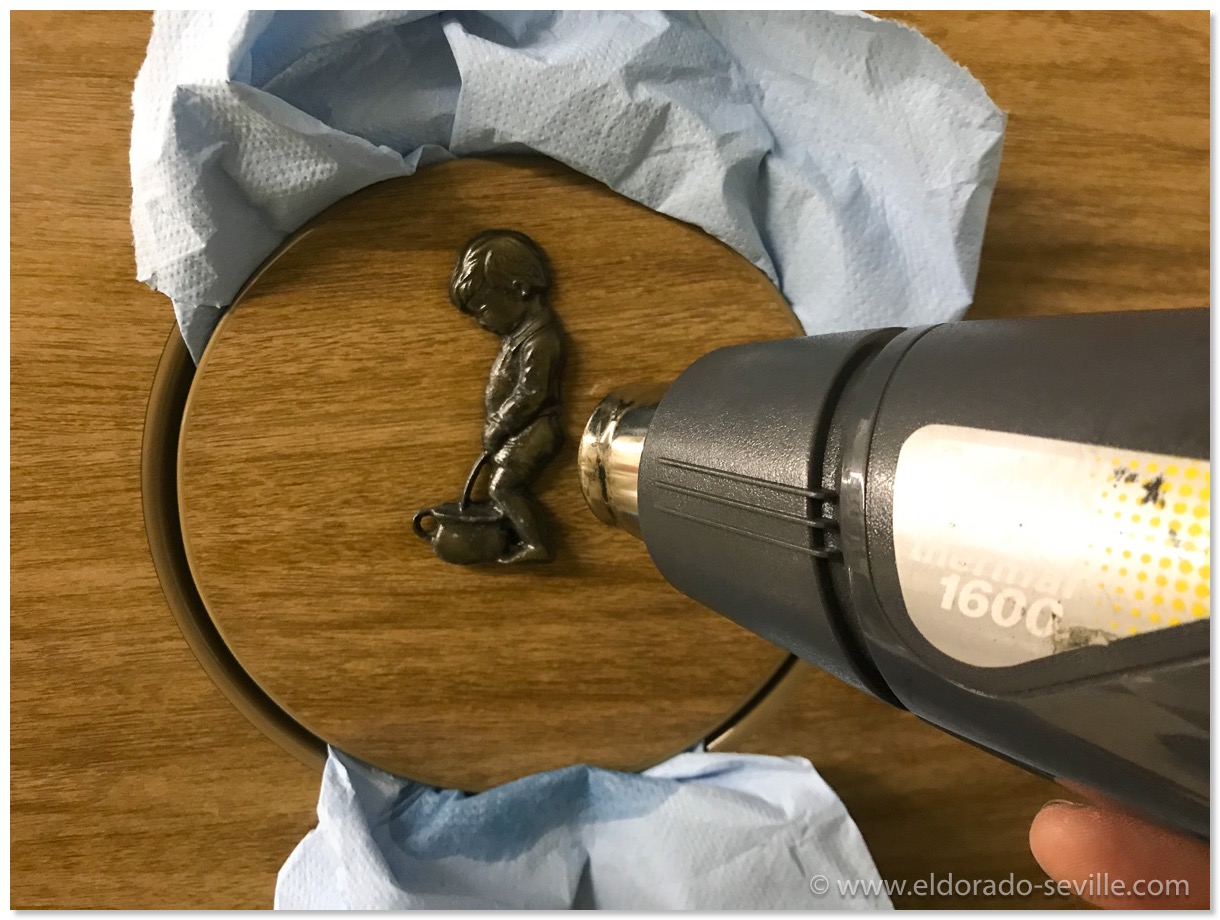 The previous owner had an eclectic taste…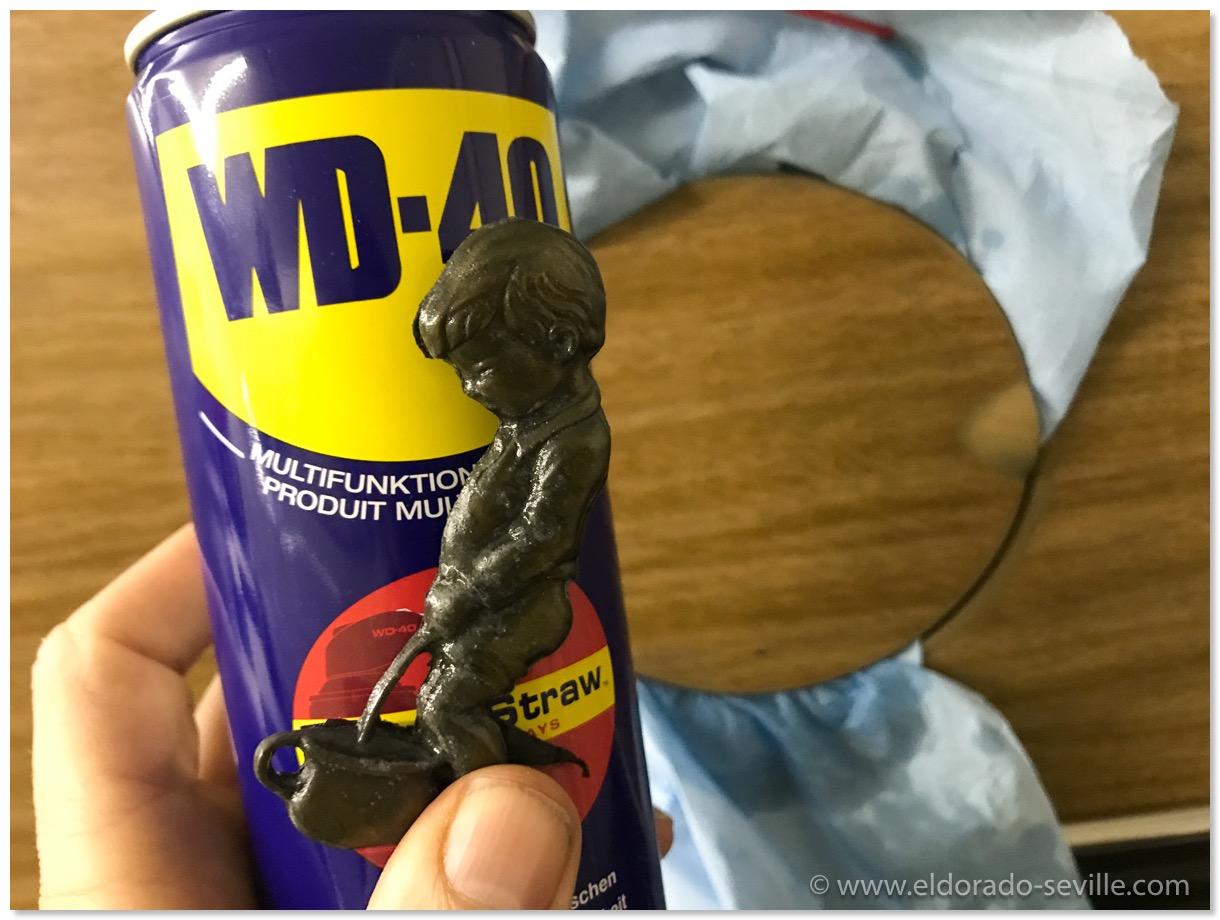 Thanks for your help WD40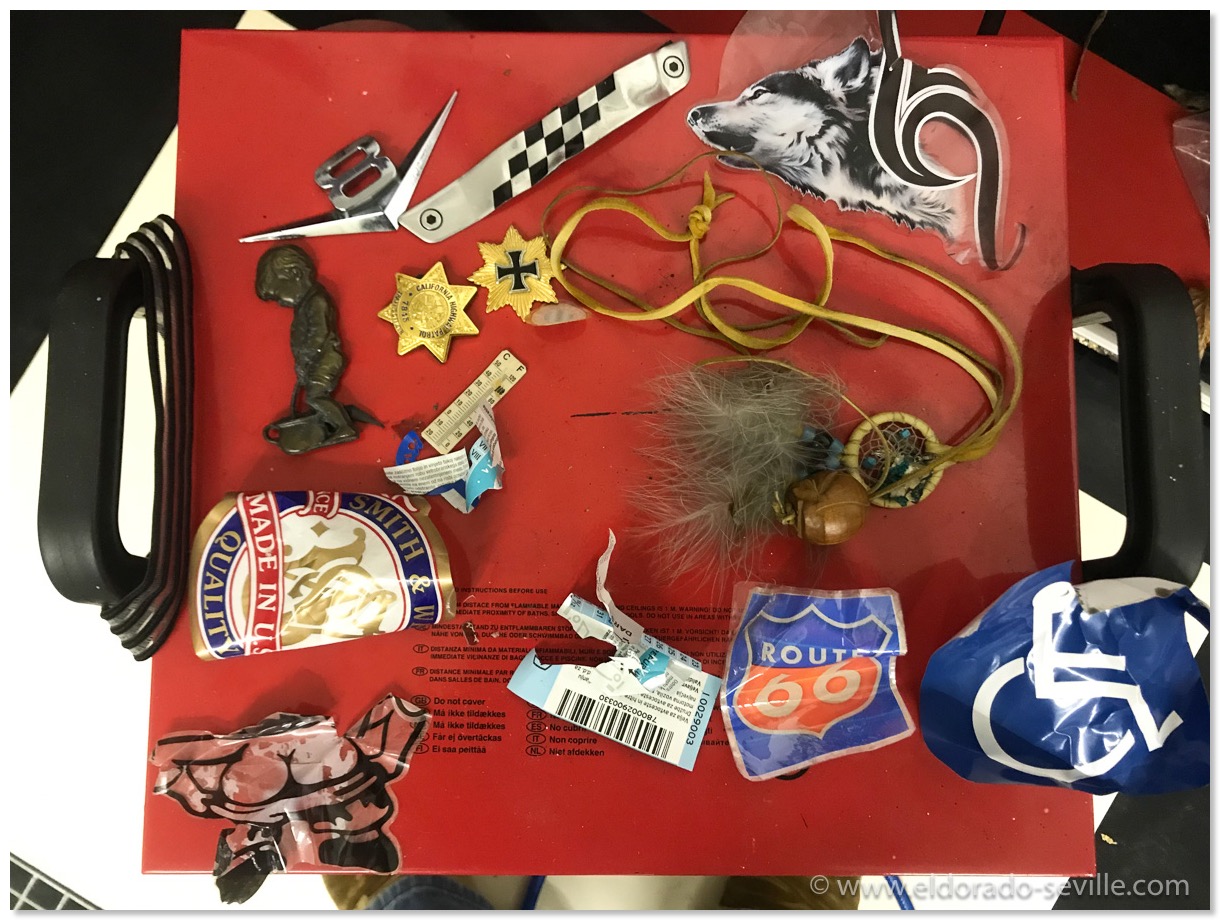 A few of the things I had to remove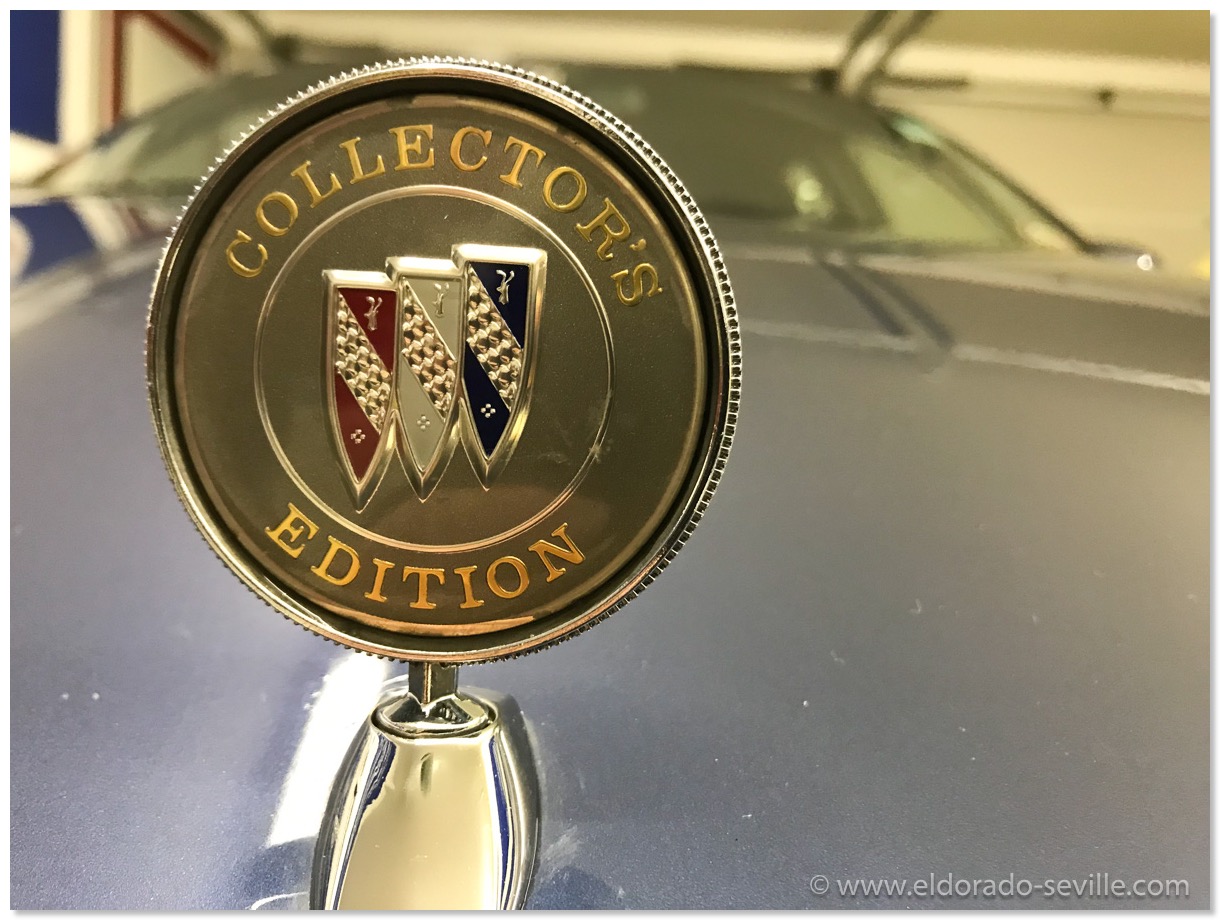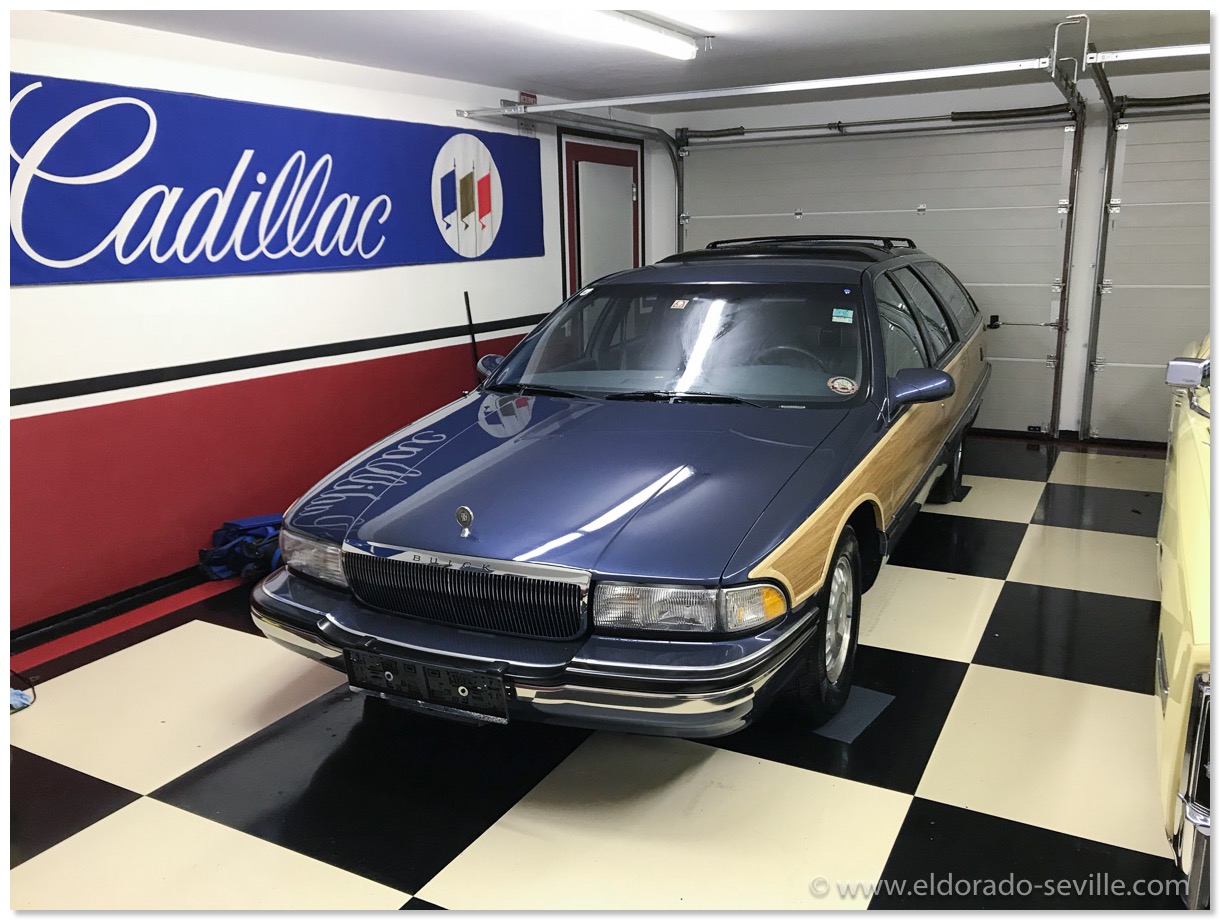 In my garage now.
The first pictures of my 1967 Cadillac Eldorado restoration / paint job project are coming in. You can read more details about
it here on my website
.
The restoration shop is sending me detailed pictures of the process. They are really doing a great job. Very exciting times.
Of course there are the first unpleasant surprises to be seen - there is a little more rust around the rear window than I expected, but still nothing serious. After disassembly we could see that the car is in fantastic shape.
You can find
all the pictures of the restoration here on my website
as high res pictures.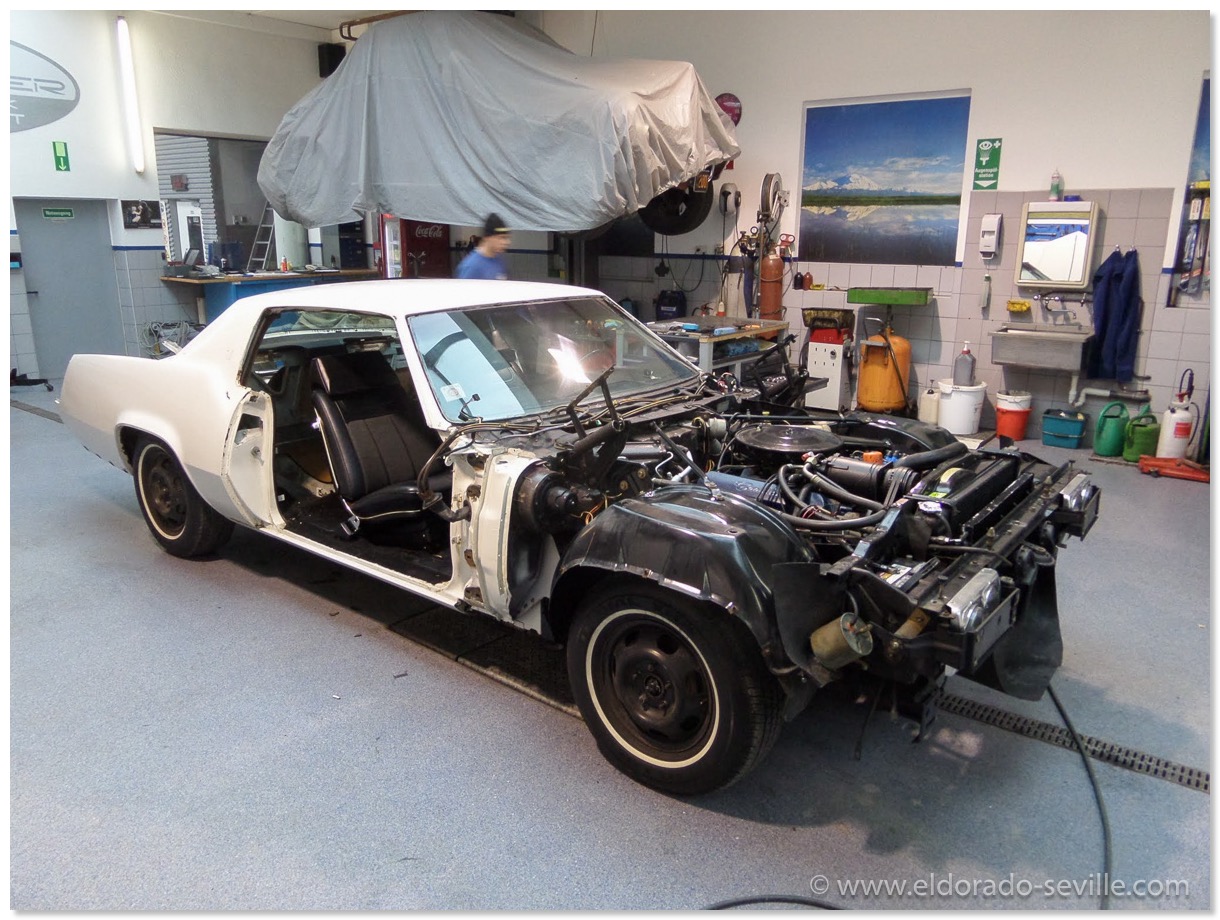 In the shop - disassembly began. They are cleaning everything up now.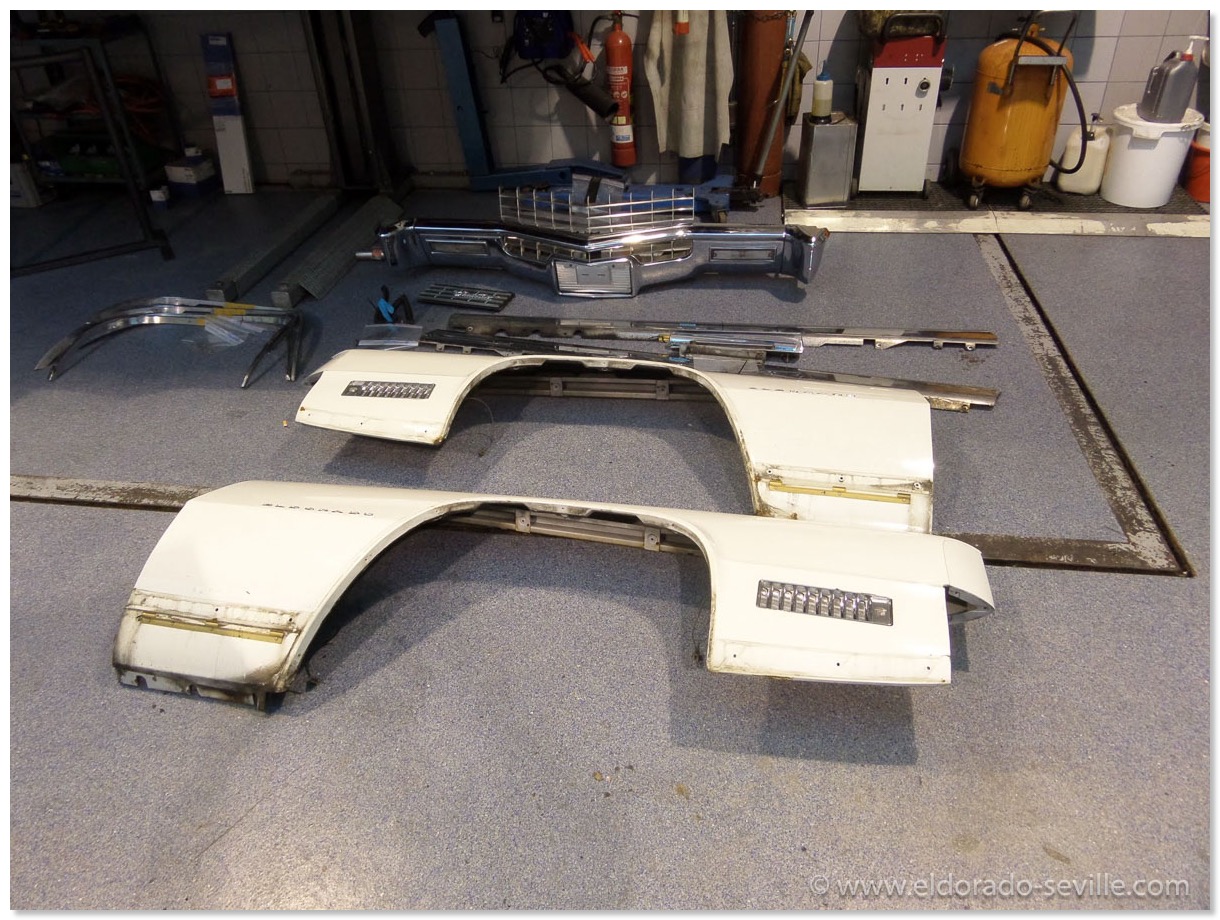 Removal of all the trim and sheet metal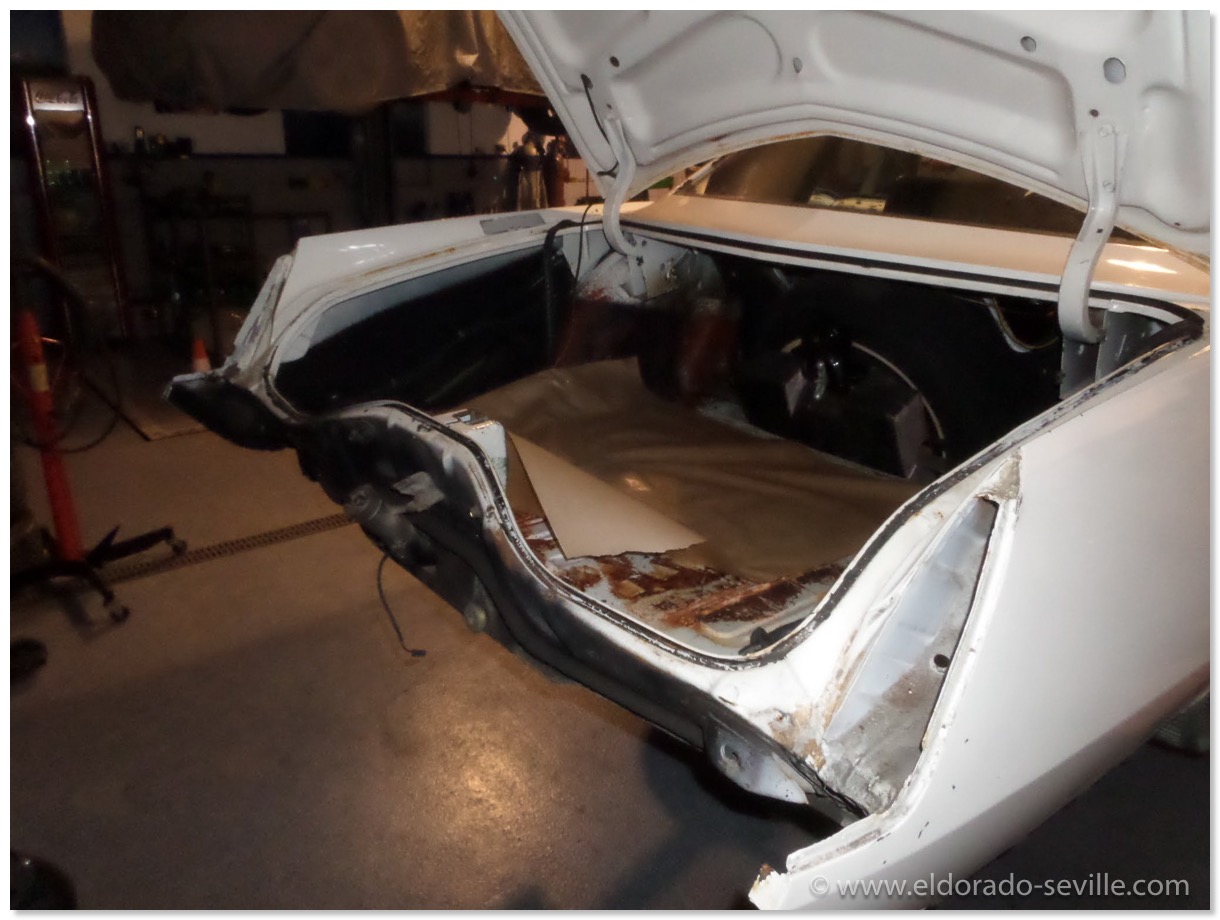 I will also redo the trunk.
My 1967 Cadillac Eldorado was a completely original car including its factory paint job.
It looked great from 10ft away and on pictures
. But if you inspected the car closer, you could clearly see the many paint issues it had .This is the reason why I never showed the car anywhere.
I have already fixed all technical problems
and the interior is in mint condition.
It's a very low mileage car with only 28k miles and it drives like a brand new car
.
One of the previous owners of this car tried to touch up the paint in some areas but it was not done properly…
I bought the car in 2009, and since then I was planning to repaint the car to make it perfect.
Being a perfectionist I had a hard time finding a shop which is up to my quality standards and work ethics
. During a photo-shooting I came in contact with a shop about 2 hours from where I live. My wife and I were invited to photograph one of the owners Hotrods and he also owns a Cadillac with a breathtaking paint job. While we were there I
was extremely impressed by the cleanliness of his shop and the quality of the work I saw there and especially about the attitude of the owner Bernd
. A couple of years later 3 of my cars needed some little paint touch ups which made me pretty nervous. But Bernd did the most excellent job on my cars, so that I asked if he could also do my 67 Eldorado.
Unfortunately a couple more years went by where I did not have the financial means to do the job.
Last year - out of nowhere I was contacted by an uncle I had not had any contact for the last 42 years after my dad was killed at a work accident. To make a long family story short - he "inherited" me a very generous amount of money - almost as much as I´ll need for the paint job of my 67 Eldorado.
Yesterday I delivered the car to the restoration shop.
After a long and thorough inspection by the shop owner, the restoration will start soon. The owner is optimistic that hopefully there wont be too many bad surprises hiding. He measured the paint thickness and found some evidence that some damage might be hiding in the right rear quarter panel. Maybe the car had a fender bender sometimes in its previous life.
The car will be completely disassembled. Front and rear glass will be removed. Fenders, hood, trunk and doors are coming off. The interior will be completely removed, but the body will stay on the frame.
Then everything will be taken down to bare metal by sanding, as its too cold to strip the paint with chemical paint stripper during the winter months.
Every step will be documented with pictures which
I will post here on my website
as well. So keep coming back to follow the restoration if you are into this kind of entertainment.
I´m so happy that the car will be fixed at this shop. It's the first shop I have no worries about the quality of job done. Bernd - the shop owner - is a perfectionist like me. He only accepts perfect quality and wont take any short cuts.
FINDING THE RIGHT COLOR…
The big question for me now is if
I should have the car repainted in its original "Grecian White" color, which I am not exactly a big fan of, or repaint it in one of my favorite 1967 Cadillac Eldorado Colors "Atlantis Blue Firemist" which was a pretty expensive optional paint in 1967
When I asked my friends to help me decide, about 80% said I should paint it in "Atlantis Blue Firemist"…
If I could go back to 1967 and order one from the factory I would probably order the blue one
…
I was also informed that the Cadillac LaSalle club does not deduct any points during judging if you do a color change, as long as it is done in a correct color for a certain year…
Being an originality buff - I´m having a hard time to do a color change though. My little son also wants to keep the car white - my wife would like to have it changed to blue
… I´m sure whatever I decide - I will sometimes regret my decision. If I paint it in its original white I will always find the color on the boring side and if I paint it blue I will regret that I changed the original color…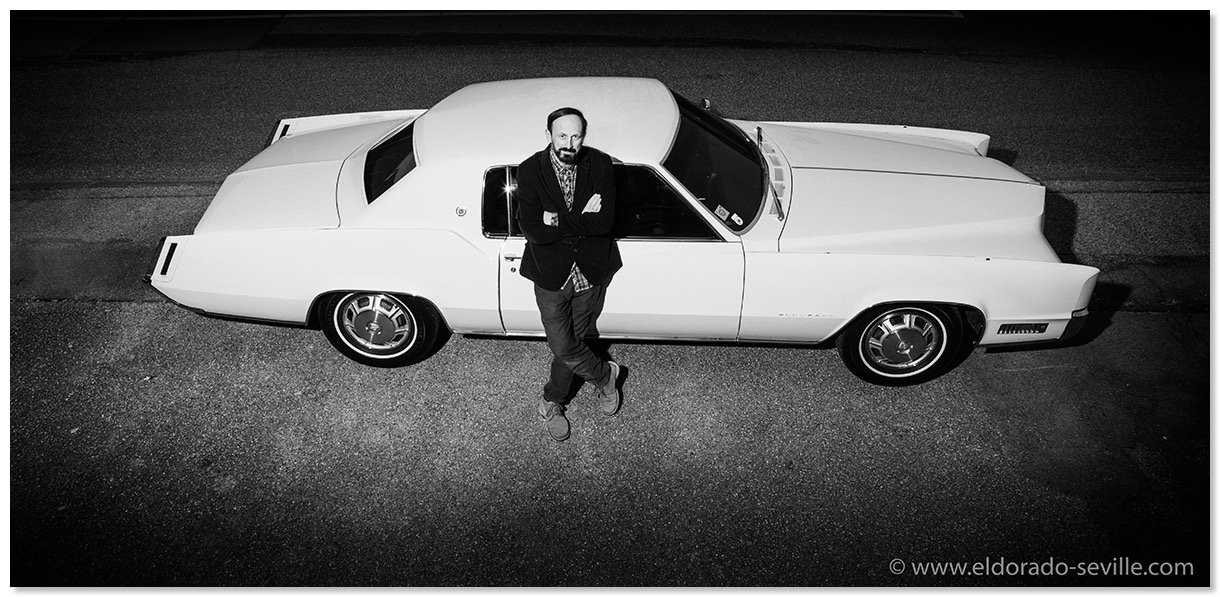 The last The last picture of the 67- still with the original paint.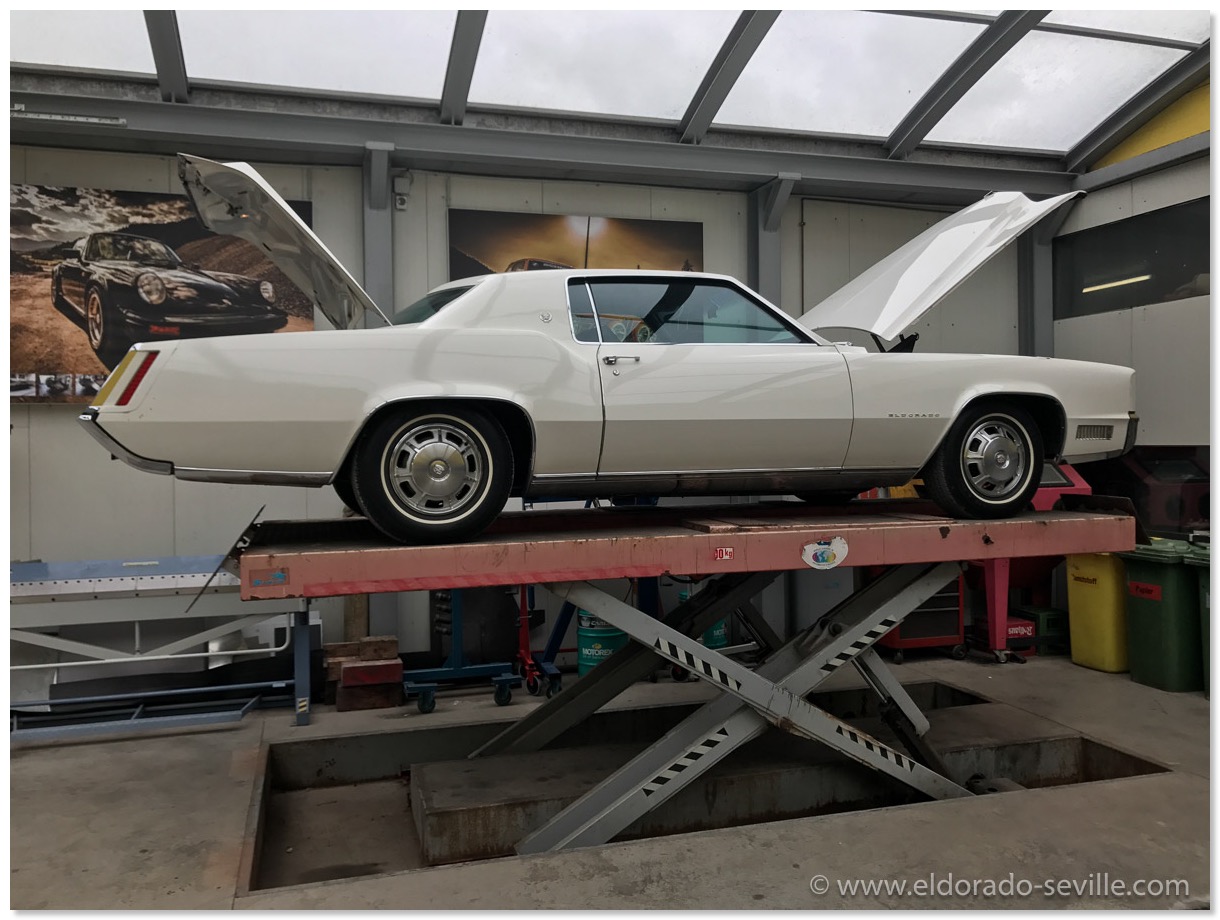 The car at In the restoration shop during the first inspection. The owner of the shop was pleasantly surprised by the condition of the car.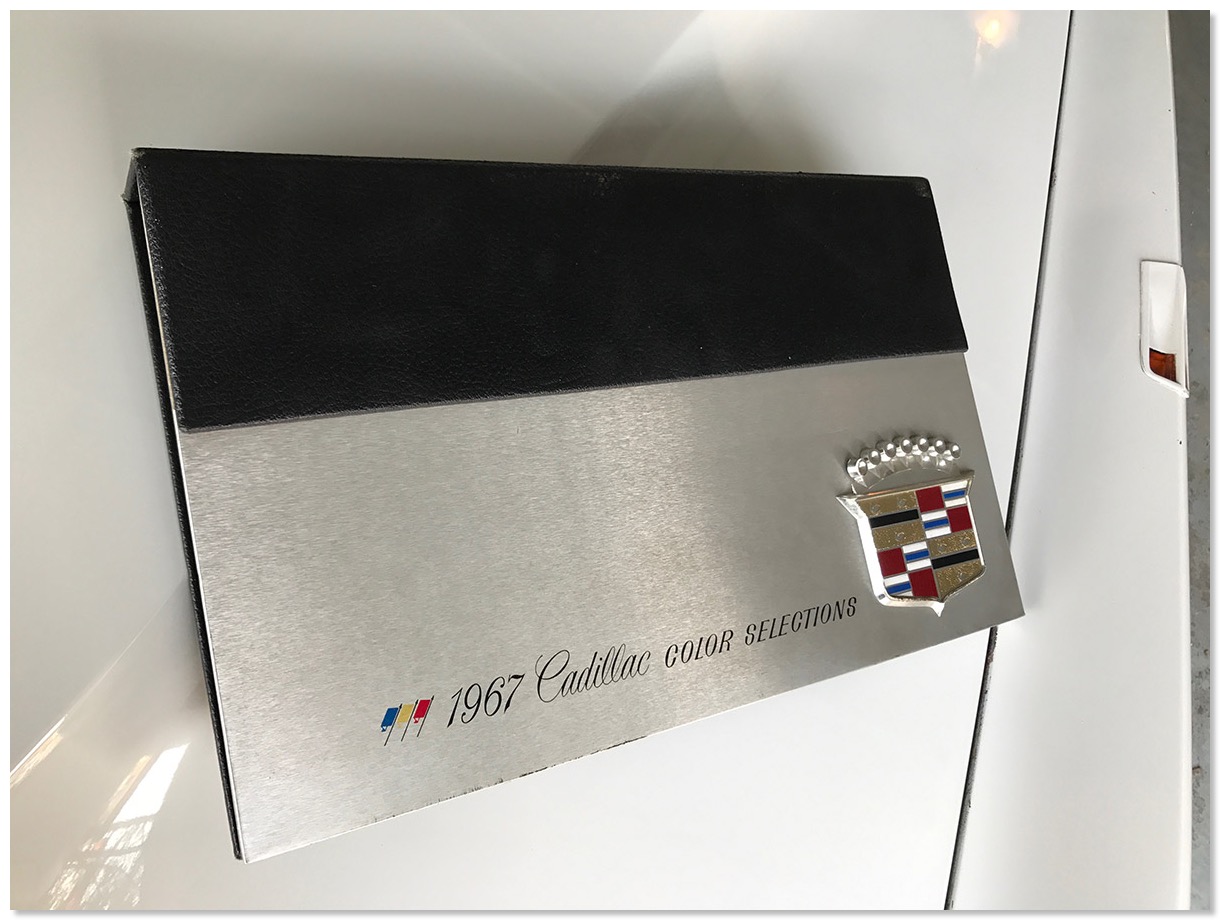 Cadillac buyers had quite a color choice for the 1967 model year. Here is the original 1967 Cadillac Exterior Color Selections Dealer Book
.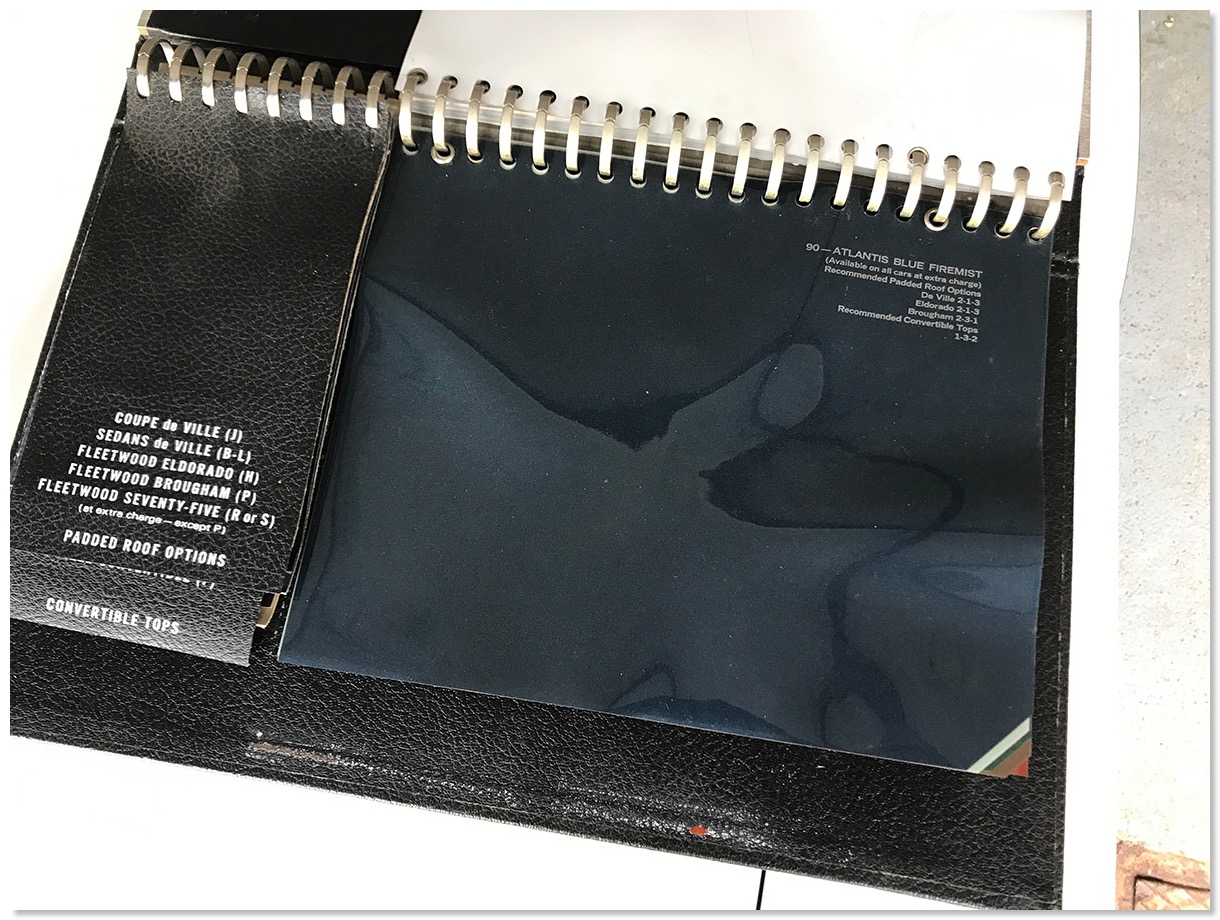 Code 90 - The optional "Atlantis Blue Firemist" is my favorite color for the 67 Eldorado.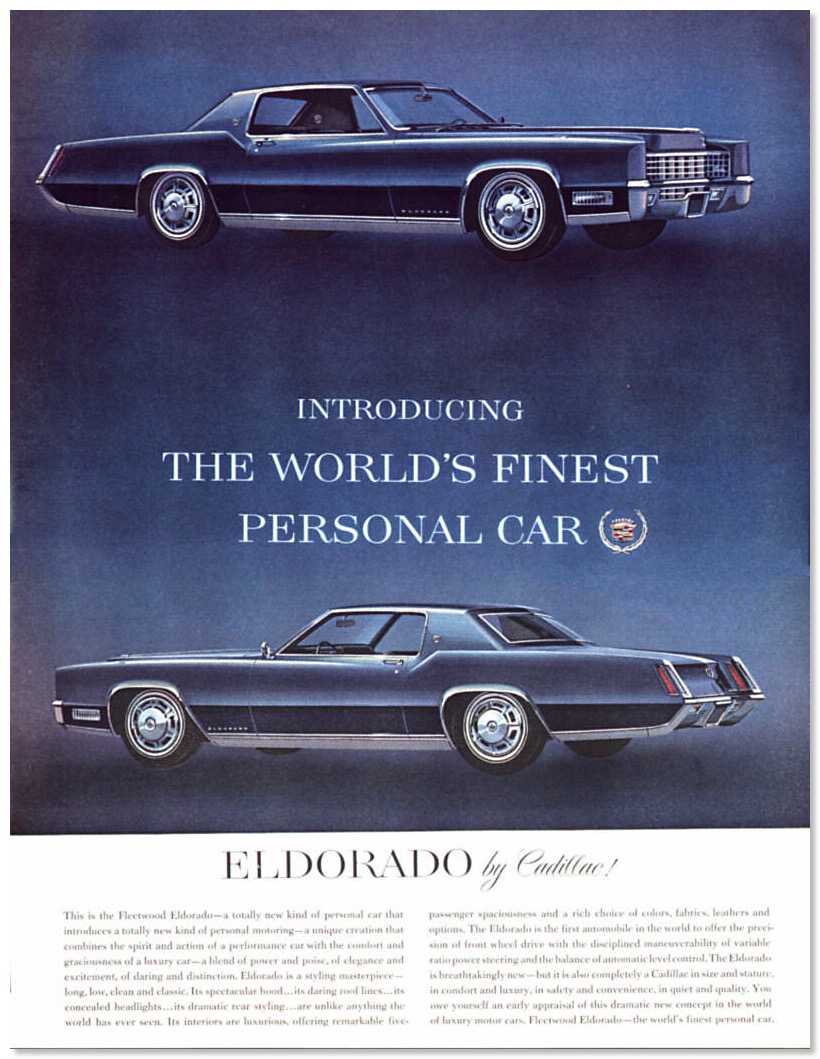 Atlantis Blue Firemist cars were used for advertising the new 1967 Eldorados - Color Code 90. This would be my favorite 1967 Eldorado color…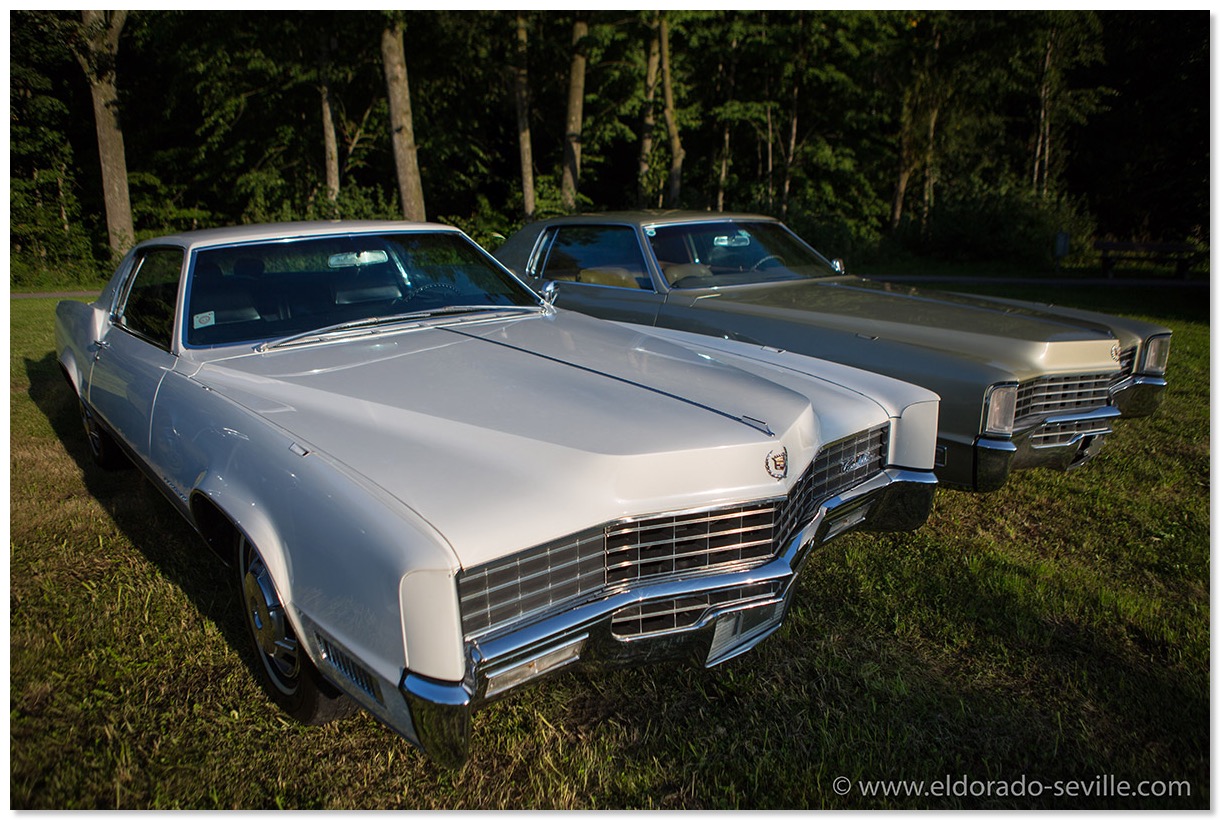 My car still looked flawless on pictures until you looked closer…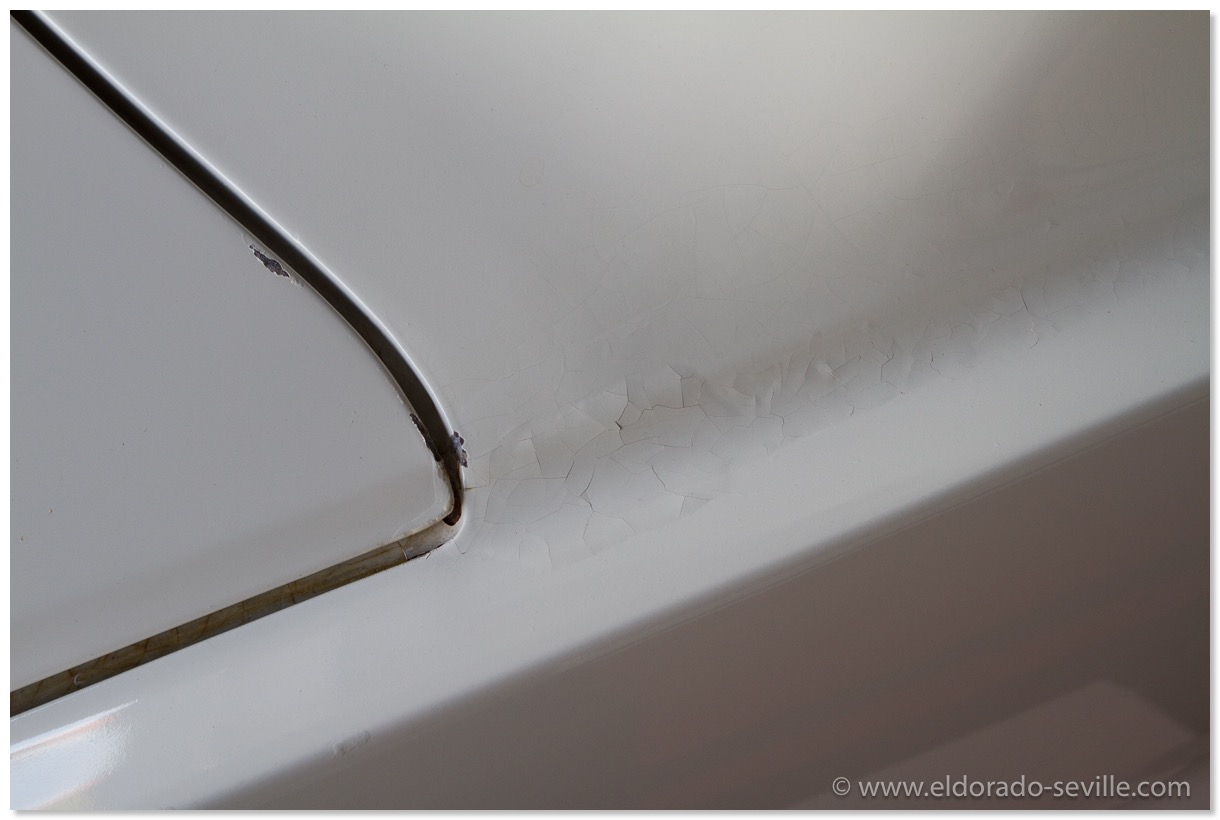 One of the areas where the paint was flaking off.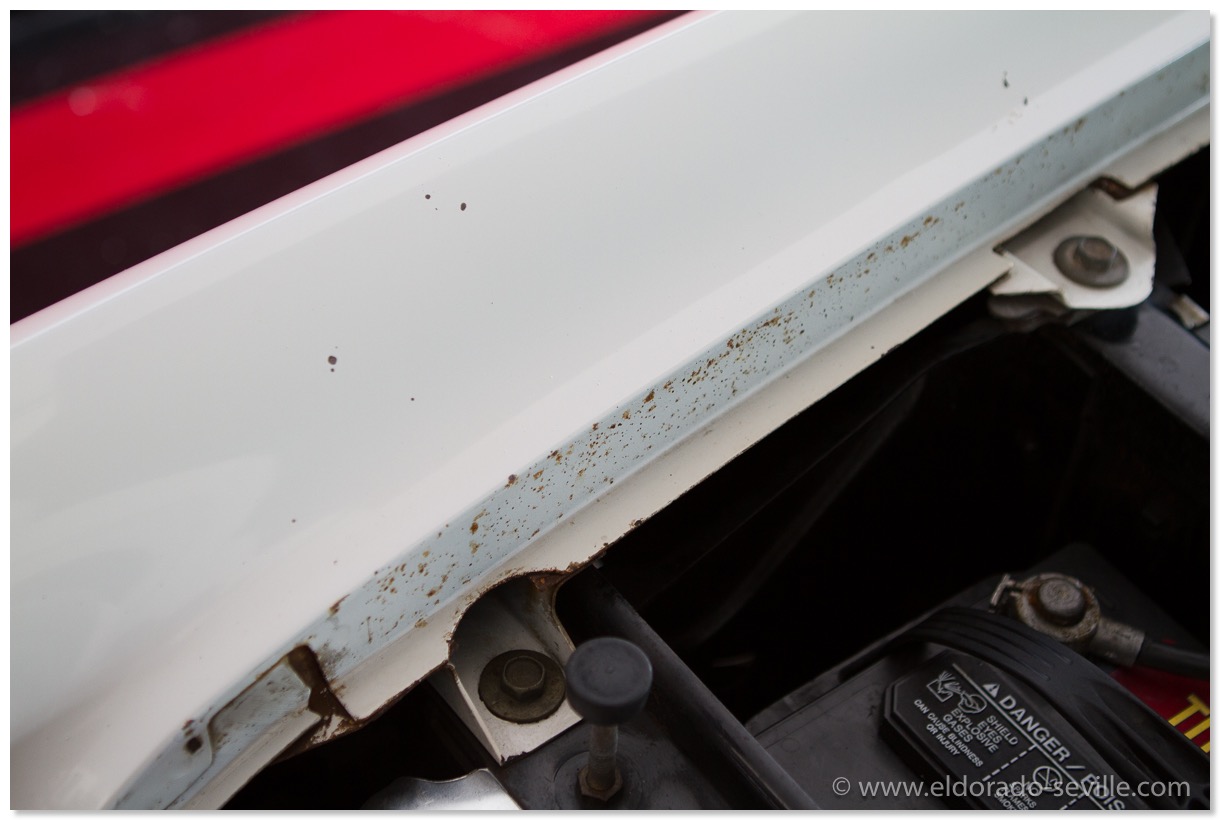 Some of the areas where the paint was pretty worn and surface rust was developing.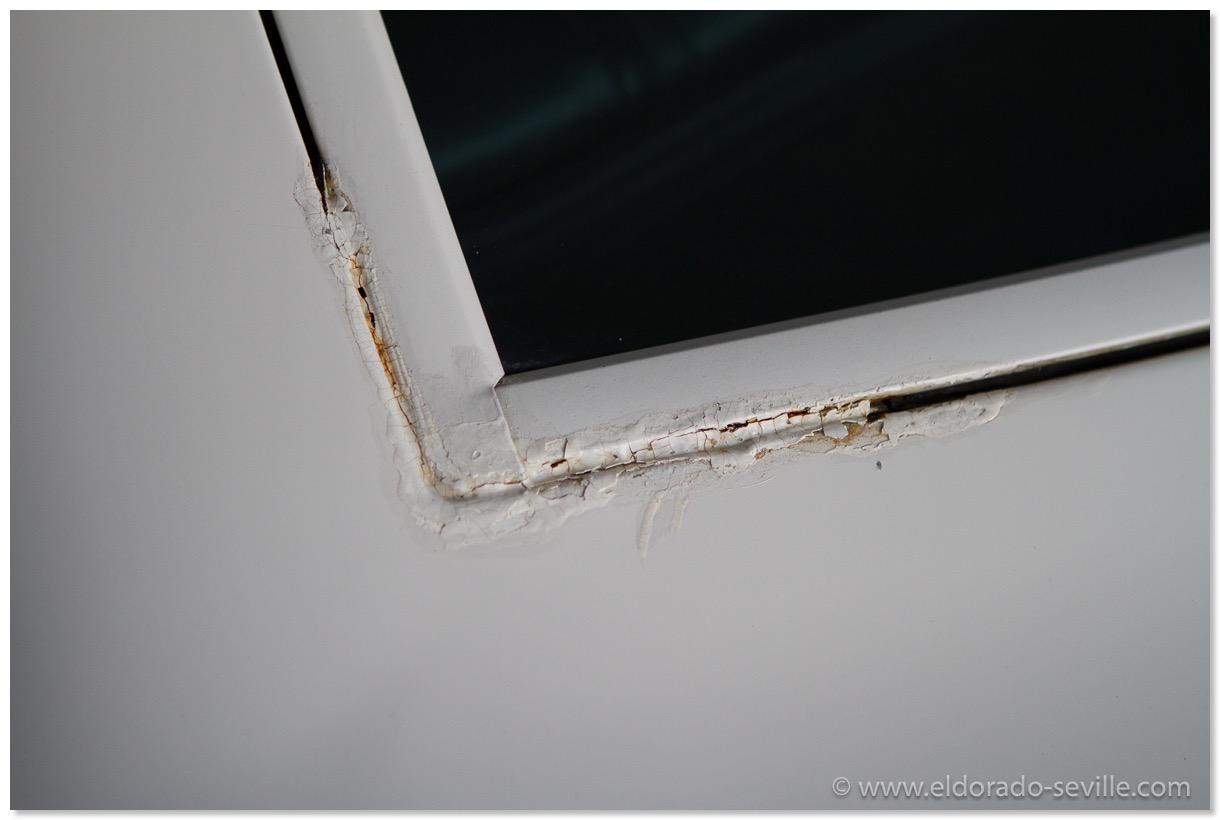 The rear window had to come out to fix this "repair" attempt by one of the previous owners…
The German Cadillac Club (
CCCD = Classic Cadillac Club Deutschland
) held its annual Club Meeting in Bavaria / Germany at the "Starnberger See" in 2017. It was a perfectly organized meeting with about 60 cars of all ages attending. As I am no member of any club, I was allowed to participate as a guest with my
1974 Coupe deVille which performed perfectly
. I joined my Cadillac friends from Austria in a convoy to Germany, and we had great fun there. Two driving tours were held on Friday and Saturday through the scenic landscape of Bavaria. Thanks to Christian Doerk for organizing this fantastic event! The whole trip was 503 miles for me, which I enjoyed thoroughly.
You can find
all the pictures of this event in my gallery here
or by clicking on one of the images below.



16 | 05 | 17 | 22:56 | Filed in:
Various
Hildegard Loidl
*August 10th 1929 - † May 15th 2017


My mom unexpectedly, peacefully passed away yesterday evening. I found her this morning. We had a great day with her yesterday when she celebrated my sons 7th birthday with us. Nobody expected that this would be her last day. At age 87 she still drove her car, regularly rode her bicycle and went shopping on her own, although her heart was a little weak.

She did not have an easy life. She lost both of her husbands in work related accidents. I was only 4 years old when my father passed away. She was a fighter and rose me and my sister on her own without any help.

She fully supported my Cadillac passion and liked my cars, and had a good time when I took her for a spin in one of them. She was always interested in what was going on in my garage.

One Cadillac related story with her was especially funny:
In 2015 - after her 85th birthday - there was a big helicopter event in our town. Mom decided that she wanted to go for a helicopter round trip and I reserved a flight for her. She wanted to go there in style, so we took the 78 Eldorado and I drove her through the huge crowd of people directly up to the helicopter landing area. She had great fun that all the people were gazing at us. She then got out of the car and directly boarded the helicopter for her flight. 10 minutes later she returned from her flight and got back into the Cadillac. People could not stop staring at her ;-)
We had a good laugh - everybody must have thought we were millionaires ;-)
Thats the kind of fun she liked :-)

I miss her very much! Love you mom!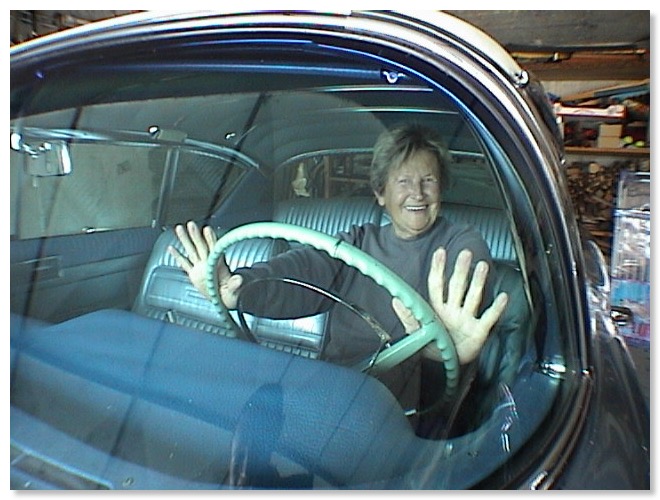 Mom in my 58 Eldorado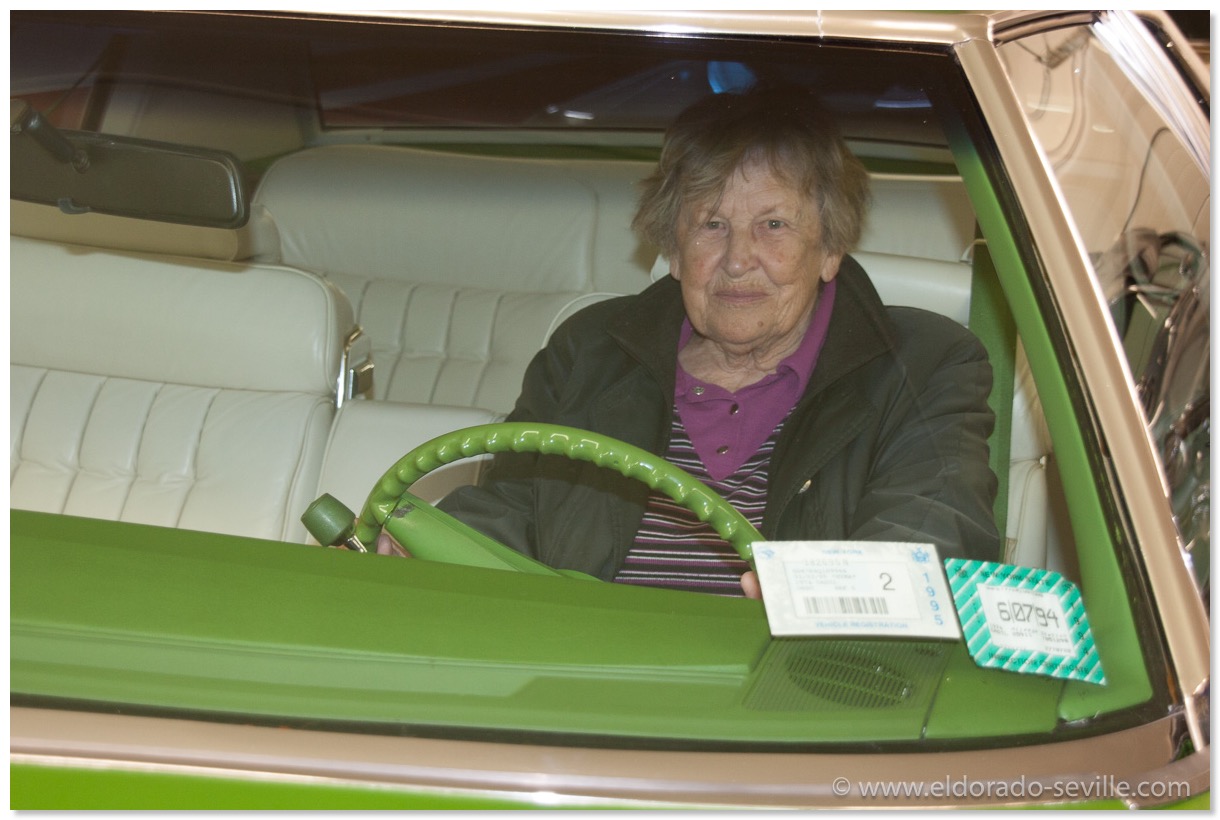 Mom in my 74. She liked this car very much!
In September 2016 I
started to repair the AIR pump which had a broken pulley bolt
.
The repair of this little bolt resulted in a partial engine bay restoration, which was never planned
. But as I had to take out quite a lot of parts to access the pump I noticed all the flacking paint and surface rust any 43 year old original car develops.
I did not want to put all these not so good looking parts back into the car, so I decided to clean everything up and detail everything
. It included taking out the radiator, condenser, all brackets, AIR pump, generator, all pulleys, power steering pump, AC compressor, removing all the rust from the parts and repaint them, repaint the engine, have some parts powder coated like the fan,
dry ice cleaning
,
rebuilding the AC compressor
, straightening the condenser fins
and MUCH more
.
Everything that came out was cleaned up, and wherever I found some surface rust or flacking paint it was completely removed and the according part was repainted.
I had to do all of this on a
very tight budget
, but luckily the total cost of this project was extremely low, as all I needed were 3 cans of paint, some wire brushes and some cleaning chemicals .
I took a break from Nov. 2016 to April 2017 where I did not do any car related work at all. During the last 2 weeks I finished everything, and the car is now ready and only needs a good cleaning prior to the upcoming season. When everything was back together the car started up immediately (see video below) but I could not let it run for a longer time yet as the engine enamel (I used Bill Hirsch engine enamel) needs at least 2 weeks to fully cure.
I did not restore parts which still had their original decals, because some are irreplaceable, as there are no correct reproduction decals for the 1974 Cadillac out there
. Many decals for sale for the 1974 Cadillac are totally incorrect - beware! For example there is no correct "Caution Fan" decal or AC compressor decal available anywhere. So there is still some patina left on some areas, and at first glance the engine bay does not look restored at all, but more like an extremely well kept car with very low mileage. I did not want to go for this over restored look.
But let the pictures speak for themselves -
here are 3 Before/After pictures (Click on them for a larger view
) and
the rest of the restoration pictures can be found here
.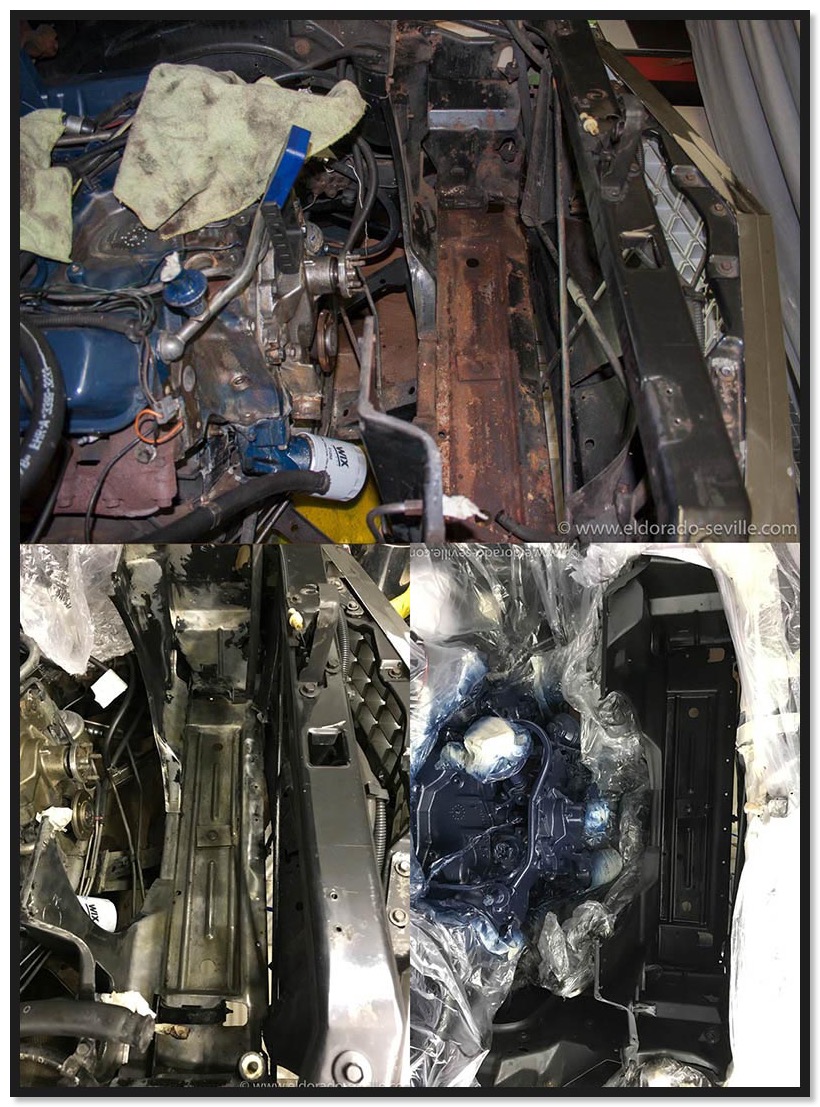 The radiator support frame before, after removing the rust and after painting


The radiator support frame before, after removing the rust and after painting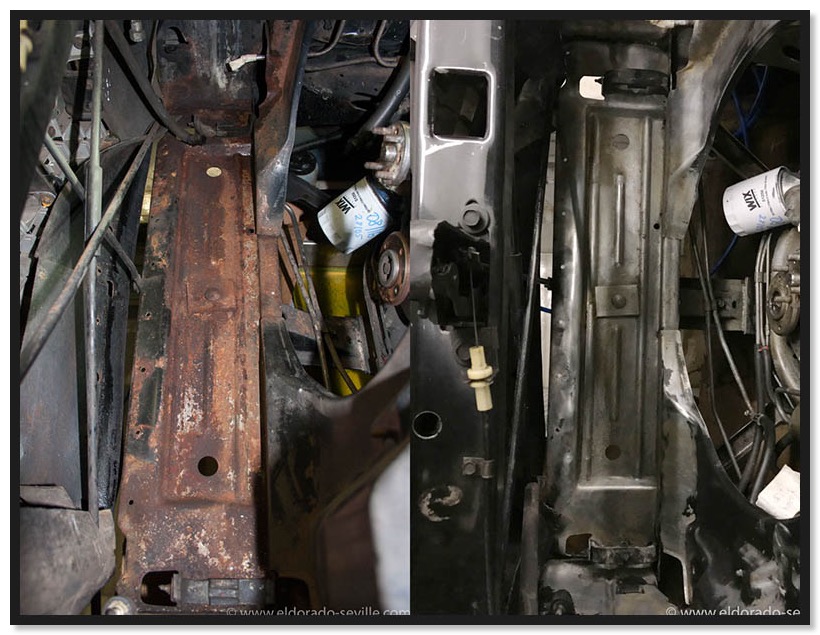 Before and after rust removal

Here is short video of the first start up after the restoration.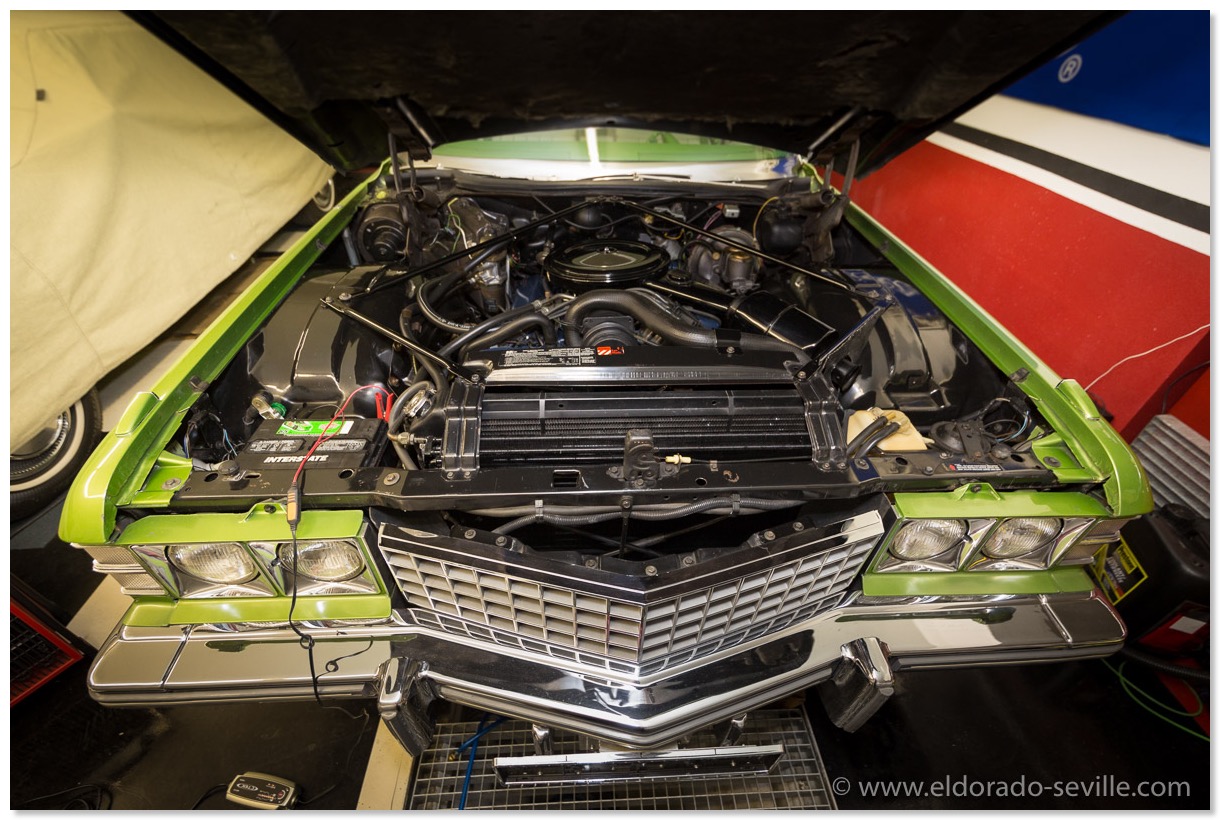 The finished engine bay looks pretty nice!


More pictures of the finished engine bay can be found here.

My wife and I were asked to film a commercial for a local TV station. We decided to film it in my smaller Cadillac garage where I have three of my cars in winter hibernation. My wife did the camera work and I had to "act". (I know I am terrible at it ;-) )

Here is the finished spot:


As its too cold in my garage to work on
my 1974 Coupe deVille
at the moment, I spent some time to update my website.
I added a couple of
images to the "Best Of" image gallery
on my website and put a couple more of my
videos online in the video gallery
.
Check them out - here are a few previews of the new pictures you can find in the
"Best Of"
gallery.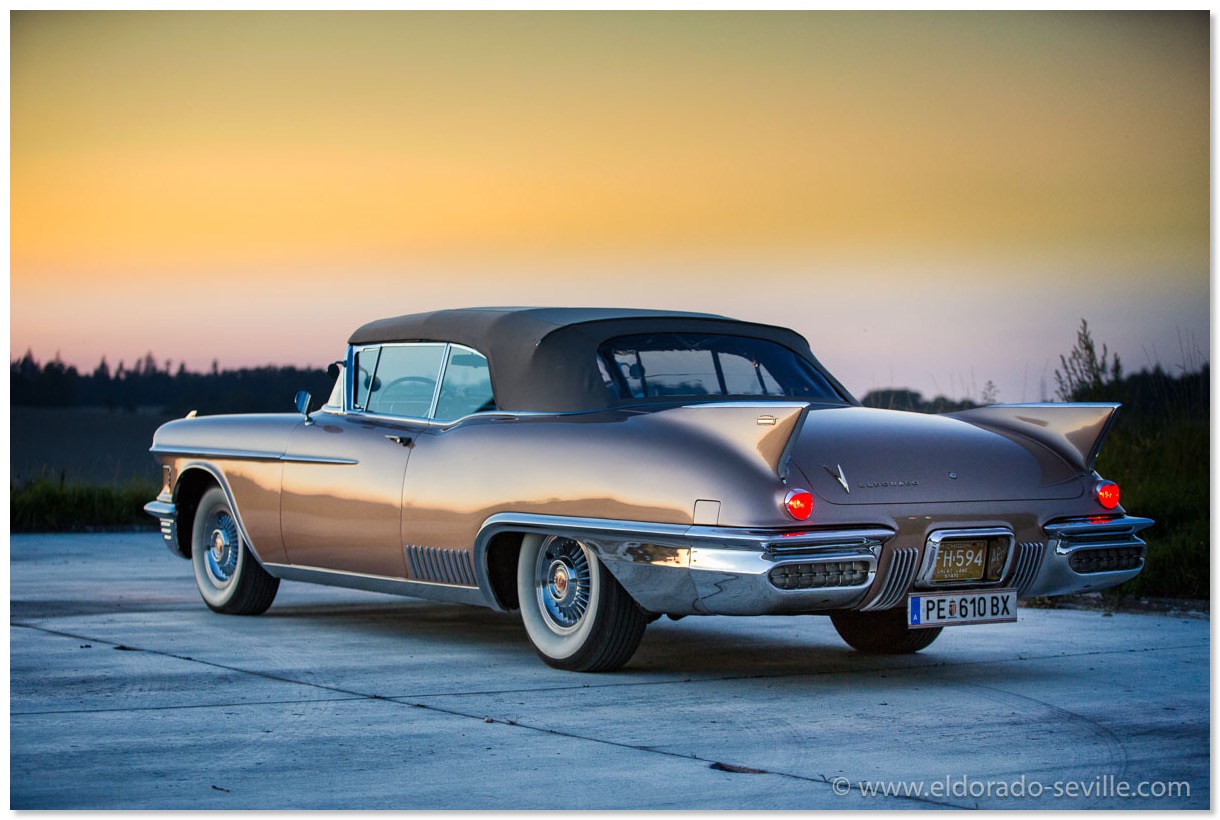 I had the pleasure to photograph my friend Lucky´s 1958 Eldorado Biarritz in August 2016.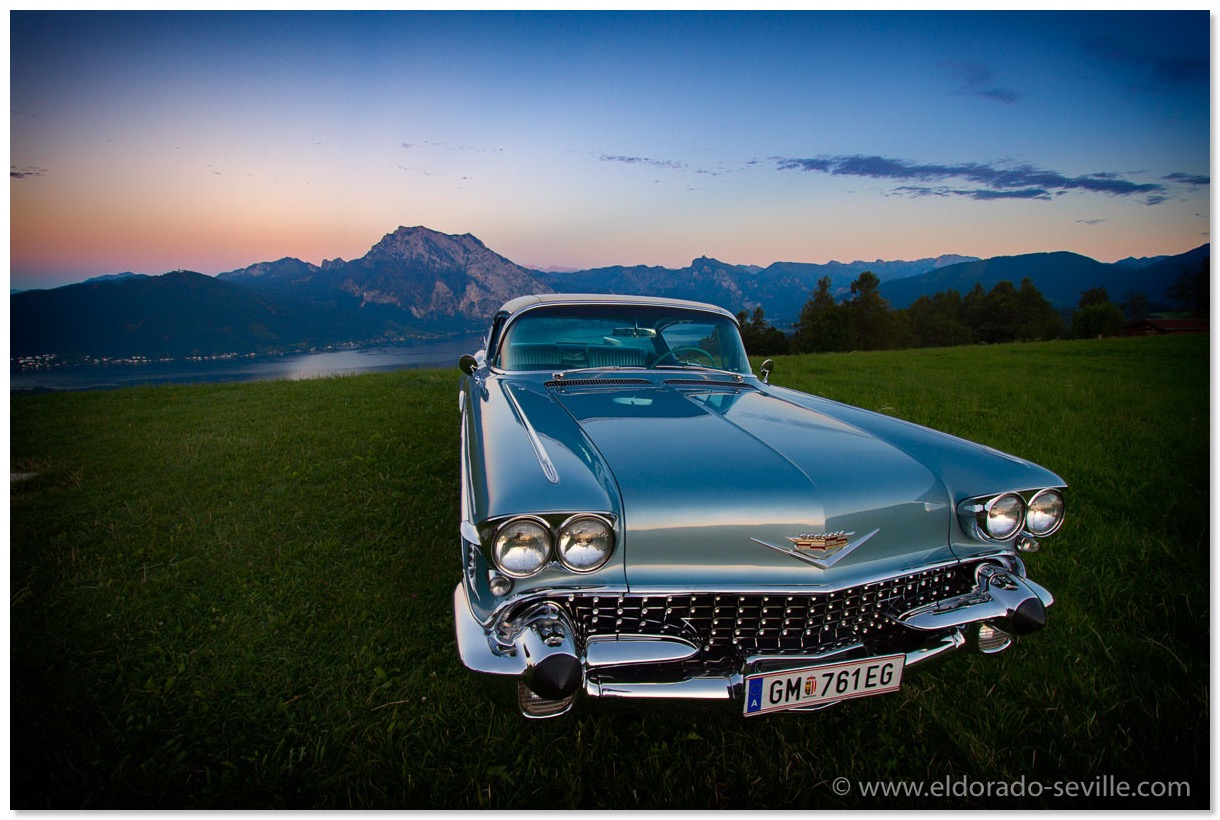 I shot a couple of pictures of my 58 Seville at a mountain at sunset last summer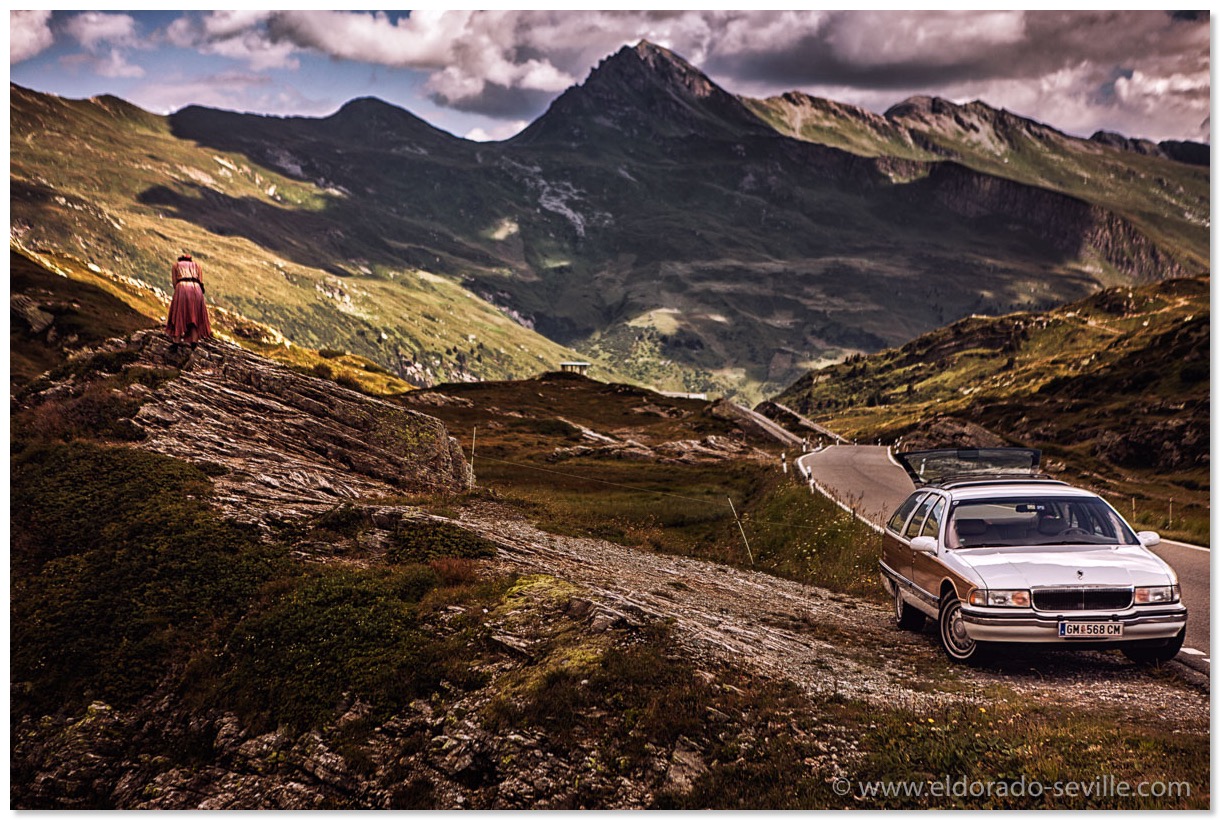 My wife and I crossed the Swiss Alps during a road trip with our 1996 Buick Roadmaster Estate in August 2016.

The Cadillac BIG Meet 2016 was one of my personal highlights in 2016. We took lots of great pictures there like this 1964 Cadillac Fleetwood.