I continued to work on the 78 Biarritz during the last few weeks.
My goal is to make this mint car as good as it can get, while keeping everything as original as possible.
I´m really obsessed with cleanliness when it comes to cars... Everything has to be completely detailed and shining like new.
I completely cleaned the entire engine and gave it a good wash and afterwards applied some engine dressing.
I then removed some screws and small parts which were left unpainted by the factory, like some screws, the hood latch, some brackets and some other smaller parts. Of course these parts developed some slight surface rust during the last 36 years...
As I had no real rust dissolver at hand, I soaked the rusty parts in vinegar over night, which completely removed all the surface rust. I then gave these parts a coat of primer and painted them with Eastwood paint, which looks like bare metal.
With this method I can keep the rust away, while the parts still look original. Only if you look very closely you might see that these few parts are now painted...
I then started to bring the original single stage paint back to like new condition.
I used a couple of Meguiars compounds and polishes to make the paint as smooth as possible. I had to carefully wet sand some of the deeper scratches with 2000 grit paper. Be very careful when doing this as the single stage paint was applied in only VERY thin layers during the 70s.
The car now shows almost no more paint imperfections and the swirl marks are gone. The original paint looks like on a new car now and is extremely shiny. When the car is out in the sun its almost blinding.
I sealed the paint with Meguairs #16 wax.
I used a
Meguiars DA polisher (G125)
for the paint correction work - which is not really that good, but I would like to have a more powerful machine for the future like
the Flex 3401
or the
Rupes Bigfoot
.
I used the procedure explained in the following video for my paint correction:
Download his description as PDF file here
This gentleman, Larry Kosilla, has
a lot more awesome video tutorials
for people who love detailing their cars. Check him out!
I also started detailing the interior of the car. I treated the leather with
Gliptone Leather Conditioner
- which is the best conditioner I have tried so far. It really makes the leather very soft.
I´ll have to steam clean the carpet once its really warm outside so that it can dry fast afterwards.
I also cleaned the undercarriage a little and removed some of the factory applied undercoating from components where it does not belong to, on which they sprayed it on very carelessly at the factory. Looks much better now.
The car really looks spectacular already - I´ll continue with the chrome and stainless steel trim now. It should be shining in fully glory for the 2014 season beginning in May and also be ready for various car shows, especially the
Cadillac BIG Meet in August.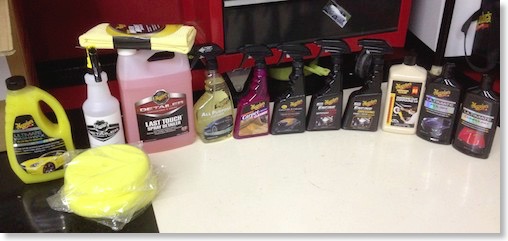 My weapons of choice came from the Meguiars dealer...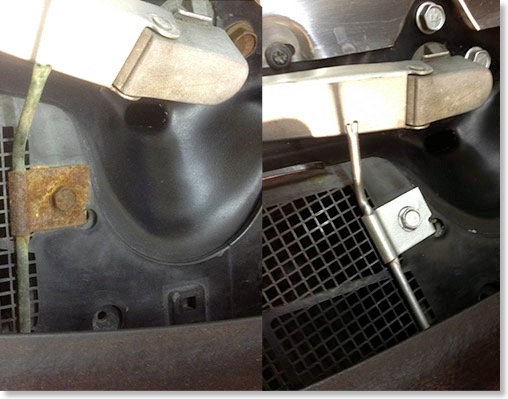 before and after cleaning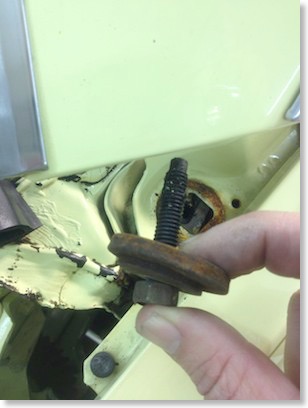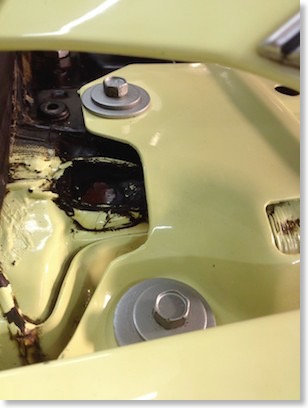 rusty bolts before and after cleaning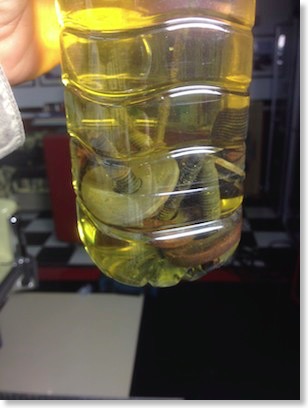 Soaking rusty parts in vinegar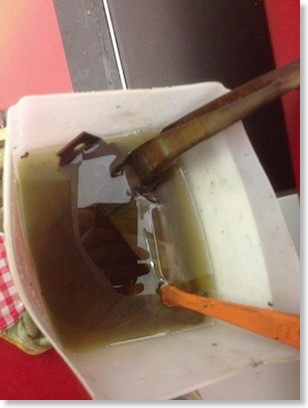 Cleaning more rusty parts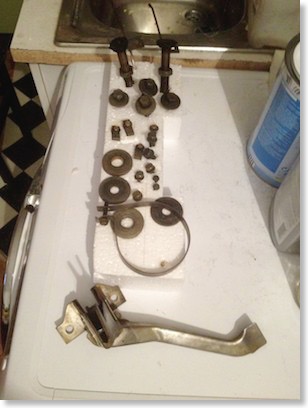 with the rust removed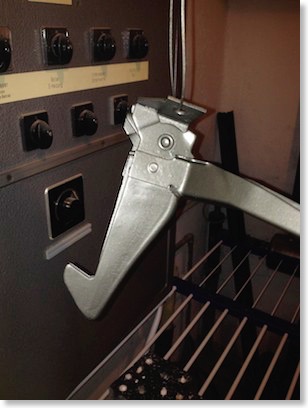 The Hood latch cleaned and painted with Eastwood Silver Cad Paint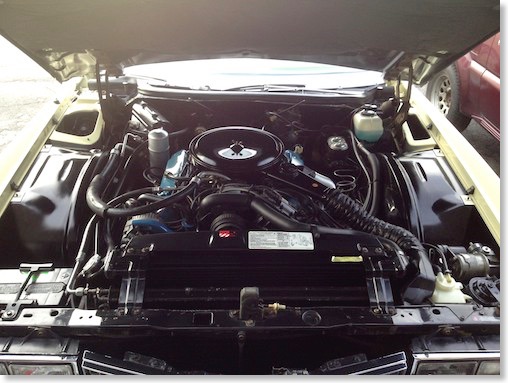 The cleaned engine bay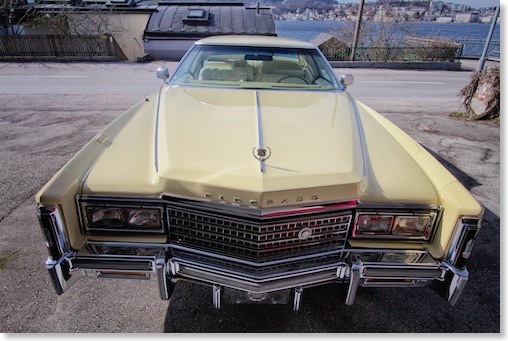 The car after polishing the paint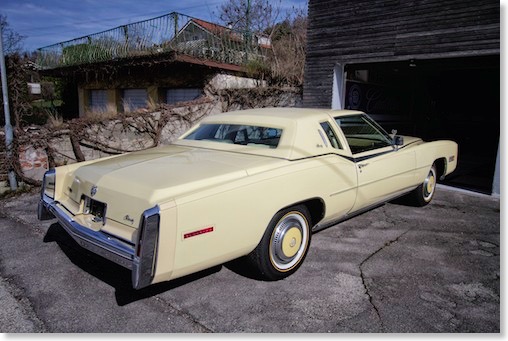 the polished paint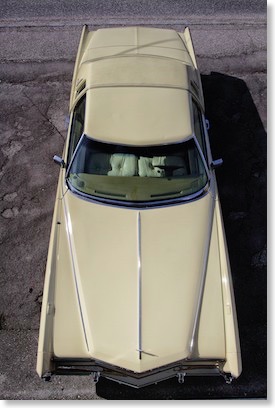 very shiny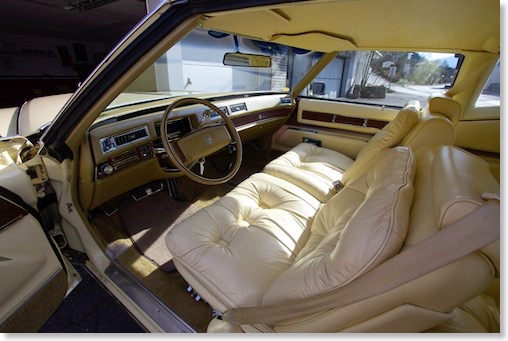 Besides the carpet - the interior is already perfectly clean. The original floor mat is under the aftermarket mats.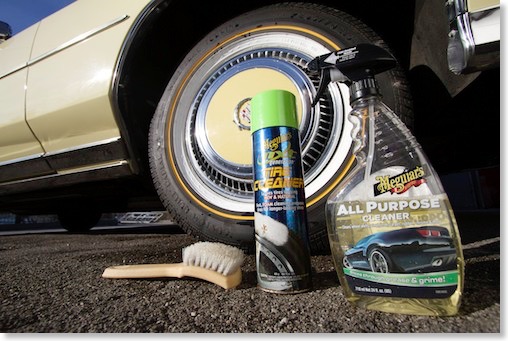 Cleaning the Vogue tires.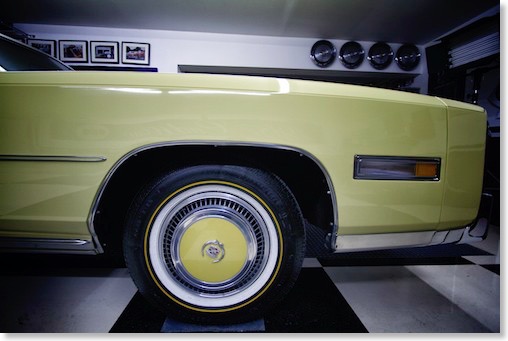 Clean paint and tires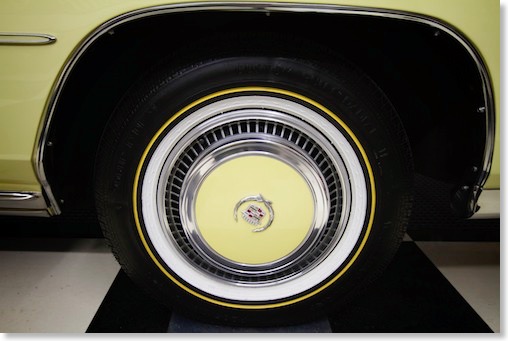 Clean tires and perfect hubcaps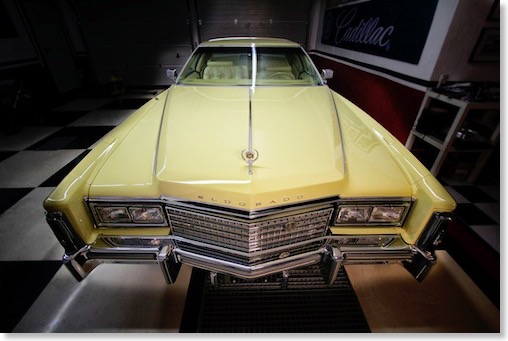 Before waxing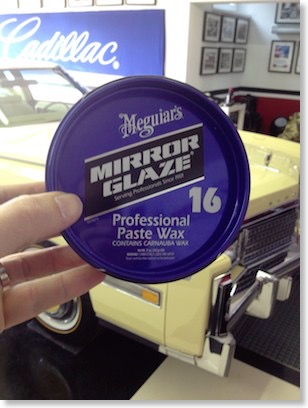 I really like this Meguiars wax. Its one of their cheapest but best waxes. A gentleman from Meguiars once told me that it is one of their oldest waxes, but contains a lot of carnauba wax, which makes it so good! Its also offering the best protection of their product range.


Here are some links to Meguiars products I like to use (link to german Amazon Shop):





During winter hibernation I´m using the time to fully clean and detail all of my cars for the next season. Some things I have to do regularly, like waxing, cleaning the interior, treating the rubber weatherstripping and many other things. Now it was time for a thorough cleaning of the fabric roofs of the 58 Eldorado Seville and the 67s convertible top.
I have tried a variety of cleaning methods and cleaners over the years.
This time I used Meguiars professional vinyl cleaner #M39 ( I think this product is no longer available and they only offer #M40 now) along with their stiff nylon brush followed by a special nano foam sponge which is called
"dirt eraser"
. It really removes dirt very thoroughly even from textured materials.
Both tops came out very clean - I then used Meguiars Convertible top impregnation to protect them from getting dirty again soon. It also weatherproofs the tops. (not that I would ever drive in rain with my cars... ;-) )
I have heard really good things about Meguiars Convertible Top Cleaner as well - will try it out next time...
Disclaimer: I´m not getting paid or receive any free products from the companies I´m mentioning here. If I like products or services I mention them and if I dislike things I will also talk about them in a less positive way ;-) I just like to share my findings.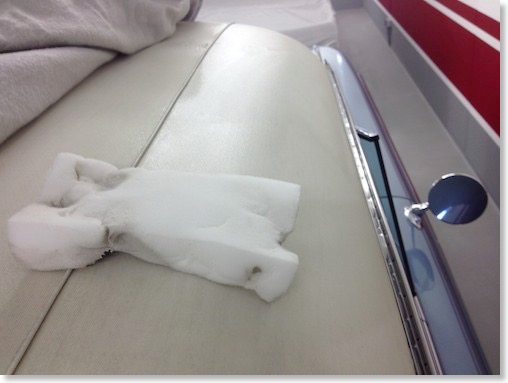 One of the dirt eraser sponges in action on the original roof from 1958. White tops are a pain to keep clean...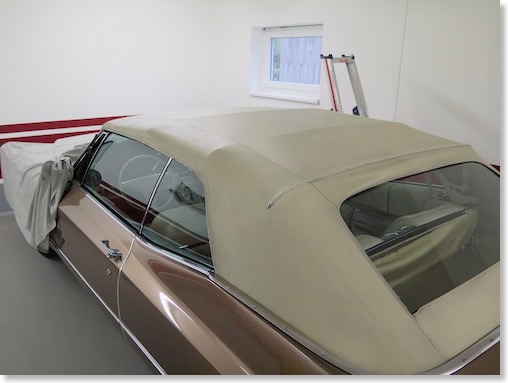 Looking o.k. now - its still the original top from 1967...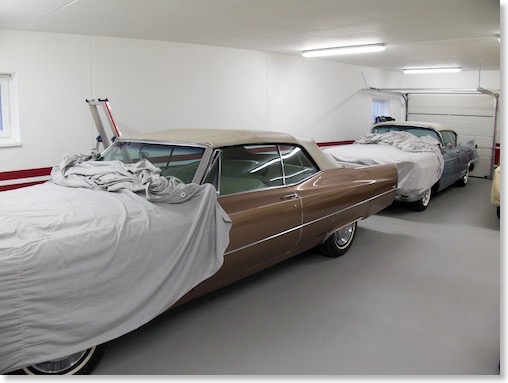 In the garage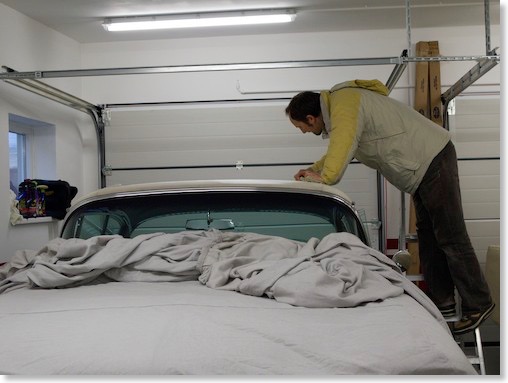 Thoroughly cleaning the Vicodec roof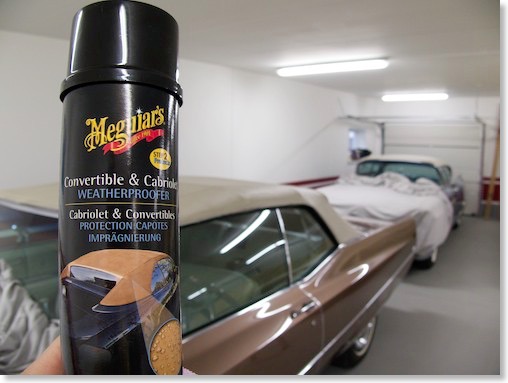 Meguiars weatherproofer for additional protection