1967 CADILLAC MODELS, PRODUCTION TOTAL, PRICES AND OPTIONS On this page you can find information on all the 1967 Cadillac models with pictures from the sales brochure.
Here you can also find a list with all the available options including codes and their prices.




Model
Type
Price
Prod.total
G
Calais Coupe
$5,040
9,085
K
Calais Sedan
$5,215
2,865
N
Calais Hardtop Sedan
$5,215
9,880
J
Coupe deVille
$5,392
52,905
F
DeVille Convertible
$5,608
18,200
L
Sedan deVille
$5,625
8,800
B
Hardtop Sedan deVille
$5,625
59,902
H
Fleetwood Eldorado
$6,277
17,930
M
Fleetwood 60 Special
$6,423
3,550
P
Fleetwood Brougham
$6,739
12,750
R
Fleetwood 75 Sedan
$10,360
835
S
Fleetwood 75 Limousine
$10,571
965
Z
Commercial Chassis
2,333
1967 Cadillac Models
This is an overview of what models Cadillac offered in 1967. Buyers had the choice of 11 different models + the Commercial Chassis which was used for ambulances and hearses.


DE VILLE CONVERTIBLE in Flamenco Red



FLEETWOOD SEVENTY-FIVE SEDAN and LIMOUSINE in Sable Black



CALAIS COUPE in Doeskin



CALAIS HARDTOP SEDAN in Persian Ivory



CALAIS SEDAN in Pinecrest Green



COUPE DE VILLE in Venetian Blue



FLEETWOOD BROUGHAM in optional Tropic Green Firemist



HARDTOP SEDAN DE VILLE in Capri Aqua



SEDAN DE VILLE in Sudan Beige



FLEETWOOD SIXTY SPECIAL SEDAN in Baroque Gold



ELDORADO in optional Atlantis Blue Firemist





The 1967 Sales Brochure lists the following options:

| | | | |
| --- | --- | --- | --- |
| Option | Price | On Models: | Code |
| Auxiliary horn* | $12 | all | P |
| Automatic level control* | $79 | G N K F J B L | L |
| Automatic climate control | $516 | except Fleetwood 75 | K |
| Bucket seats with console* | $184 | F J B H (leather upholstery required) | B |
| Firemist finish* | $132 | all | |
| Cruise control | $95 | all | C |
| Rear window defogger* | $27 | G N K J B L M P H | B |
| Front disc brakes* | $105 | Eldorado | F |
| Door guards | $5 | G F J H | D |
| Door guards | $8 | N K B L M P R S | D |
| Expanded vinyl upholstery | $42 | G N K | |
| Soft Ray glass | $51 | all | E |
| Guide-Matic headlamp control | $50 | all | U |
| Head rests | $53 | all | H |
| Leather upholstery | $138 | J B L M P | |
| Leather upholstery | $158 | Eldorado | |
| License frame, single* | $6 | all | L |
| License frame, pair* | $12 | all | O |
| Padded roof | $132 | J H | 1-6 |
| Padded roof | $137 | B L | 1-6 |
| Power door locks | $47 | two-door | M |
| Power door locks | $68 | four-door | M |
| Power door locks | $116 | Fleetwood 75 | M |
| Power ventipanes* | $72 | except H M P (power windows required) | N |
| Rear quarter power ventipanes* | $63 | Eldorado | N |
| Power windows | $116 | Calais | X |
| AM/FM stereo | $288 | except Fleetwood 75 | 1 |
| AM/FM radio | $188 | all | 2 |
| AM radio | $162 | all | 3 |
| AM radio rear controls | $242 | Fleetwood 75 Sedan | 4 |
| Reclining front seat with headrests* | $84 | F J B H (bucket seats or Eldorado bench seats required) | R |
| Four-way lefthand power bucket seat | $53 | F J B H | Y |
| Six-way power front seat | $111 | G N K | Y |
| Six-way power front seat | $83 | F J B L H M P R | Y |
| Rear center seat belt* | $11 | all | J |
| Front shoulder straps* | $32 | all | Z |
| Tilt-telescope steering wheel | $90 | all | Q |
| Remote control trunk lock | $52 | all | S |
| Twilight Sentinel | $32 | except Eldorado | J |
| Twilight Sentinel | $37 | Eldorado | J |
| White sidewall tires 9.00x15 4-ply 8PR-5 | $56 | exchange, except Fleetwood 75 | W |
| White sidewall tires 8.20x15 4-ply 8PR-5 | $64 | exchange, Fleetwood 75 | W |
* order individually. Other options were sold in "
basic groups 1-4
" and "
equipment groups 8 & 9
"
Major Standard Equipment on all Models (as written in the Sales Brochure)
CADILLAC TURBO HYDRA-MATIC automatic transmission... provides instant, smooth response and proven dependability.
CADILLAC DUAL POWER BRAKES... for smoother, straighter stops with minimum effort.
CADILLAC HEATER AND DEFROSTER directs an even flow of controlled warm air to both front and rear
passengers, helps keep windshield free of fog and ice.* Automatic climate control heating and air
conditioning are standard on the Seventy-Five Sedan and Limousine.
CADILLAC POWER STEERING. Variable ratio affords almost effortless parking and cornering... and in
highway travel it retains a reassuring feel of the road. (Variable ratio is not on the Seventy-Five series).
* All models except the Seventy-Five series may be ordered without this item at reduced cost.

Other Standard Equipment
Your Cadillac provides, as standard equipment, a number of items offered at extra cost on most other cars. Among them are:



Air Cleaner, dry-pack
Armrests, center, front and rear on DeVille models and Fleetwood Sedans; front only on Convertible and Calais models; rear only, Fleetwood Limousine
Ashtrays, dual front all models, two rear all models, except Seventy-Five models, which have two front, two rear of front seat for auxiliary seat passengers, plus two with lighters for rear-seat passengers. One in rear of Eldorado with bench seat
Automatic Level Control, standard on Fleetwood models
Cigarette Lighter, center front
Cigarette Lighters, rear, two, (except Calais Coupe.) One rear in Eldorado
Clock, electric
Front Seat Adjustment, power-operated, horizontal only (except Calais)
Light, front ash receiver
Lights, backup (dual)
Lights, cornering
Lights, rear compartment
Lights, reading, Brougham (adjustable)
Lights, courtesy (automatic)
Lights, directional indicators
Light, glove box (automatic)
Light, luggage compartment (automatic)
Mirror, 2-way, padded-rim with breakaway feature, shatter-resistant, glare-reducing. rear-view, flip-type; 3-way, Soft Ray in Fleetwood Sixty Special Sedan and Brougham.
Mirror, Outside, left side, inside remote-control.
Oil Filter, full-flow
Padded Instrument Panel
Reflectors, door panels, safety warning (illuminated in Eldorado, Fleetwood Sixty Special Sedan, Brougham and DeVille models)
Seat Belts, front and rear, retractable on outboard sides
Ventilator Windows power-operated on Fleetwood Sixty Special Sedan and Brougham
Visor Vanity Mirror, right side
Visors, dual sun, padded
Wheel Discs
Windshield Washer and Wipers, three-speed with glare-reducing wiper arms
Window Regulators, power-operated (except Calais)


No luxury car built offers a wider or more attractive selection of options and accessories than Cadillac. In addition to all its standard equipment, Cadillac caters still further to your individual needs and desires with an array of special conveniences to make each Cadillac the most personalized car possible.

Automatic level control, standard on Fleetwood models, and available on De Ville and Calais models, keeps the car level, even when fully loaded. Appearance, handling and headlamp aim are maintained, and "bottoming" is reduced on bumps, steep ramps and driveways.

With bucket seats, you may also select a reclining right front seat with adjustable headrest. The reclining seat is also available on the Eldorado with bench seat.

Automatic climate control maintains a preselected temperature automatically. The system can be bypassed by a new vent position for filtered outside air.

Cruise Control permits setting and maintaining a desired speed without using the accelerator pedal. It also acts as a speed reminder by a gentle back pressure to the accelerator when selected speed is reached.

All doors can be locked or unlocked from either front door, a feature especially appreciated by Cadillac families.

Twilight Sentinel automatically turns lights on and off according to light conditions and can be set as you leave the car to keep lights on up to ninety seconds, for a path of light at night.

Tilt and Telescope steering wheel adjusts in four directions for personal comfort and swings up for easier entry and exit.

A padded vinyl roof is standard in five colors on the Brougham and available on De Ville closed models, the Seventy-Five series and the Eldorado.

The Cadillac AM Radio has superb tone with wide bass or treble adjustment. Sound may be directed through front or rear speaker or both. Tuning is manual by pushbutton, or automatic with signal bar selector. AM-FM Radio adds the enjoyment of fine FM and features two speakers, automatic frequency control and an automatic antenna which is standard with all Cadillac radios.
The Cadillac AM-FM Stereo Radio brings you the full richness of stereo FM. Two speakers in front and two in the rear are cross-balanced-left front with right rear and right front with left rear-for true stereo sound for driver and passengers.

Adjustable front seat headrests are available for both bench type seat, above, and bucket seats, below. Six-way power seat control gives horizontal, vertical and angle adjustment for maximum comfort.

Additional popular accessories not shown include: electrically heated front seat warmer (rear seat on Seventy-Five models); Guide-Matic power headlamp dimmer; remote control trunk lock; Controlled Differential for more positive traction on slippery roads; rear window de-fogger; Soft Ray glass; door edge guards; white sidewall tires; radio foot control switch; exclusive Cadillac cushion covers and Cadillac-designed contoured floor mats.

For advice concerning equipment and accessories for the Cadillac of your choice, consult our authorized dealer."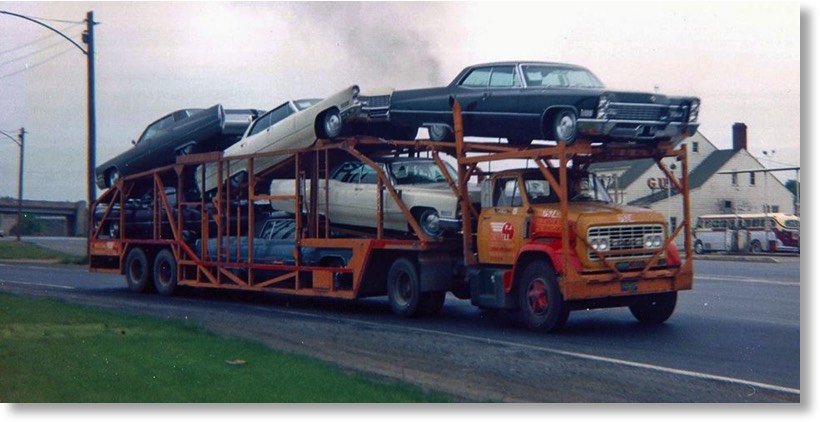 A delivery of some brand new Cadillacs back in 1967.