THE DEVELOPMENT OF THE 1967 ELDORADO - PROTOYPES - CLAY MODELS .
*UPDATE 2014*
In September 2014 former GM Chief designer Mr. David North himself sent me a message after he had read my 67 Eldorado history article here to give me a little inside information and to congratulate me on my article here:
Mr. North wrote:
"Ed Tayler and Don Ropper were the principal designers of the 67 Eldorado in Stan Parkers Cadillac Studio. The XP825 V16 Cadillac was a personal project of Bill Mitchell. It was done in Ned Nickels advanced studio by Ned and David North. Both Ed Tayler and David North were the asst. Chief Designers in both the Oldsmobile and the Cadillac Studios at different times during the 1960s. Ed and I worked on two outstanding GMCars that you have mentioned. The 66 Toronado for Olds, and the 67 Eldorado for Cadillac. The Toro was a fast program in the studios, but the Eldorado had many starts between 1960 and the finished car ."
Thank you Mr. North for taking the time to read my article and for the invaluable feedback!
As it happened, Cadillac began experimenting with front wheel drive during the Brougham years. But though a running chassis tested in late 1959 looked promising, FWD was still a relative novelty and by no means proven. Thus, when General Motors stylists began sketching a "new Brougham" that October, they devised shapes adaptable to either front or rear drive.
The 1967 Cadillac Eldorado originated in 1959, with experimental project XP-727, which underwent several rethinks through early 1962. Management then settled on front-wheel drive for a new "personal" Cadillac, and further prototypes evolved with that in mind.
For a while, Cadillac considered calling the car LaSalle, but ultimately chose Eldorado as a name with higher recognition. A clay model called XP-825, with razor-edge lines and formal roof treatment, was essentially the final production design.
The clincher was the successful engineering effort toward what would be GM's first production front-driver, the 1966 Oldsmobile Toronado. Engineering for both models was more or less combined by summer 1963, in project XP-784, but Eldorado styling originated in two separate programs: XP-820, begun in September, and the evolutionary XP-825, begun in December. The latter was production -- approved in May 1964, with shorter overhangs the major subsequent change. Unlike previous Eldorados, only a coupe was planned, with no evident thought of a convertible. Many prototypes and styling ideas were made for cars with 12 or 16 cylinder engines.
It's unclear whether the clean-slate V-12 or the crude V-16 were ever seriously considered for production, but there's no doubt that development stopped at the prototype stage. Still, Chuck Jordan and his colleagues came up with a remarkable group of design studies for a new multi-cylinder Cadillac.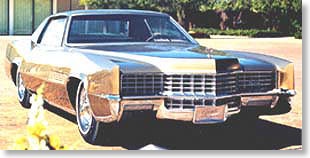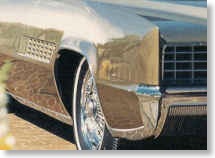 The XP825 as shown in 1963 to Cadillacs management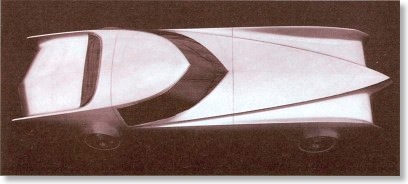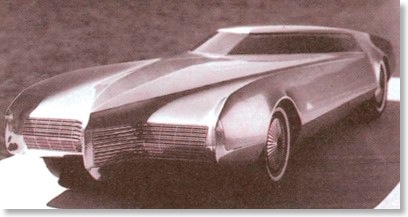 This radical 1960s Cadillac concept car was an August 1963 effort from Wayne Cady. The nose of this scale model carries hints of the 1966 Buick Riviera.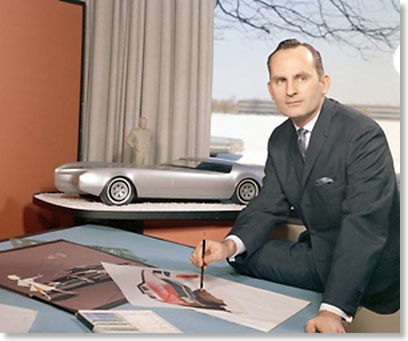 Later GM - design chief Chuck Jordan with the same concept car in the background. This was designed as a car with a V12 or even V16 engine.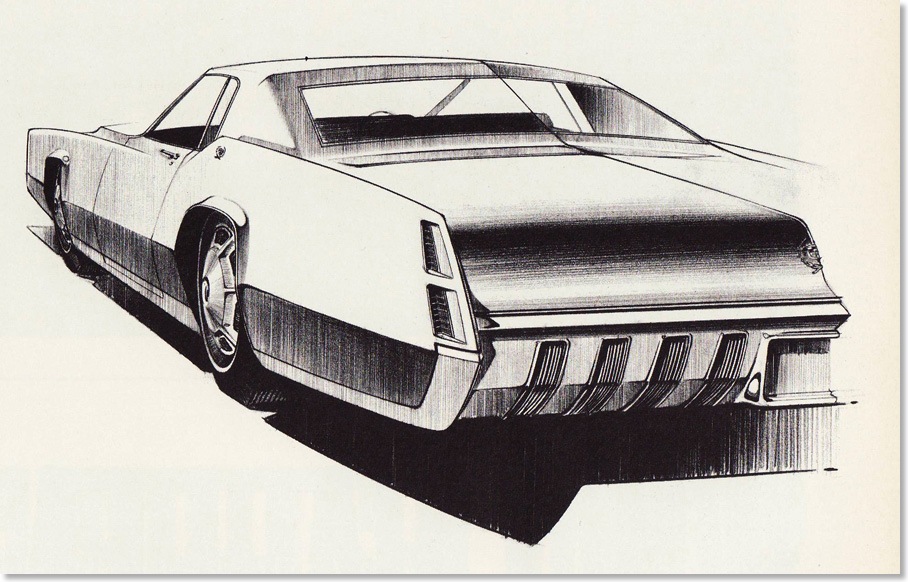 One of the styling sketches of the Eldorado.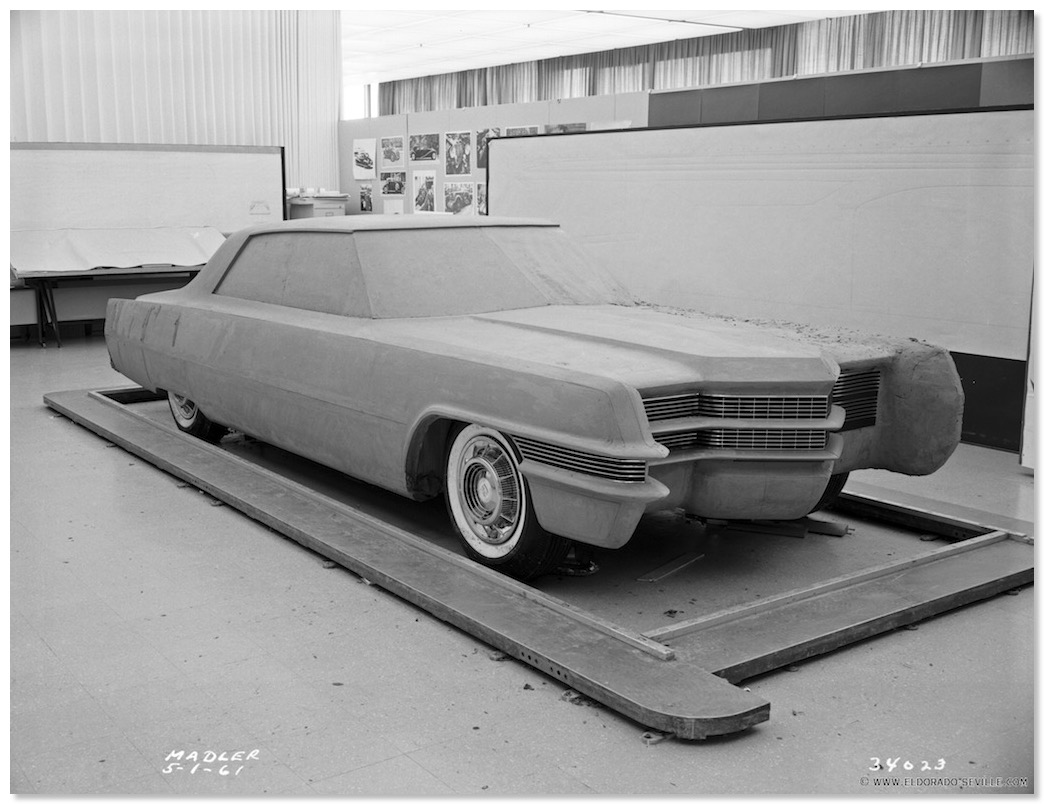 1961 XP 727 - a 4 door car! - Development for this already began in 1959!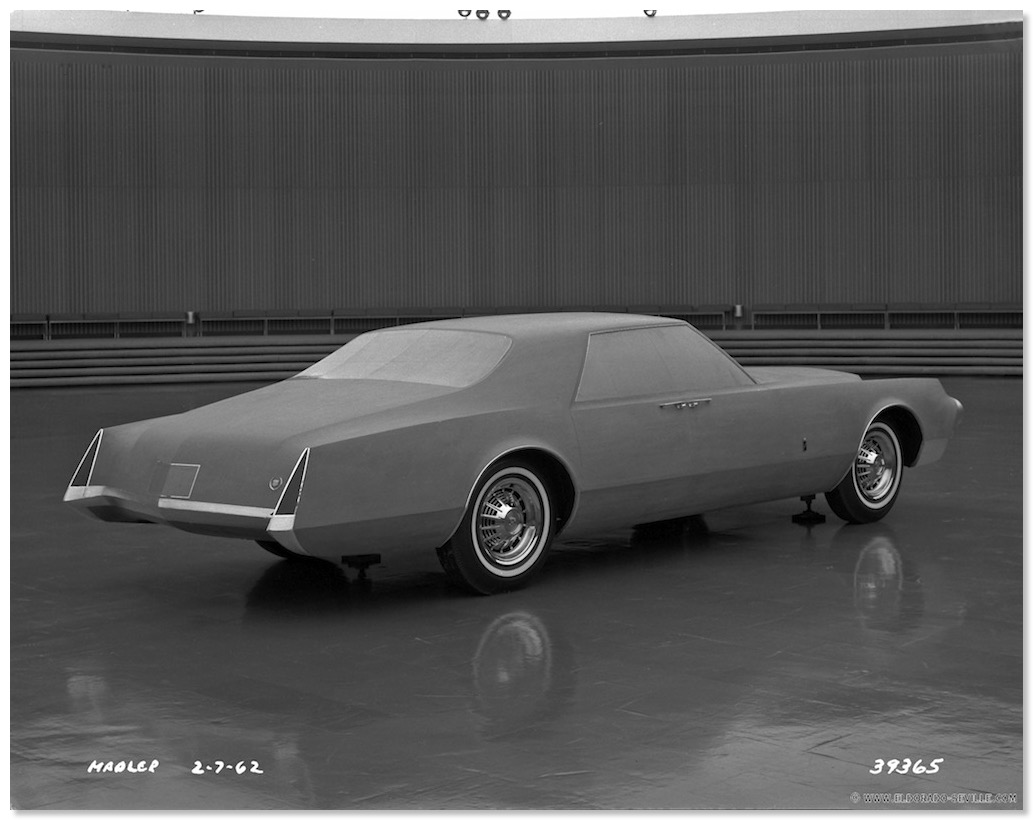 1961 XP 727 - note the suicide doors!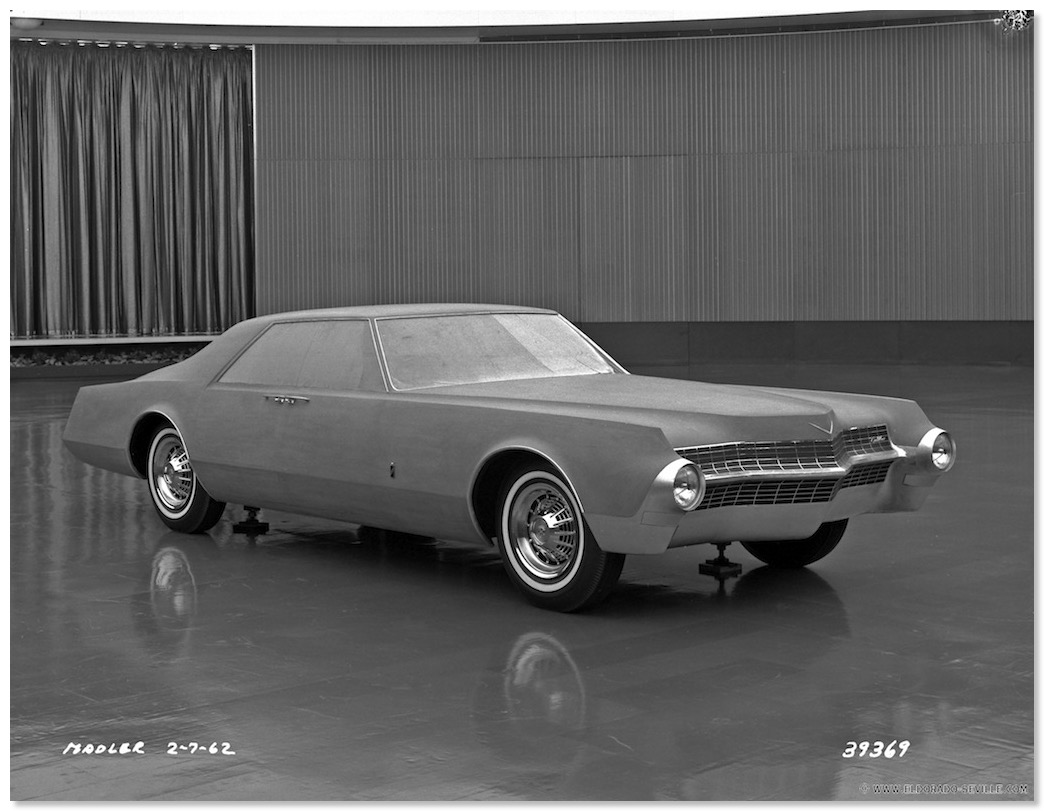 1961 XP 727 - with suicide doors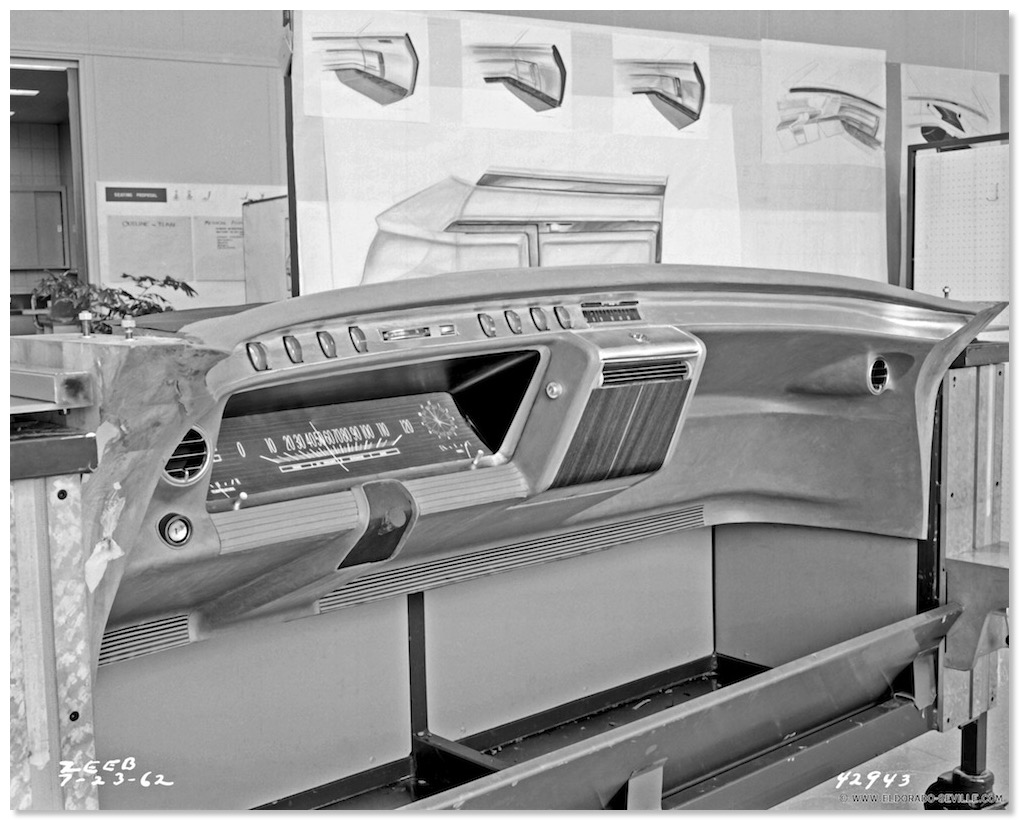 1961 XP 727 - instrument panel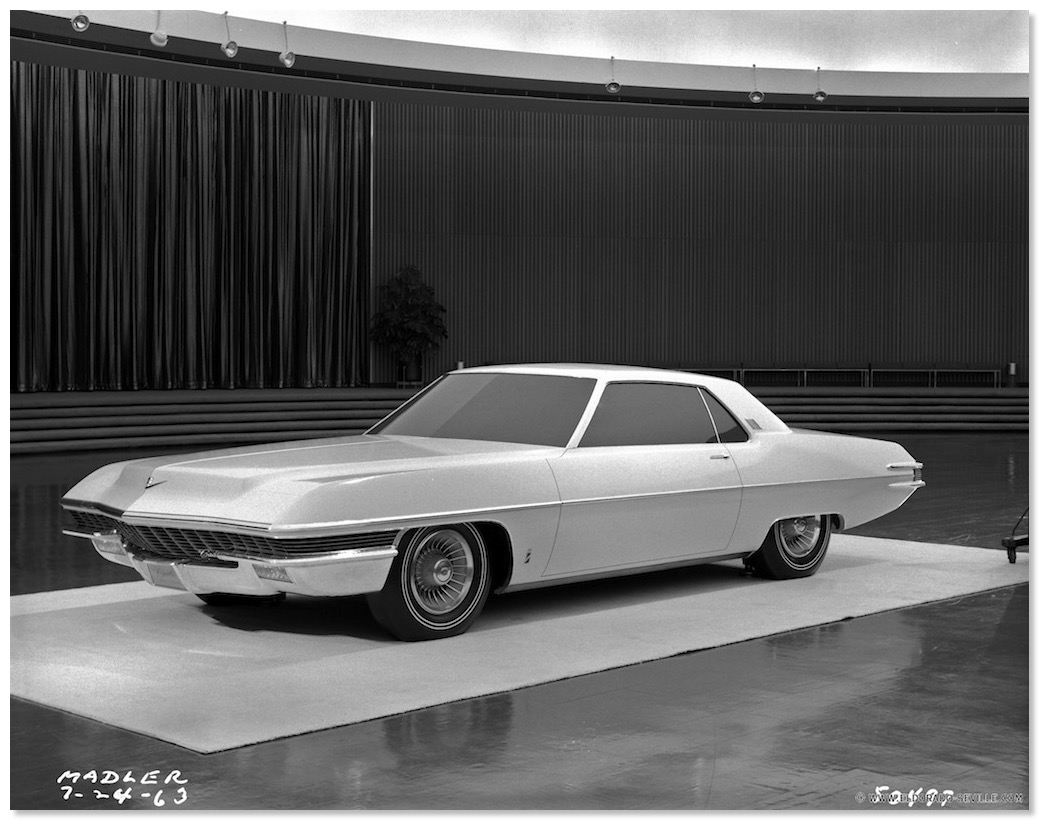 1963 XP-784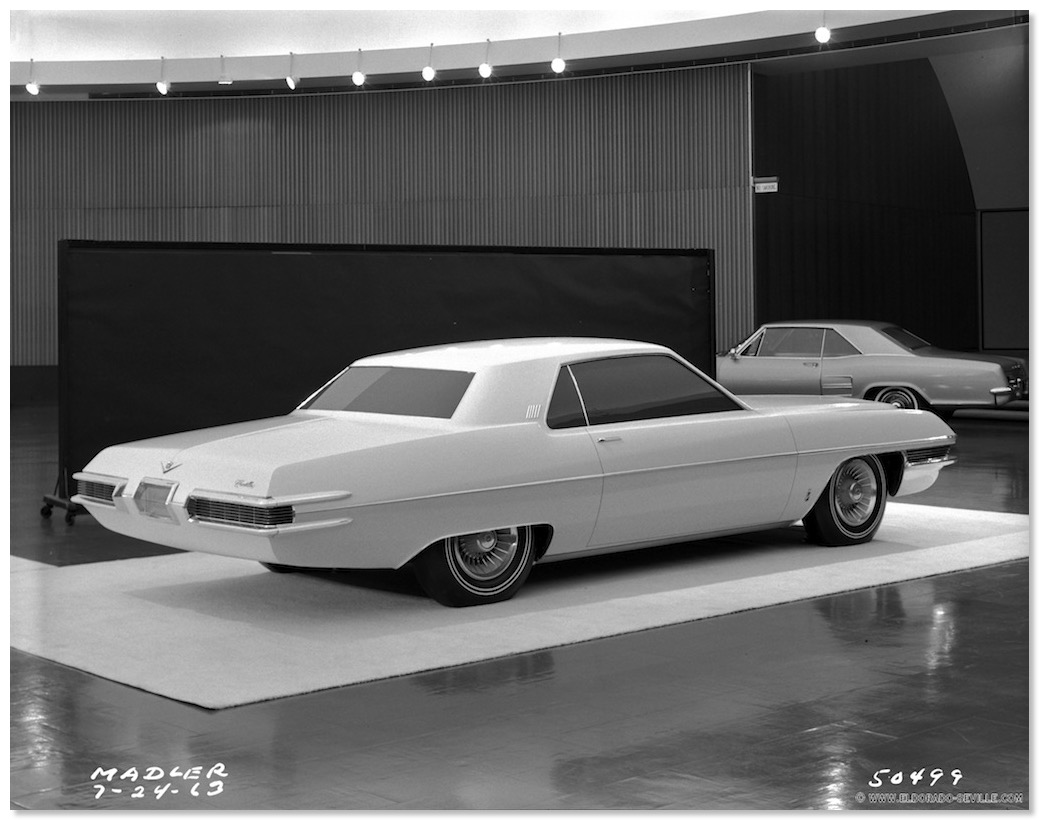 1963 XP-784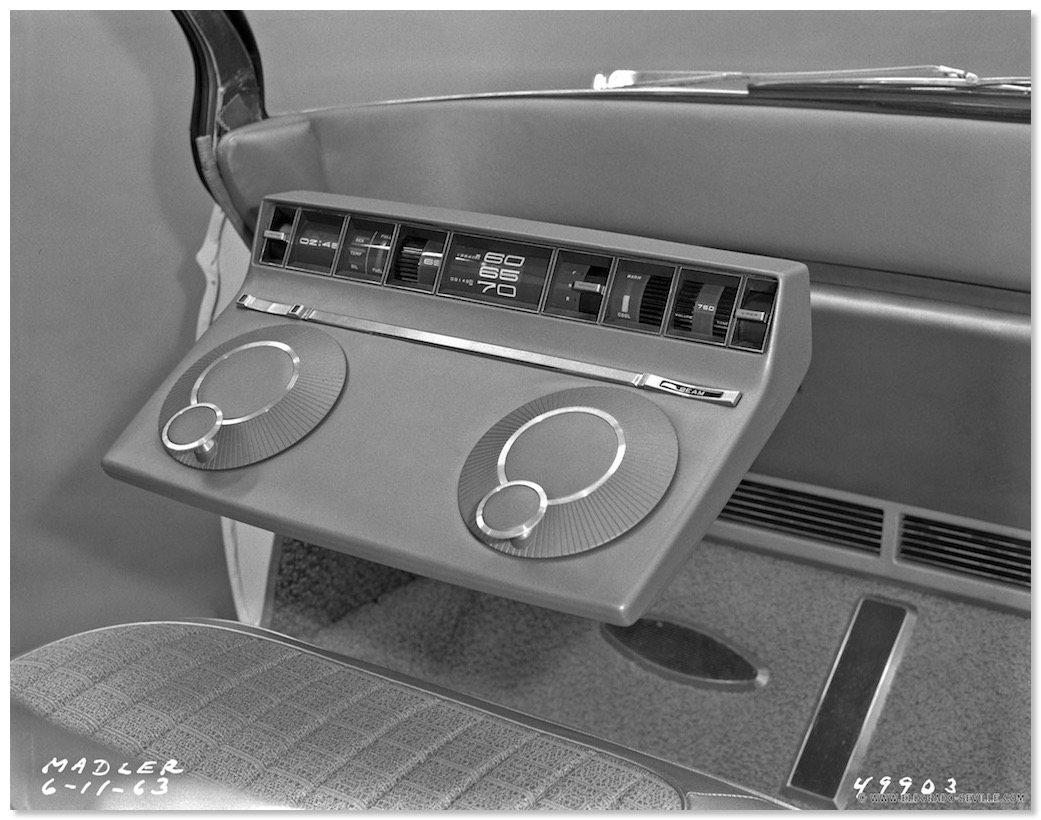 1963 XP-784 - Instrument panel!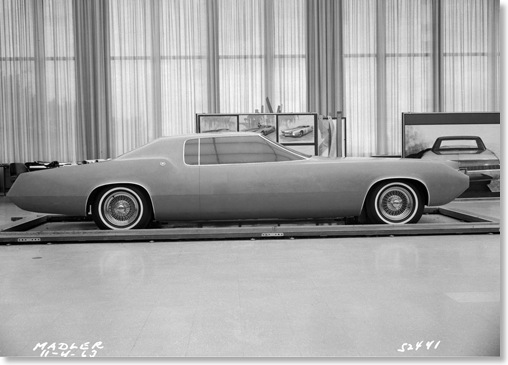 1963 XP-820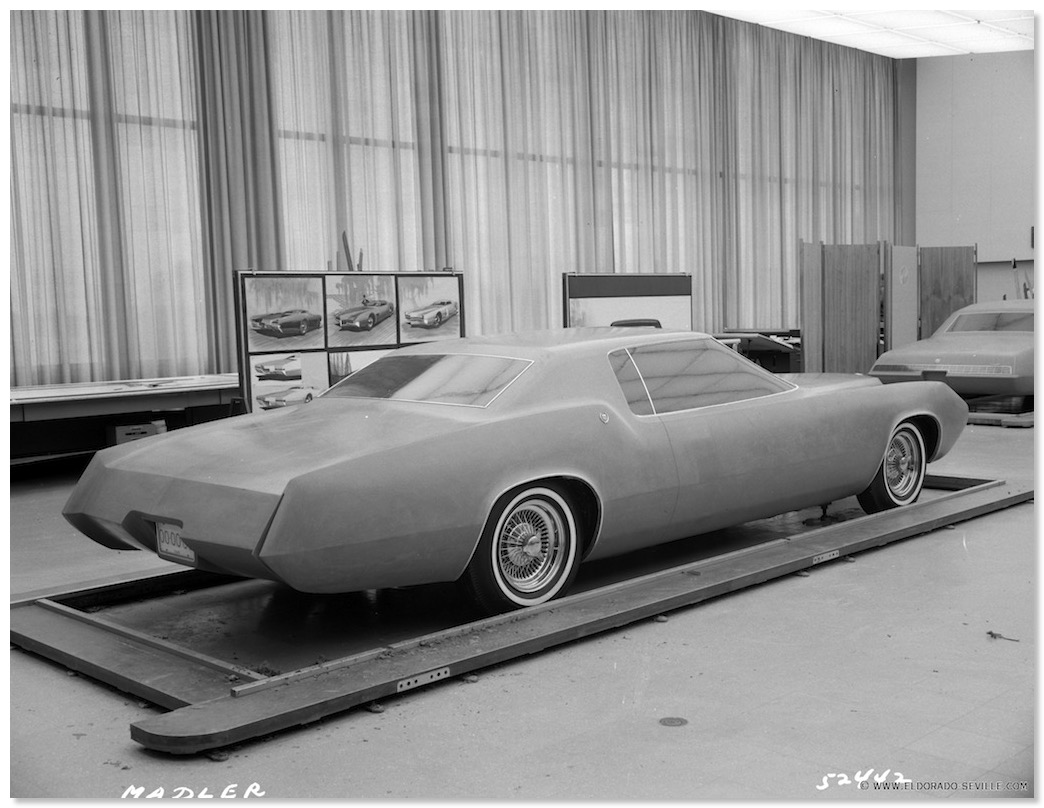 1963 XP-820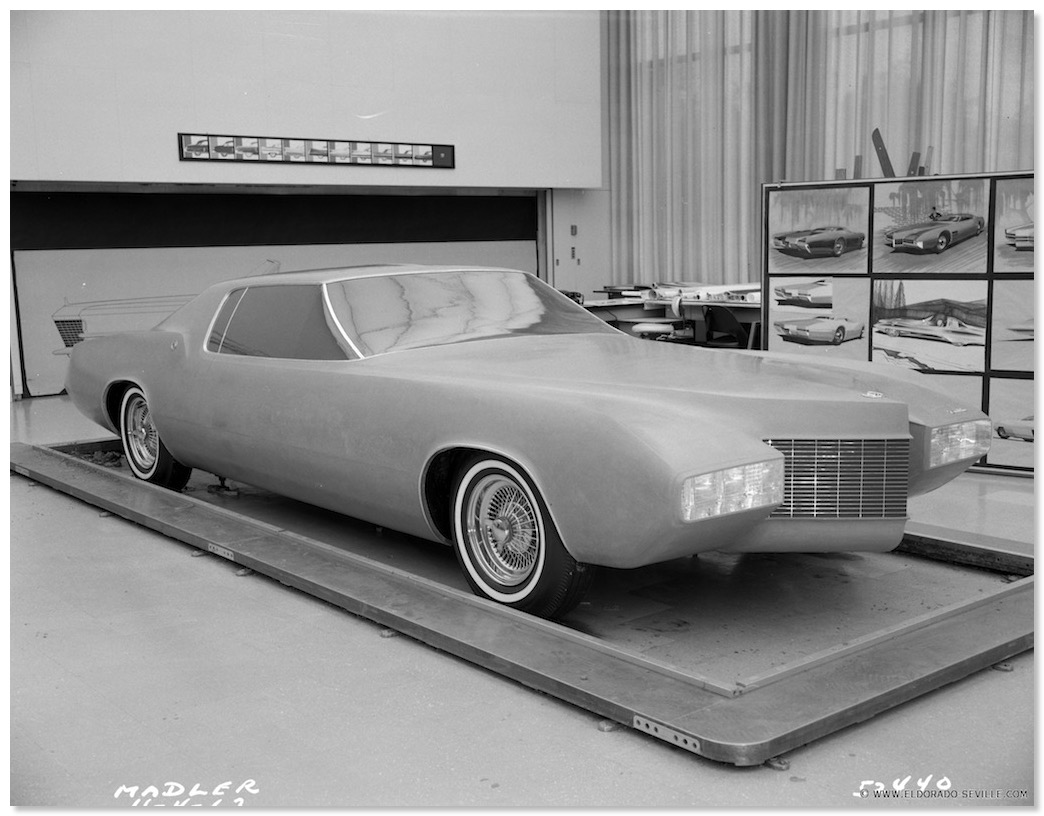 1963 XP-820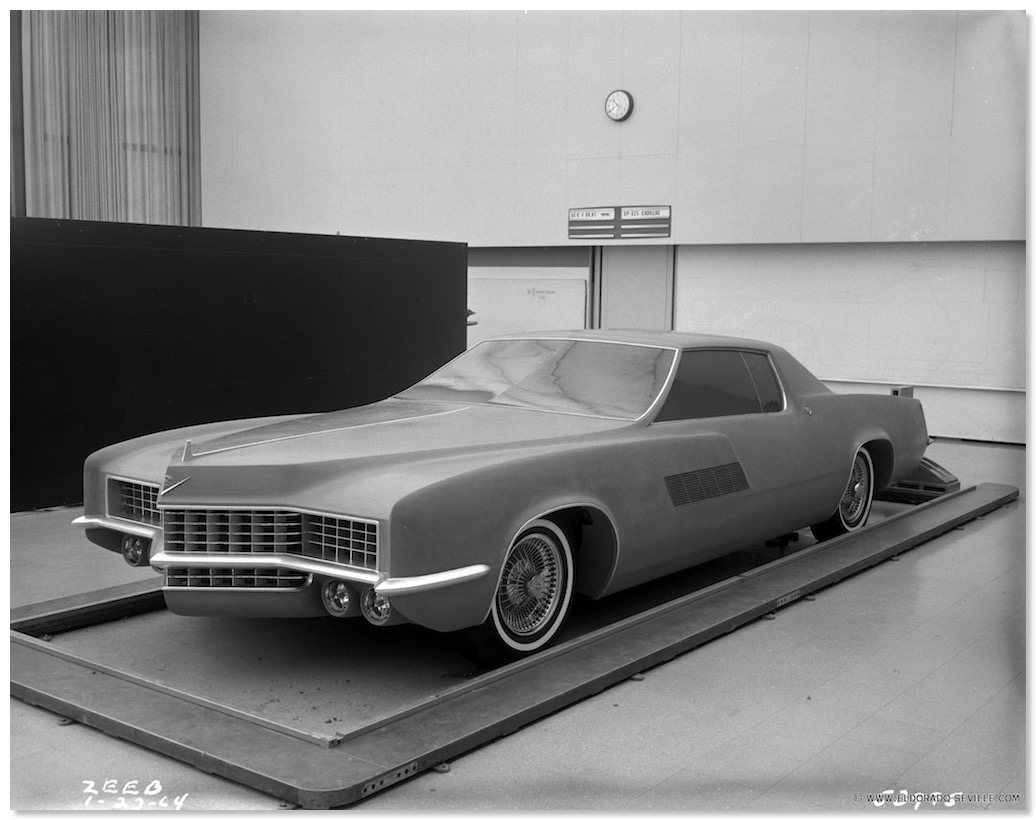 1964 XP-825 - January 1964 version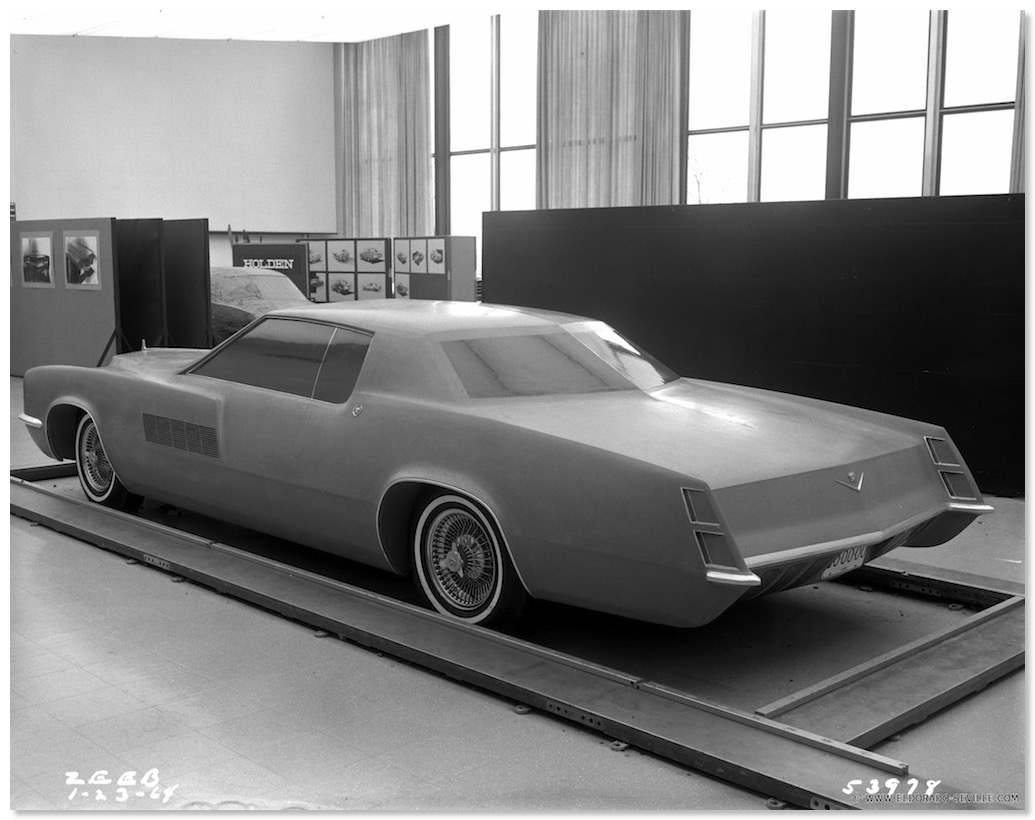 1964 XP-825 - January 1964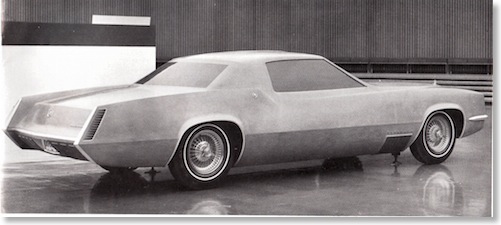 1964 XP-825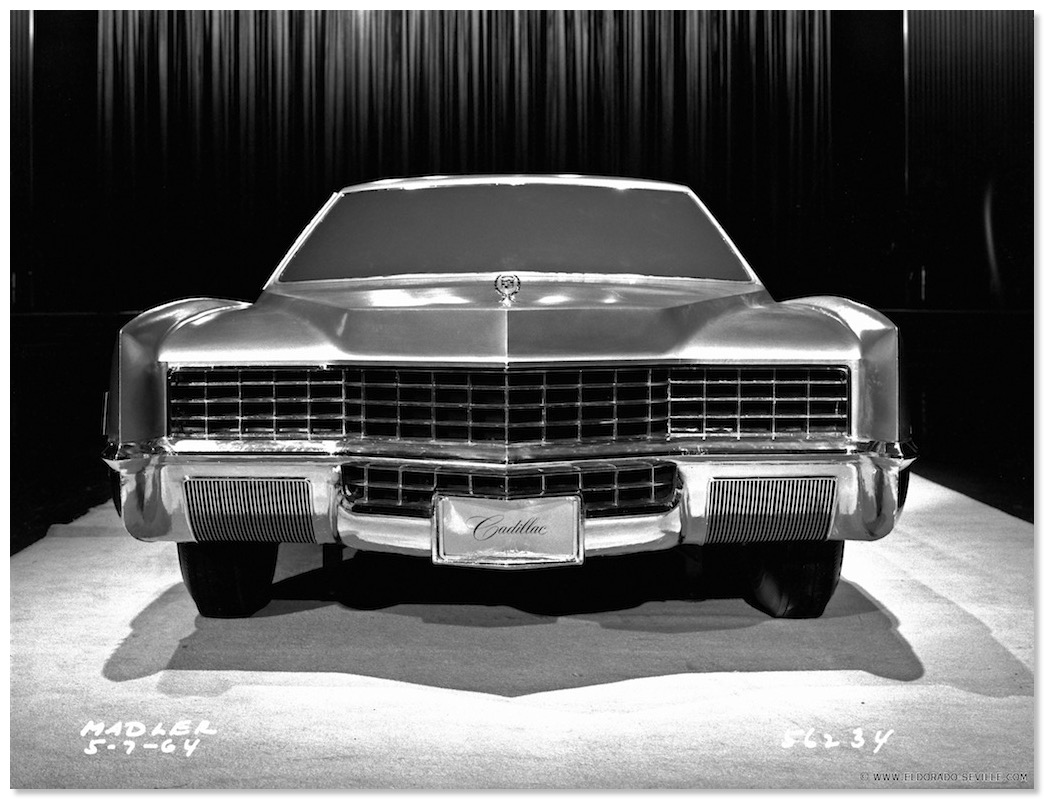 1964 XP-825 - a later version from May 65 - the front its almost there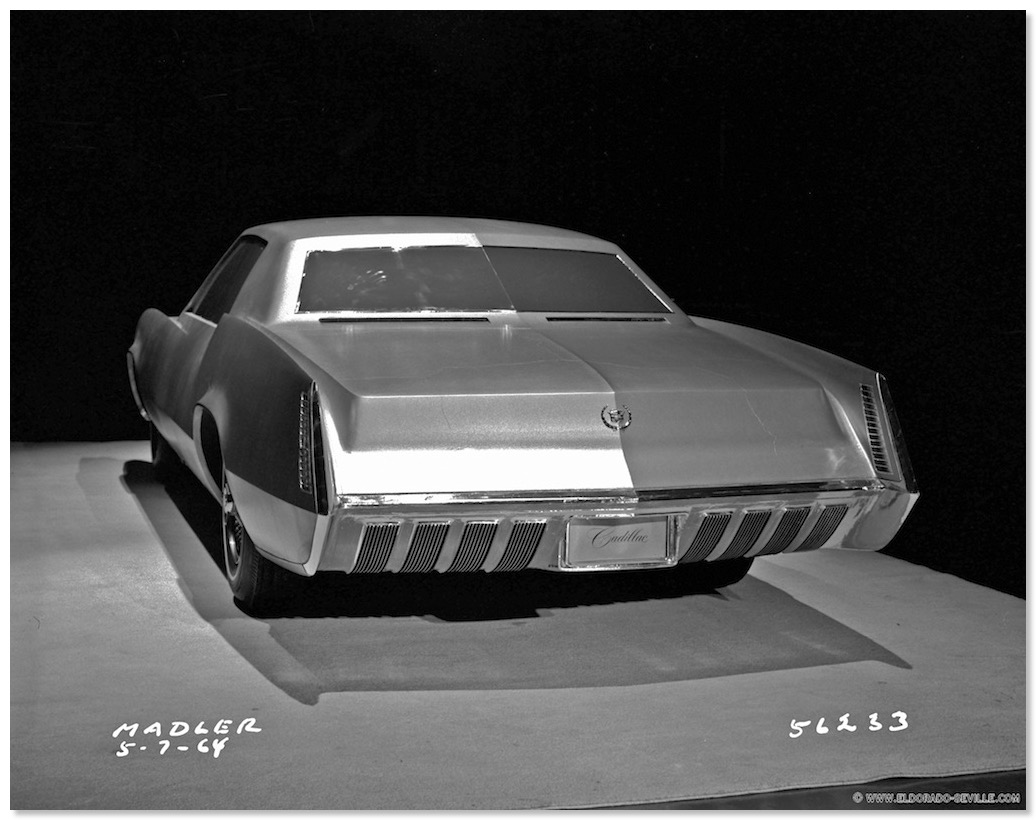 1964 XP-825 - May 1964 - also the rear is very similar to the final car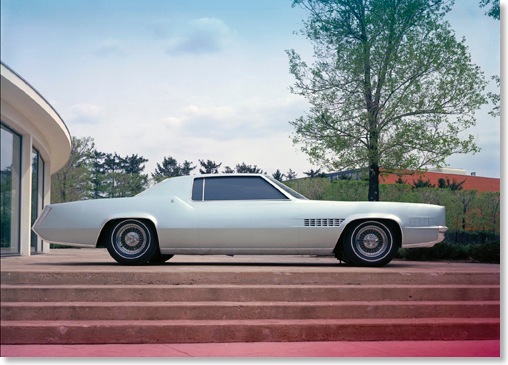 1964 XP-825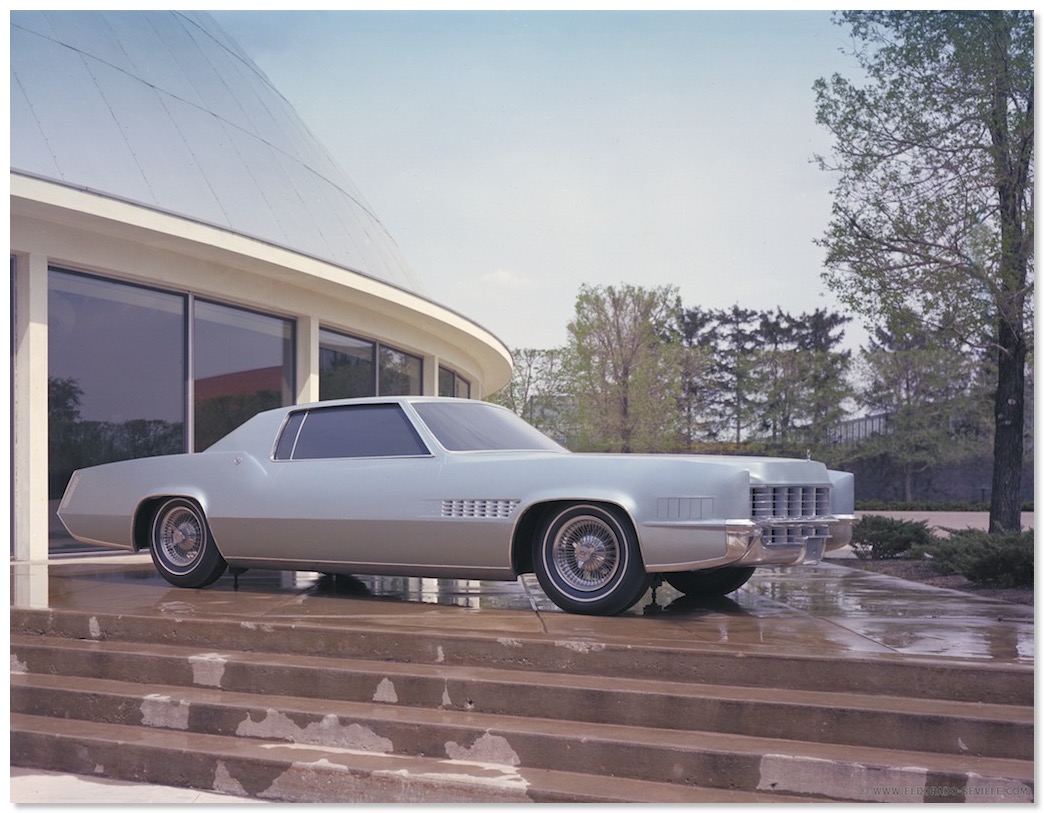 1964 XP-825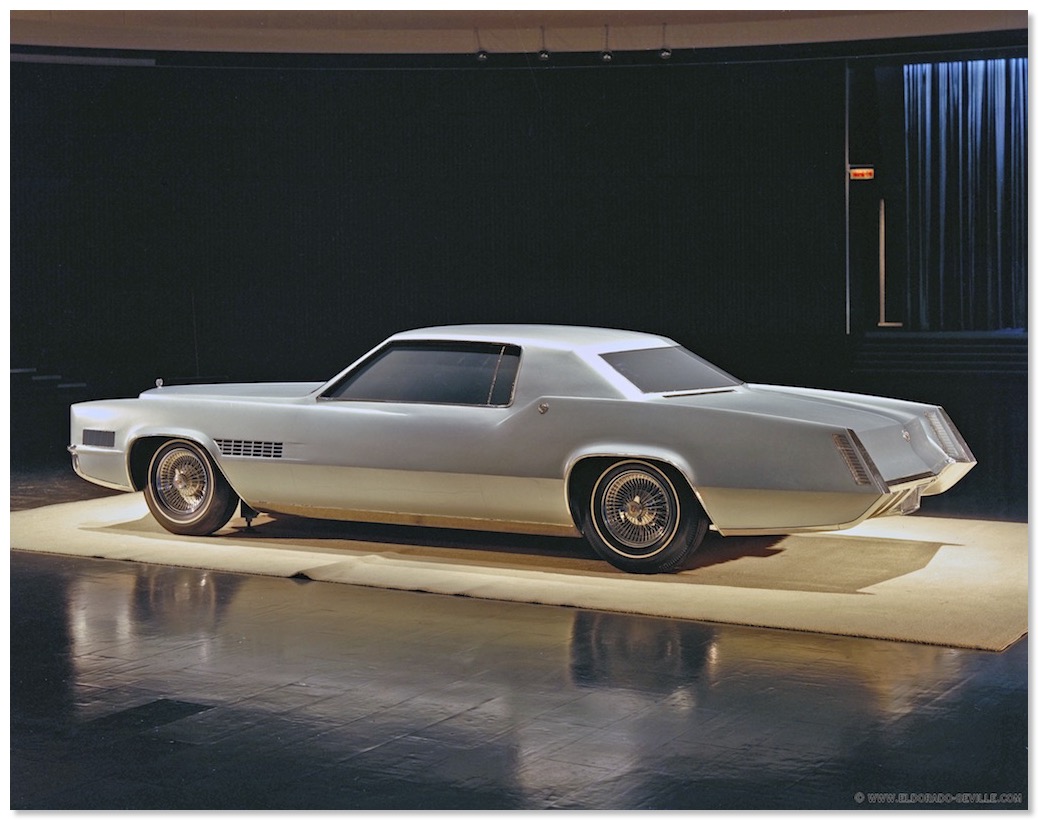 1964 XP-825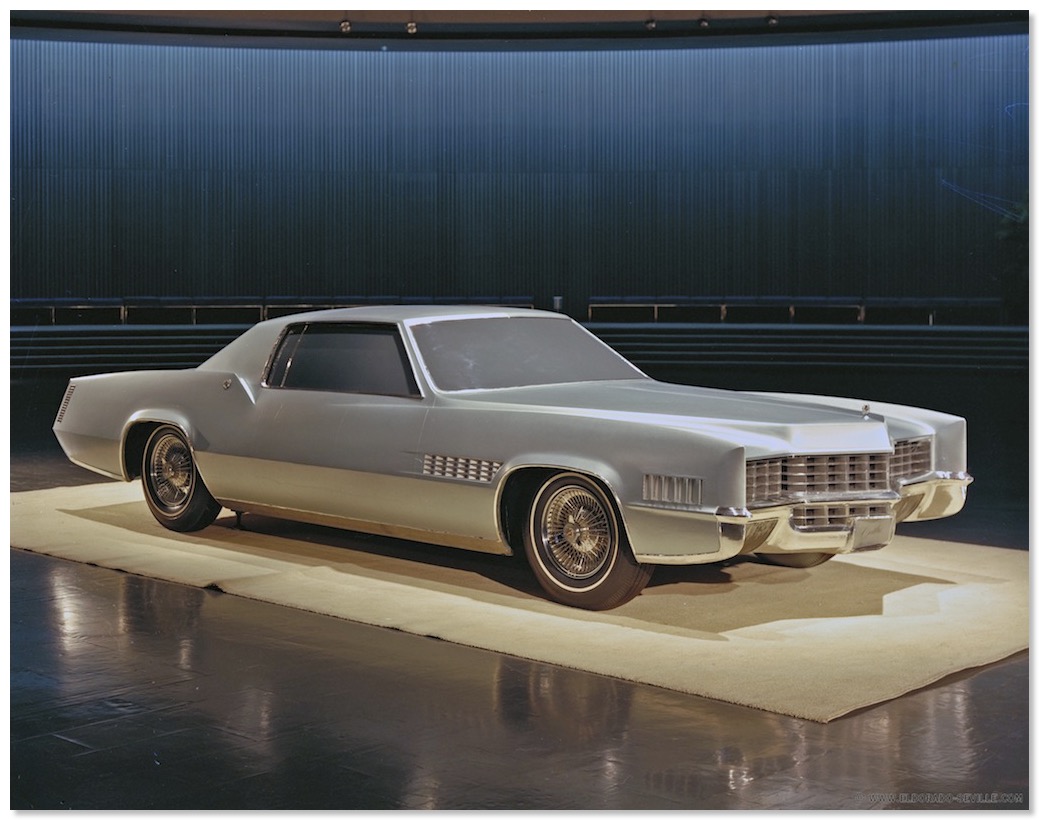 1964 XP-825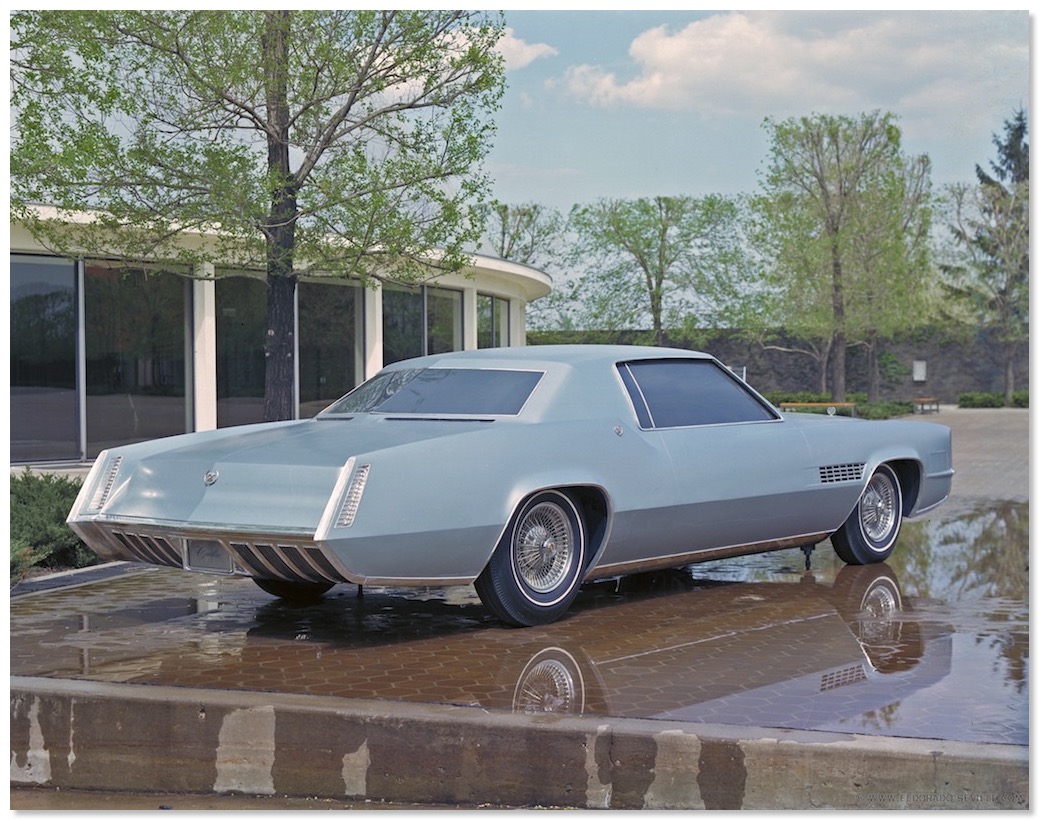 1964 XP-825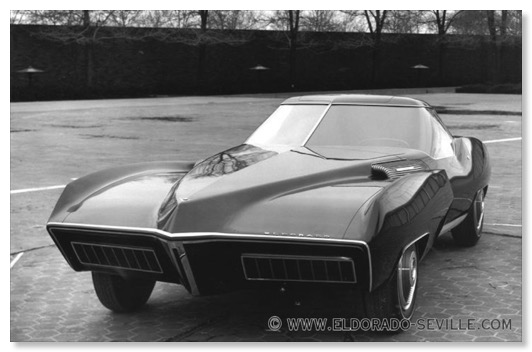 The XP840 from 1966 - its nameplate said "Eldorado"

This V-12 hardtop coupe concept car was proposed in May 1963. Its rear fender lines would show up in modified form on the 1967 Cadillac Eldorado.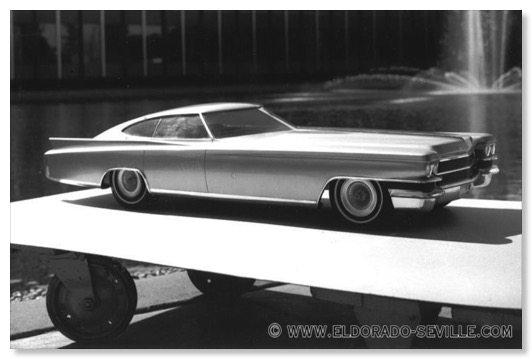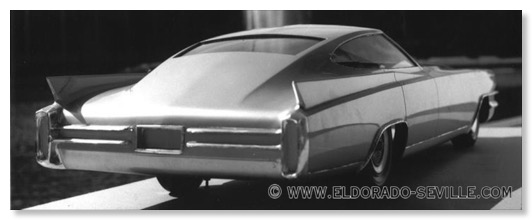 Early work toward postwar V-12 and V-16 Cadillacs produced this scale model, photographed at the GM Technical Center to look like a full-size car.

This circa-1963 concept drawing for an open V-16 Cadillac was reminiscent of classic 1930s speedsters.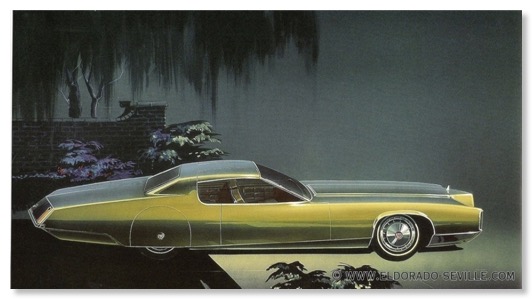 THE TORONADO HERITAGE
The new-generation Eldorado naturally inherited the Toronado's novel "split" driveline. This comprised a three-speed Turbo Hydra-Matic transmission mounted longitudinally beside the engine and driven from the flywheel by a Morse "Hy-Vo" inverted-tooth chain. Basic suspension was also shared: front A-arms, longitudinal torsion bars, and anti-roll bar; at the rear, a drop-center beam axle on single-leaf springs and four shock absorbers, two vertical, two horizontal.
Beyond this were major differences. There was styling, of course: distinctly Cadillac, beautifully masterminded by GM design chief William L. Mitchell -- and so different from both the Toro and the second-generation 1966 Buick Riviera that some observers wondered whether they all really used the same new GM E-body. An Eldorado could have only Cadillac power, so the division's 429 V-8, new for '64, was modified for front drive with a new oil pan, exhaust manifolds, accessory drive, and engine mounts. Output was the same as for other '67 Cadillacs: 340 horsepower and 480 pounds/feet torque with four-barrel carburetor and a 10.5:1 compression ratio. Steering was GM's usual recirculating-ball mechanism, with variable-ratio power assistance. Standard front brakes were drums, but the optional power assisted four-piston radially vented front discs were a low-cost option ($105). At the back were duo-servo 11-inch diameter drums. (The Toro started with drums, then switched to front discs for '67.)
TECHNICAL ACHIEVEMENTS
The 1967 Cadillac Eldorado thus rode better than the Toro, yet handled at least as well despite the same basic suspension (torsion bars, A-arms, and telescopic shocks up front; a beam axle in back on semi-elliptic leaf springs and four shock absorbers -- two horizontal, two vertical).
Two unique additions for the 1967 Cadillac Eldorado were self-leveling control, to keep the car on an even keel with a heavy load in the trunk, and optional front-disc brakes with radially vented calipers, a plus for dynamic safety.
On its own relatively compact 120-inch wheelbase, the 1967 Cadillac Eldorado carried a base sticker price of $6,277. Marketing targeted it for 10 percent of Cadillac's total 1967 model-year production, about 20,000 units. The final figure was 17,930.
It was described as a "sports-styled" automobile and the first car to combine front-wheel-drive; variable ratio power steering and automatic level control. Built off the Oldsmobile Toronado platform, utilizing the same basic body shell, the Eldorado was shorter and lower than even the smallest Cadillacs, but could provide full six-passenger seating because of its drivetrain layout. The Cadillac V-8 was fitted to the platform with changes in the oil pan, exhaust manifolds, accessory and drive belt layout and motor mount system. It had dual exhausts, but a single outlet muffler and tailpipe arrangement. An improved fresh-air system eliminated the need for front ventipanes. The Eldorado shared 1967 Cadillac technical changes such as Mylar-backed circuitry; bigger power brake booster; slide-out fuse box; improved automatic headlamp dimmer and braided rayon brake hoses, but was the only model in the line to offer front disc brake option. The typical assortment of Fleetwood extra equipment was standard on Eldorados as well.
The Eldorado also differed in its inch-longer wheelbase -- 120 in all -- and unique suspension tuning. The latter included standard rear leveling and narrower, softer-riding tires, though the Cadillac handled at least as well as the Olds. Indeed, the '67 Eldorado was the closest thing to a "driver's Cadillac" in years. Motor Trend found it could power through comers in utter safety. "The front tires will make a lot of noise, but the car will stick." It could also go: 0-60 mph in about 10 seconds, 0-80 in 15.3, 125-130 mph flat out. All this, plus "the traditional silence, comfort and luxury that buyers of this nameplate expect," as MT observed.
The assembly line
That was more than enough to make the first front-drive Cadillac a first-year sellout. True, production was deliberately limited to about 10 percent of total division volume -- though it ended up slightly short of that at 17,930 -- but this was only to ensure exclusivity as well as high quality. Abetting the latter was a special new one-shift Eldorado assembly line at Cadillac's Clark Avenue home plant in central Detroit, one reason the Eldorado bowed a year behind Toronado. Other reasons included Cadillac's desire to improve on Oldsmobile's work -- and that the Eldo have its own moment in "the white light of publicity."
The press and the buyers just loved it
Publicity it earned, from reporters who suddenly seemed to forget all about the year-old Toronado. Maybe they were dazzled by the elegant lines, the wreath-and-crest heraldry, or the $6277 base price (about $1500 upstream of that year's Toro). Whatever the cause, the newest member of the upper-crust Fleetwood family was almost universally praised. Automobile Quarterly gave the Eldorado its 1967 "Design and Engineering Excellence" award. Car Life declared it "beyond the scope of today's luxury/specialty concept ... the sort of visually distinctive, tastefully luxurious, enormously expensive, individualistic conveyance which characterized the Classic Era of automobile design." Cadillac simply called its new Eldorado the "World's finest personal car," while touting its "Elegance in Action."
Priced at $6,277 (more than any DeVille, but less than a Fleetwood), the '67 Eldorado carried all the luxury equipment of a Fleetwood and, despite its two doors, had room for six passengers. It was instantly the most popular Eldorado ever and sold 17,930 units that first year (only 2,250 '66 Eldorados were sold). It was a bold, confident step forward for Cadillac.
Creased like a tailored Italian suit, broad shouldered, wonderfully proportioned, and devoid of extraneous brightwork, the 1967 Cadillac Eldorado was a high point even in this heady period when GM styling as a whole set the pace for the American auto industry.
A technological tour de force, 1967 Cadillac Eldorado quickly established itself as the ultimate Cadillac.
Unlike the Toronado, the 1967 Cadillac Eldorado was a very low-key announcement. This was typical of Cadillac, which used the one-year delay to improve on Oldsmobile's package.
A 1967 Eldorado with sunroof?
A while ago I was contacted by fellow 67 Eldorado owner Mark Bristol. He owns a very rare 1967 Eldorado with a sunroof done by
ASC (American Sunroof Company).
He asked me if I knew anything about it.
I had never heard anything about a sunroof in a 1967 Eldorado unfortunately and I could not give any information to him.
So
Mark Bristol
did a lot of great investigation work and found out the following:
" I have found quite a bit out from my research. I spoke with Christian Prechter, President owner of ASC West on the phone. He was brought over from Germany when he was 19 in 1966 to help his brother Heinz Prechter do installs at the ASC West location and stayed there doing custom installs when ASC opened the Southgate Factory in Michigan. He told me that he did over 50 1967 Eldorados that year for various Stars and VIPS. He recalled doing mine for William Morris and even told me what color it was without me volunteering it to him. He said it was the only Marina Blue one he did! I quizzed him several times in a cross examination method to make sure he was not just telling me what he thought I wanted to hear. He said he is 100% certain he did it personally as he was actually doing the installs himself back then. The conversation went like this: Hi I am Mark Bristol from Tomball, TX sorry to bother you at your home residence. I have a 1967 Eldorado with a sunroof.Did you ever install any sunroofs in 1967 in Eldorados? Prechter, " I installed over 50 for people like Sinatra, Dean Martin, Sammy Davis Jr. and William Morris." Wow that many? Prechter "Yes it was very popular that year." The car I have was William Morris' car do you recall doing it?Prechter, "I sure do it was the only Blue one I did that year" So you did a Marina Blue one for William Morris. That was a long time ago and you remember specifically doing this car, that is incredible are you sure? Prechter "I am 100% certain I did it" So Your division didn't get sold off to Inalfa? Prechter "Yes, I kept the custom install portion ASC West as it is the most profitable segment."How involved are you with the actual operation of the company? Prechter "ASC West is still doing custom installs daily and I personally over see the operation." Christian, Thank you for your time, you have been very helpful in understanding how these sunroof Eldorados came to be. It was a fairly short conversation I'd say 3-5 minutes with a very revealing content. I intend to mail him a packet with a photograph of "Elle" to autograph and several pictures to review and a certificate of authenticity for him to sign. Hopefully he will take the few minutes it will take and return it to me in the mail. A former President of the Cadillac Lasalle Club lives here in Tomball. He was president from 2004-2008. He stated he has seen 2 sunroof cars in person mine would make number 3. So they are floating around out there somewhere 50+ of them. My rule of thumb is 10% left in any condition after 40 years. That would mean there are 2 more out there some where!!!" Mark Bristol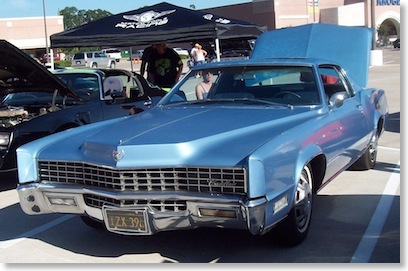 This is Mark Bristols ultra rare 1967 Eldorado with ASC sunroof.