DE VILLE CONVERTIBLE in Flamenco Red



DE VILLE CONVERTIBLE in Sable Black



DEVILLE CONVERTIBLE in Doeskin



DEVILLE CONVERTIBLE in Persian Ivory (picture from © Rik Gruwez)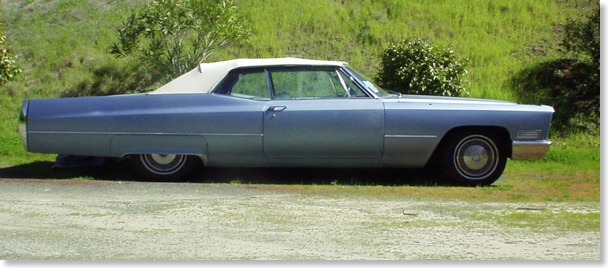 DEVILLE CONVERTIBLE in Marina Blue



CALAIS SEDAN in Pinecrest Green



COUPE DE VILLE in Venetian Blue


FLEETWOOD BROUGHAM in optional Tropic Green Firemist



HARDTOP SEDAN DE VILLE in Capri Aqua



SEDAN DE VILLE in Sudan Beige


FLEETWOOD SIXTY SPECIAL SEDAN in Baroque Gold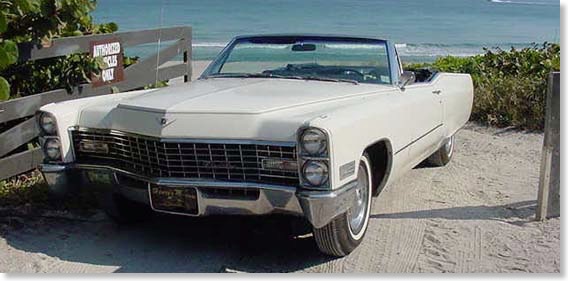 DEVILLE CONVERTIBLE in Grecian White



ELDORADO in optional Atlantis Blue Firemist

The sales brochure wrote the following about the DeVille series to which the Convertible belongs to:

"With its own distinctive exterior identification and with a wide selection of exclusive interiors, the Cadillac De Ville series for 1967 has a spirit unique among luxury cars. The most popular of all Cadillac series, it also offers the widest choice of models in its price range: the Coupe, the Sedan, the Hardtop Sedan and the Convertible. They are powered, as are all Cadillacs for 1967, by a highly refined and improved 340-hp V-8 engine. Teamed with Turbo Hydra-Matic transmission, it provides, according to automotive authorities, responsiveness that makes Cadillac a true "driver's car." Power steering, power brakes, power windows, power-adjustable front seat, heater and defroster, cornering lights and many other convenience and safety features are standard equipment. Improved variable ratio power steering reduces parking and cornering effort by as much as one third. A padded roof option adds to the overall beauty of DeVille closed models and further enhances the distinction of the car's roof and rear quarter styling. In the way it looks and the way it drives, the 1967 Cadillac DeVille series introduces a brand new measure of excitement to modern luxury motoring - in the manner only the Standard of the World could provide."


Interiors
For 1967, a choice or 171 interior combinations were available. This included 8 cloth patterns, 12 leather colors and 2 all-vinyl trims. Even more combinations were available on special order. The Convertible came with bench seats and leather interior as standard equipment. Bucket seats with middle console were an option.
The sales brochure writes:
"The glamour of the De Ville convertible is further dramatized by the excitement of its interiors. Thirteen leather interiors are offered when the bench seat is selected. Four leather interiors, including the black leather, shown at the left, are available with the bucket seat option. Leather is perforated to "breathe" for extra comfort."

The following standard interiors were available for the DeVille Convertibles. The code number of the interior also appears on the body plate.